There's no denying that 2020 will be remembered as one of the strangest years on record. Further cementing that status was MotoAmerica's decision to have riders race around WeatherTech Raceway Laguna Seca on baggers.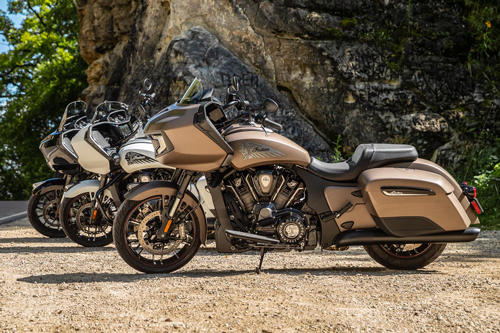 For the uninitiated, "baggers" are heavy cruiser motorcycles, fully equipped with a large front fairing and a set of hard-bags festooned upon either side of their rear wheel — hence the term "baggers" — ideally suited for days-long moto trips.
Both Harley-Davidson and Indian Motorcycles were well represented in the field and ultimately Indian's race prepped Challenger took the checkered flag to earn its crown as King of the Baggers. More importantly, for folks like you and I, Indian is making some of those go-fast parts that helped score that win available as performance upgrades for owners of their Indian Challenger models.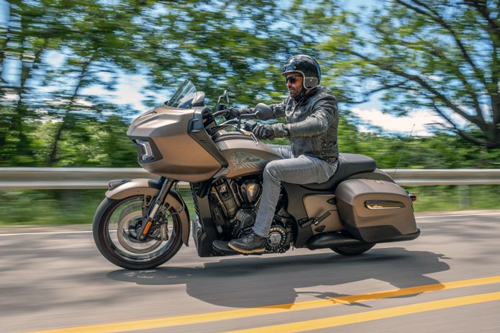 Powered by an already class-leading, liquid-cooled, 108 cubic-inch PowerPlus V-Twin engine, stock Challengers have 122 hp and 128 lbs-ft of torque on tap. Now, with the addition of the new, race-derived Stage II PowerPlus Performance Cams ($700), a Stage I intake ($400) and slip-on exhaust ($1000) that same Challenger can churn out 134 hp and 132 lbs-ft of torque. That's a 10% and 3% increase respectively. The total cost for the added oomph is $2,100 (~$2,700 CDN), not including installation, which may seem steep until you think about this…
To get the similar performance numbers from a Bar-and-Shield branded bike, you're looking at upgrading to the Screamin' Eagle 131 cubic-inch crate engine. That motor will net your bagger 121 horsepower and 131 lb-ft of torque while draining your savings a much-more substantial $6,195 ($7,800 CDN) as a dealer installed option. Which is both less and more. Maybe it is good to be King, afterall.