When it debuted in 2019, the Indian FTR 1200 was celebrated for its mix of flat-track style, V-Twin power and quirky wheel choice (19-inch front, 18-inch rear). It was a bike who's form was pulled straight from the dirt ovals and it immediately set pulses racing, but who's functional traits weren't so easy to live with. There were cold-starting problems, throttle modulation was likened to a lightswitch, batteries would mysteriously drain overnight, and those odd-sized hoops made for less than ideal handling characteristics and limited tire choices.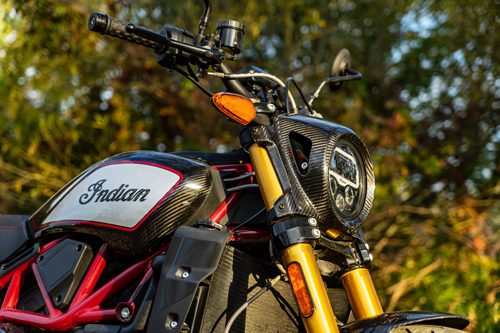 Clearly, Indian Motorcycles read every review and listened to every customer concern. For 2022 the Indian FTR now rides on proper sporty 17-inch wheels, front and rear. It's rake and trail have been tweaked to elicit quicker handling and the ride-by-wire throttle has been reprogrammed to smooth the response from its V-Twin motor.
Indian claims that the 2022 FTR has none of the problems of its predecessor. And after riding this bike for almost a month, the only issue I'm really struggling with is the pending withdrawal I'll be faced with after it goes back to them.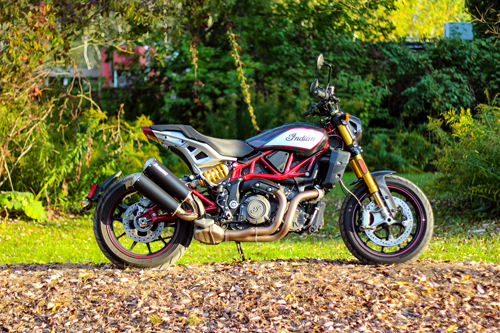 Styling: The Indian FTR is a gorgeous machine. And this isn't just the opinion of a smitten enthusiast either; there's objective science to back my claim. Follow the lines and angles created by the frame, forks, swingarm, seat, tank and wheels. You may not be conscious of it but your visual cortex will be quickly pleased as there's symmetry everywhere.
But there's more than just well executed, repeating patterns and lines going here. There's fit, finish and craftsmanship, too. The carbon-fibre on the fender, nacelle and faux fuel tank is visually striking and cleanly woven. The pinstriping on that tank lines up perfectly with the stitch patterns on the seat and that red trellis frame looks ripped from a first generation Ducati Monster — which is a very good thing.
Truly, the only missteps my eyes could spot were the bland plastic shrouds on the radiator — they should have been carbon fibre — and the limited edition placard atop the tank, which appears cheap and chintzy amongst its surroundings.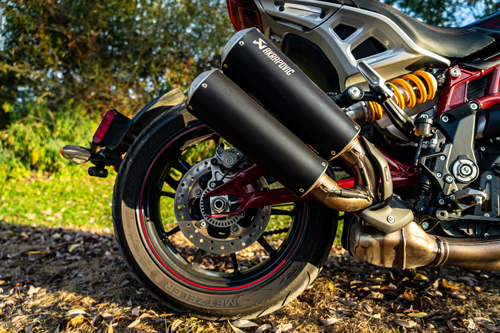 Powertrain: Of course your eyes won't be focused on those bits once the 1,203 cc, 60-degree, V-Twin sparks to life. Generating 120 horsepower and 87 pound-feet of torque, there is little reason to sit still for very long.
Acceleration is quick, and thanks to a long-ish wheelbase (1,524 mm), stable and controlled. The fuelling issues of yore have definitely been tamed, although there were still ghosts lingering at around the 3k mark on the tach. When cruising at around 60 km/hr in fourth gear with a steady throttle, the engine felt a bit confused like I was asking it to spin faster and slow down at the same time, instead of simply holding the course. This seemed to be the only spot of bother though and it was easily quelled by upshifting to the next gear, as there is plenty of torque.
Some may find Sport mode a touch aggressive for casual rides but I found it spot on for when our moods matched and conditions allowed. It should be said that Standard mode is extremely easy to live with, delivering the smoothest of response without limiting power output. It quickly became my default as it was a best of all worlds, especially when in traffic or congested spaces. A Rain mode is also available and it chop's power appreciably to keep the rear end in check.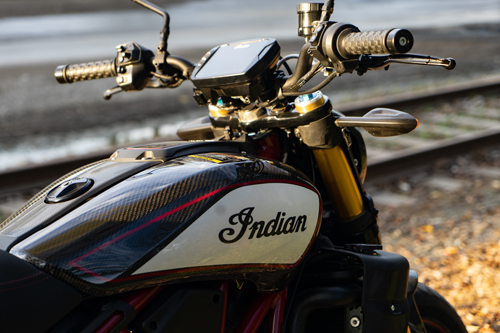 The transmission and assist/slipper clutch were a no fuss affair, although I was a little let down to not see a quickshifter equipped on this top-spec model. More surprising though is that I wasn't able to spot one in the accessories catalogue either. If Indian Motorcycles are looking for a quick and easy way to improve this bike, that'd be a good idea.
Be warned that the tank (which is mounted below the seat to lower the centre of gravity) only holds 12.9 litres. I was able to average around 200 kms between fill ups, which means economy is running around 6.5 l/100km. That isn't bad considering my general riding style with this bike, but I would have preferred a touch longer range.
Ergonomics: The rider triangle of the FTR is a good mix of sporty and upright. The FTR R Carbon's bespoke seat is well padded, allows for movement and provides a well-placed cup to hold you in a tuck. The rearset footpegs sat low enough that I didn't develop any knee pain and the reach to the narrow bars was easy and relaxing.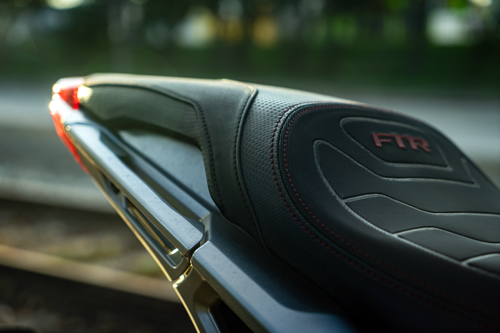 As this is a naked bike, there is no weather protection to speak of. So if running a tank empty along the highway is your typical Sunday cruise, you may feel a bit beat up after a while. There are a couple of accessory windshield options available, but I can't comment on how good or bad they may perform.
Infotainment/Technology: All FTRs come equipped with Indian's Ride Command software. Like most other OEMs, that means there is a dedicated app to download to your smartphone to open up the lines of communication between you, bike and your helmet mounted comms system.
Pairing was quick and easy for my Android phone and Cardo Packtalk Bold speaker kit. Toggling via the bar mounted controls, I could change songs with ease or initiate a call from my contact list. Strangely, unlike Indian's cruisers, there isn't any mapping functionality baked into the 4.3-inch touchscreen. This wasn't a big deal to me as I'm used to listening for turn-by-turn directions but given the slick interface we've seen on those other Indians; I was hoping for the same here.
On the safety side of the tech line the FTR is equipped with a six-axis IMU, so ABS braking, traction and stability control are all lean angle sensitive. Wheelie Control and Rear Lift Mitigation (stoppie control) are baked in as well and cruise control is present and accounted for.
Ride: My first spin on the Indian FTR R Carbon wasn't exactly as expected. I hopped onto the bike thinking that the changes Indian had made would create a bike that would feel more like the Ducati Monster I rode earlier this year. The two bikes share comparable dimensions, power to weight ratios and intent, but the Indian just isn't as sharp of a tool.
The extra 51mm in wheelbase, coupled with the extra rake and trail of the Indian (25.3-degrees, 99.9 mm for the Indian versus 24-degrees, 93 mm for the Ducati) steals some of the agility and quickness of steering I thought would be there. After a quick stop and some chin scratching, I hopped back aboard and changed my approach.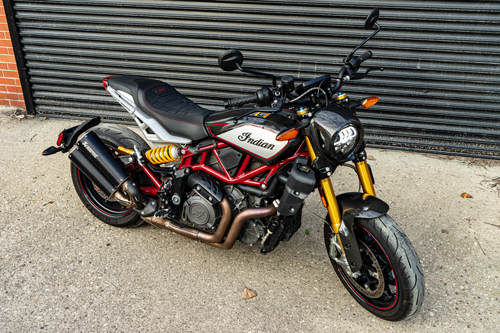 Instead of leaning into turns from a slightly tucked position I shimmied further forward, towards where the flat-topped tank meets the seat. This transfer of weight quickly changed everything. The front end began to obey with the directness I wanted. Sure, it wasn't exactly a knee-dragger's pose but the FTRs roots stem from the dirt ovals, not Mugello and it still rides accordingly.
Understanding and adapting to this changed everything. With new confidence in the way the chassis and suspension would react, I could let loose and indulge my right wrist to let that engine truly sing. And man, can it bellow.
The combination of induction noise and bark from the Akrapovic exhaust is just awesome. I know that I wrote a bit of a love letter to Harley-Davidson's Revolution Max 1250 motor, but I'd say that the Indian mill powering the FTR is right there in terms of performance and seat of the pants feel. The revs climb effortlessly and the bike rides a wave of torque and horsepower from naught to redline.
Braking from the front set of Brembos is top-notch and communicative. You can feel some of the bike's heft when it's being reined in quickly but the adjustable Ohlins fork does a great job of limiting dive. Feedback from the rear pedal isn't as exact, but for normal riding it works just fine.
Conclusion: The saying goes "four wheels move the body; two wheels move the soul". And while I wholeheartedly agree with that statement, the two wheels under the Indian FTR R Carbon moved my soul a little more than most. The 2022 Indian FTR R Carbon is a special motorcycle.
I could hang my helmet on the fact that, currently, it is the only American made naked bike available in the marketplace. But I'm not exactly swayed by that argument and neither should you.
No, what makes this bike stand out is its combination of form and function. It just nails both in a manner that commands respect. Whether you're drooling over it in your garage or giggling from behind its bars, there is palpable excitement, pride and a bit of infatuation going on at all times. And that's the kind of movement that truly stirs the soul.
2022 Indian FTR R Carbon
Price: $19,999.00
Engine: 1,203cc, 60°, liquid-cooled V-Twin
Transmission: 6-speed
Power/torque: 120 hp/87 lb-ft
Weight: 232kg (wet)
Competitors: Harley-Davidson Sportster S, Kawasaki Z900RS, Triumph Speed Twin, Yamaha XSR900
Link: Indian Motorcycle