I know I'm not alone in the motorcycling community when I say that Harley-Davidson's Sportster played an instrumental role in my riding life. Since it debuted in 1957 the Sportster has served as the entry point to the Bar and Shield brand for thousands of riders. For me, that was a 1997 Sportster 1200 Custom. It was my dad's first bike and the one I'd learn most first lessons on, via a very generous lending policy.
Relatively smaller, lighter and more maneuverable than its "big-twin" stablemates, the Sportster has also always been the "sportiest" bike in H-D's fold, even spawning some performance standouts like the XR1200 and more recently, the Roadster. Add to that the fact that the bike had changed very little in its first 64 years of production and you end up with a world full of custom interpretations.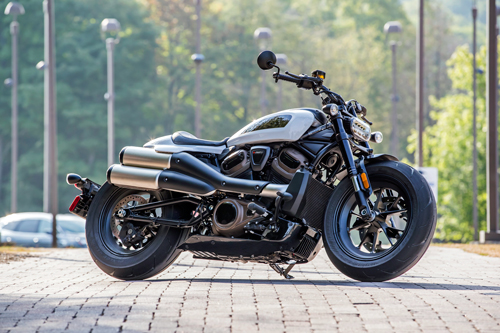 But that immutability also means you end up with a dated platform and an underwhelming engine.
Enter the 2021 Harley-Davidson Sportster S. Powered by an all new motor and underpinned by a modern chassis and current technology, this the first clean-sheet redesign the model has ever experienced. It's a bike The Motor Company says has "put the sport back in Sportster". And after riding one around the twisting hills of Port Severn, I can confirm they're right, but there are some caveats…
Powertrain: If there is one thing that Harley-Davidson has proven in 2021, it's that they are capable of creating one of, if not the best engine in motorcycling. The Revolution Max 1250T is a silky-smooth, 121 horsepower juggernaut that seemingly has no falter to its power curve. From idle to redline, regardless of gear, it just pulls constantly and consistently.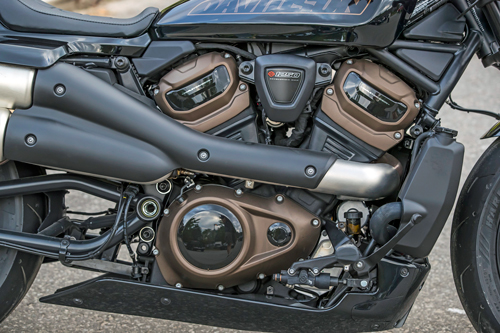 The engine is a re-tuned variant of the Rev Max motor that debuted and wowed in the Pan America. The displacement hasn't changed, but it did lose 20% of its horsepower (dropping from 150hp in the Pan Am), although I'd struggle to say I truly noticed. That's because the peak torque output, which is 94 lb-ft, remained constant but now arrives earlier in the rev range. Not only does this better suit the character of cruising, but this engine had more of a velvet touch than the Pan Am's slightly higher-strung unit.
A six-speed manual gearbox is a part of the unit-construction of that mill and it shifts smoothly in either direction. Finding neutral was sometimes evasive but I blame the shifter location, not the cogs. I would have liked to have seen the quickshifter from the Pan Am bolted up here but the clutch demands only a light pull.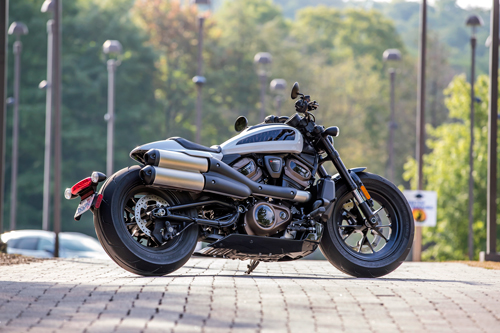 Fuelling feels spot on and easy to modulate. Sport is the most aggressive of the rider mode settings and, even here, it didn't behave like a lightswitch.
If you've never ridden a Harley or it's been some years since, experiencing the Revolution Max motor is reason enough to change that.
Styling: Take one look at the Sportster S and you will know that form took precedence over function. Everything from the decision to run with a single front brake disc, to having a mere 37mm of rear suspension travel, to shoehorning a six-inch wide (160mm) tire between the Sportster's inverted forks was made on the merits of style.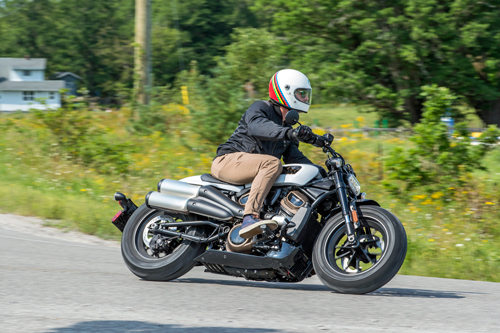 The overall aesthetic is low, mean, aggressive and chunky. It borrows elements from the custom world — a Flat-Tracker styled exhaust and tail, a Bobber-inspired wheel set — and mixes them well for a truly unique cruiser look.
I personally dig it overall but I wonder if the sacrifices it makes may eventually hurt sales success as this Sportster is no longer a blank canvas for easy personalization.
Ergonomics: It also doesn't make riding the Sportster S particularly easy, either. Those high-mounted pipes are big, beefy and they run hot. Our riding day hovered around the high-thirties and low-forties with my inner right thigh cresting the mid-sixties, I'm sure.
The forward controls and reach to the wide, flat bars mean all of your weight sits on your tailbone. That, coupled with the miniscule suspension travel, means your lower back will take a beating. There are a set of mid-controls available from H-D — and I reckon they would help this and some handling comfort too — but none of the bikes available had them bolted up to test.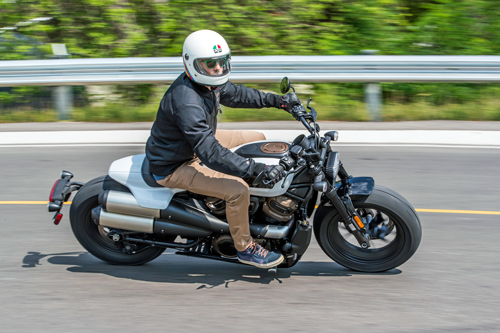 The seat is typical Harley goodness and it sits low enough (734mm) to accommodate a wide range of riders. Parking lot maneuverability was surprisingly easy thanks to the 30-degree rake and 148mm trail, and the lightness of this Hog was appreciated in all settings.
Infotainment/Technology: The Sportster S comes equipped with Harley-Davidson's entire suite of rider safety technology. Traction control and ABS braking are governed by a six-axis IMU, so they are lean angle sensitive and there is also wheelie and stoppie control baked in. Their levels of intrusion can also be adjusted, via switchgear working the 4-inch TFT dash.
There are three preset rider modes — Sport, Road and Rain — as well as two completely custom selections for you to set up as you see fit. You can, should you wish, set one of those custom selections to offer full power and the minimum interference from the safety software. I did most of my riding in Sport but found Road to be almost as fun. Rain cuts power output appreciably and is probably best saved for hustling home in the wet or for getting used to your new dance partner.
That round, TFT dash provides interaction with both the bike and can be connected to any H-D-app enabled phone and headset. I did not ride with a headset this time around but the display is rich and easy to view, even under direct sunlight and making changes via the switchgear becomes intuitive enough. Personally, I'd prefer to forego the proprietary app in favour of CarPlay or Android Auto but that's a story for another day.
Ride: Having cut my riding teeth on a Sportster, I was genuinely looking forward to riding this all-new model. I quickly hopped on the Stone Washed White Pearl ($450) painted version, adjusted the cafe-racer-esque bar-end mirrors, fired that wondrous power plant and was off.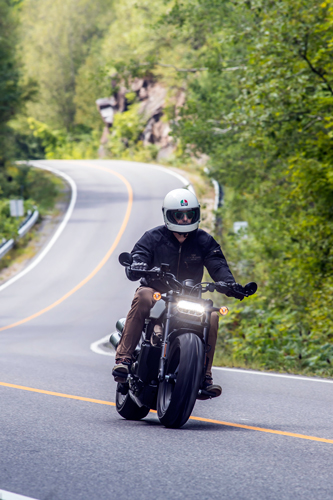 As mentioned above, the experience of the Revolution Max 1250T engine is sublime. It has more power than you probably need but never more than you want. And it's always sitting in a happy section of the powerband.
Rolling out of Horseshoe Resort, we quickly hustled beyond posted limits and made way for empty, winding roads. The Sportster S was confident, composed and absolutely exhilarating in a straight line, but two of those traits vaporized when the road got kinky.
Thanks to that massive front tire, you really need to muscle this bike into a corner and you need to stay on it to keep it there. The Sportster S wants to stand up and run straight, even when off the throttle. Couple that with those forward controls (that will grind feelers at will) and it felt like I'd only be able to truly experience and exploit that wonderful motor in a straight line.
I will say that the adjustable 43mm Showa fork and remote-reservoir shock do a surprising job of maintaining stability and composure with so little travel. And that single 4-piston Brembo is more than capable of shutting things down in a hurry, with good initial bite and feedback. But man, that front tire is truly a wrench in the works.
Conclusions: Given those handling challenges, it should be easy for me to dismiss the 2021 Harley-Davidson Sportster S as an exercise in form over function, but I can't. It's just not that simple.
After countless passes through tight corners for our photos and experimentation in exaggerated body-english, I started to find my groove with that balloon up front and tailbone-torture ergos. The Sportster S revealed its flow and, despite being odd and effortful, it still made for an exhilarating ride.
Would I have rather seen the Sportster S debut with a little less style and a lot more purpose? Something designed and built to specifically target knee-draggers instead of peg-scrapers? A naked bike instead of a cruiser?
Absolutely. And hopefully that bike will debut soon. But that wouldn't have been a Sportster. That's a whole other beast, entirely.
The Sportster has always been a cruiser and, I suppose, always should be. The reason it had stuck around, unchanged for so long was because it had become an institution unto itself. An iconic model that outsold other OEM's entire fleets.
This all-new Sportster S aims to meld what Harley-Davidson can do with what they must do. And that means form over absolute function. Style over substance. At least for now. But thanks to that absolutely incredible motor, modern chassis, safety software and performance componentry, the starting point is no longer stuck in 1957.
2021 Harley-Davidson Sportster S
Price: $17,999.00 ($18,449.00 as tested)
Engine: 1,252cc, liquid-cooled, 60-degree V-Twin
Transmission: 6-speed, belt-drive
Power/torque: 121 hp/94 lb-ft
Fuel Capacity: 11.8L
Weight: 228kg (fuelled and ready)
Warranties: 24 months
Competitors: Indian Scout Bobber, Triumph Bobber, Ducati XDiavel, Honda Rebel 1100
Link: Harley-Davidson Canada