When Harley-Davidson first announced it would be building an adventure touring motorcycle, the Pan America 1250, doubt began to fester in the minds of riders everywhere. What did The Motor Company know about off-roading? How heavy was this Hog gonna be? If a loud-pipe belches in the forest, will anybody care?
I, on the other hand, had faith.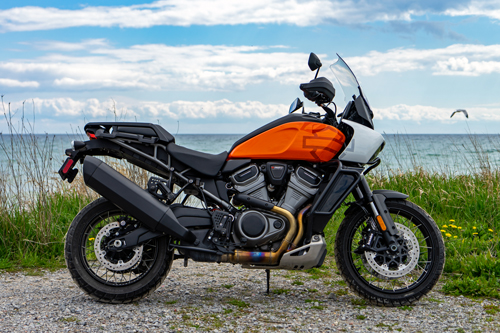 You don't get to be a century's-old company by ignoring what your customers want. And Harley strictly abides by the whims of their clientele. Some might even say they do so to a fault. It's why their cruisers continue to look, sound and perform in a similar way to how they always have. So, it would make sense for Harley-Davidson to do some homework before entering into an entirely new segment. Well, they did. Years of research, experimentation and development ensued.
And let me tell you, that homework has paid off.
The 2021 Harley-Davidson Pan America 1250 Special is an incredibly well sorted machine. It should be squarely on the radar of anyone considering a full-sized ADV rig or long range tourer. In fact, I think it may even be good enough to sway some of the haters out there.
Like this content? Subscribe here to get it delivered directly to you.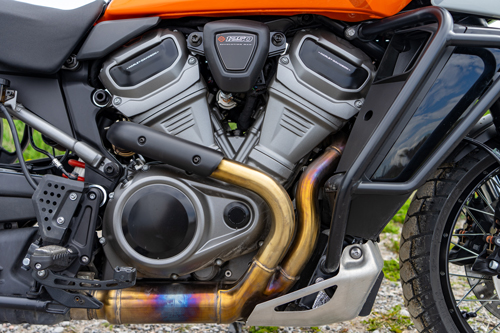 Powertrain:
Firing up the 1,252cc Revolution Max motor certainly doesn't reveal its American Dairyland roots. Gone is the patented, lopey "potato potato" exhaust note of Harley lore: the liquid-cooled, 60-degree V-Twin motor found here is raucous, fast-spinning and modern. With my eyes closed, I might tell you it's 90-degree firing order sounds a bit like the offspring from an Africa Twin 1100 and a previous generation Ducati Multistrada 1260 S's. Albeit with a little less bass and a smoker's rasp.
There is computer controlled variable valve timing going on at both the intake and exhaust cams of each cylinder that can adjust up to 40-degrees in rotation to optimize the powerband. There are two counterbalancers at play to keep things smooth, and it uses hydraulic valve lash adjusters, so there are no costly, labour intensive valve adjustments to make. Ever.
This new all-new motor produces 150 horsepower at 6,750 rpm and almost 94 lb-ft of torque. That grunt comes on early and builds with an appreciable linear climb. In and around town and on loose surfaces it feels tractable, poised and well-behaved but get it on a stretch of road, winding or otherwise, and it comes alive. This Wisconsin-built motor comes into its own above 4,500 rpm and loves to hang in its upper echelon. It pulls hard, runs long and there's little to no distracting vibration; revs spool up quickly and smoothly all the way to 9k and the fuelling is near perfect.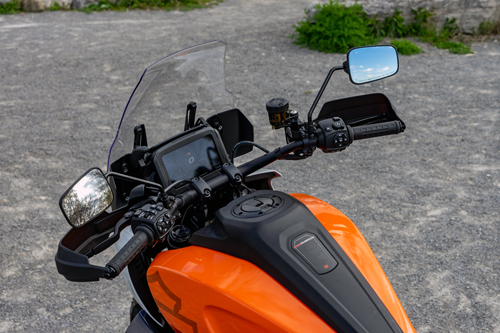 Just twist the grip, ratchet through the gears and disappear: there's no "clunk" going on with the cogs here, only "snick, snick, snick".  The Pan America's six-speed transmission is of unit-type construction and uses a cable-actuated slipper clutch to send power to the meaty 170-series rear tire via that final, chain-drive.
I don't know that I can stress just how good this powertrain is. Harley has never been a slouch when it comes to engines — they are The Motor Company, after all — but the Revolution Max is a standout. It is simply a marvellous lump. It moves the Pan America with alacrity, soul and a decent enough soundtrack. If it were bolted into a Softail chassis, dyed in the wool Bar and Shield types would probably start peeling off their patches, so it makes sense that something this advanced and different debuts here, in something completely new.
I can't wait to see what Harley-Davidson stuffs it into next.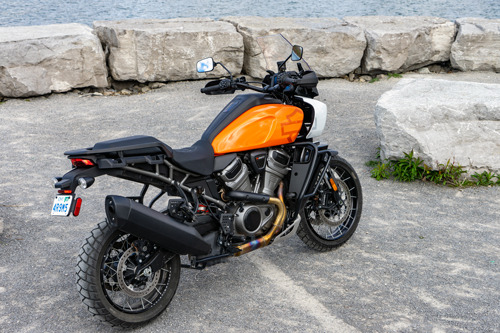 Styling:
I'm of the opinion that adventure bikes look best when bogged down with dirt, dents, scratches and plenty of farkles. There really isn't a single ADV effort I'd call attractive, per se, but I appreciate that the Pan Am is a very different offering in a space where most bikes tend to look the same.
Harley has gone on record to state that they were actively trying to be divisive with the Pan Am's aesthetic. The obligatory "beak" style fender has been left in a bin and we're greeted by a flattened face that only Bender's mother could love. All kidding aside, I will say that it looks better in person and the more time I spent with it, the more I dug it.
Our tester was painted in Baja Orange and Stone Washed White Pearl. It's a colour combination that works well on this bike and I really like the way H-D incorporated their logo onto both the tank and front fairing. It's little touches like that have always set Harley's paintwork apart, so it was nice to see the Pan Am get the same attention to detail.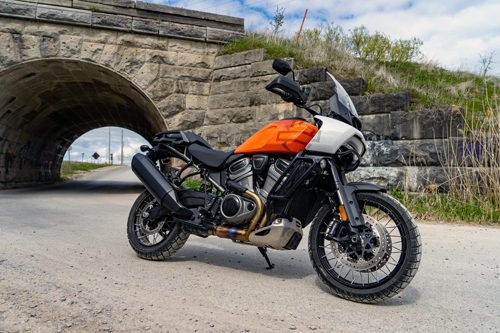 Ergonomics:
While their paintwork and iconic engines get most of the press, Harley-Davidson also knows how to make a seat better than any other OEM. Soft, supple and supportive, flat where it should be and contoured where you want it to be: I could spend days on the Pan America with little to no complaint.
When I picked up the bike, the seat was set in the low position. I left it as is just to see how things felt and my 183cm frame started to find the lower half a bit cramped after my first hour in the saddle. A quick adjustment into the high position (a 1-inch increase) and everything felt just right. The bars sweep back, making the front end look quite deep, but deliver command with a nice little bend in my elbows.
On either end of those bars there are a myriad of buttons to fiddle with, which we'll get into below. I was pleased to see that the Harley finally went to a single rocker switch for the turn signals but its placement and lack of tactile feedback made it a bit fiddly for my liking. Thankfully, the auto-cancel feature worked well.
The pegs are placed amidships and a touch high to help with ground and corner clearance. The rubber inserts are removable and, pro-tip, if you're heading out for a day of mixed on and off-road riding, ditch the rubbers from the passenger pegs before you leave. You can then pull the rider's ones out when you hit the dirt and stow them in the passenger peg — they're the same size. The rear brake has been blessed with an adjustable pedal too, so you can give it a twist to raise the pedal to help optimize positioning from a standing perch. It's a nice little touch, adapted from the aftermarket.
With elbows bent and my butt in the air, the Pan Am feels easily controllable and the tapered tank was just about in my sweet spot for pinching with my knees. If I were to own one of these, I'd probably spec a taller riser as I was a bit hunched over but otherwise, the Pan America delivers rider comfort from the seat and the pegs.
The only real misstep in the ergos department lies at the windshield. It's not quite large enough to really create the riding cocoon I'd like on the highway and the adjustment feature is a bit janky to use. It feels flimsy compared to the rest of the bike. There are larger, optional screens available and I'm sure the aftermarket is already hard at work.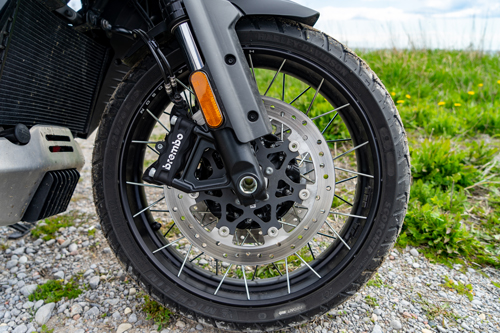 Suspension and Brakes:
Suspension may be the most important component on any motorcycle, and that goes double for one that's designed to go off-road. Equipped with a semi-active set-up from Showa both front and rear, the Pan America 1250 Special automatically senses and adjusts damping to account for rider weight(s), luggage and the riding mode chosen.
There are five pre-programmed modes — Comfort, Balanced, Sport, Off-Road Soft and Off-Road Firm — that set the calibration parameters, but regardless of choice the system continually monitors and reacts to throttle inputs, lean angle, acceleration rate, braking inputs and its own current position to optimize damping rates.
Our tester was also equipped with the optional Adaptive Ride Height ($1,300) feature that will automatically lower the motorcycle up to 2-inches when you come to a stop, to aid in rider comfort and stability. The system worked flawlessly during my time on the bike delivering a bent-knee, flat-footed stop at every intersection. Personally, I would opt out of adding it to my Pan Am thanks to my 863mm inseam, but it is a game changer for the market that opens this size of bike up to an often neglected portion of riders.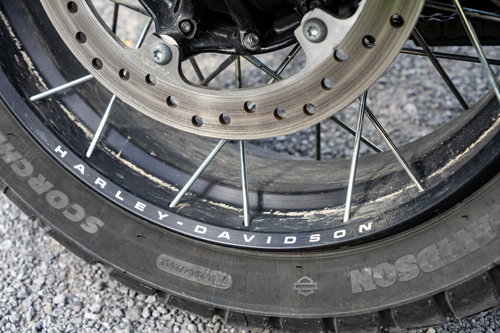 Braking is a linked, ABS and corner-sensitive system that uses twin radial mounted, 4-piston Brembo calipers up front and a floating, single piston unit in the rear. I found there was great feedback and good initial bite from the lever and the pedal was an appreciable bit softer. The only time ABS kicked in for me was when I hammered things hard for testing purposes and the system worked smoothly.
It should be noted that in Off-Road Plus mode, those brakes are no longer linked and the rear ABS is defeated, so veteran off-roaders can enjoy steering with the rear while maintaining the benefits of ABS up front.
Electronics:
Harley-Davidson has imbued the Pan America 1250 with all of the new-fangled whiz-bangs and then some. A six-axis IMU controls corner sensitive traction control, drag torque slip control, ABS braking as well as the adaptive lean-angle-sensitive headlamp. There is rear-wheel lift control, wheelie control, and multiple levels of traction control that can all be tweaked via the 6.3-inch colour TFT dash.
Manipulating things can happen via the buttons on the bars or by poking the screen itself. As is often the case here, things can be a bit confusing at first but even with limited time in the saddle I was able to figure things out to my liking.
There is Bluetooth connectivity that will link phone and headsets while also enabling the navigation features. Riders do need to download and use the H-D proprietary app to take full advantage though.
I had connectivity issues with the system so I can't really comment on how it works. The system found my phone just fine but even with the H-D app up and running, it wouldn't load my map data. I also couldn't pair my Cardo Packtalk Black headset, so I was left to my tried and true means of playing music and taking turn-by-turn directions. This also meant I had no use for the bar mounted controls but know that the right stalk tackles that. Other journalists have reported the system works well in practice but as of yet, I can't provide my own insight here.
As mentioned above there are multiple pre-programmed riding modes (Rain, Road, Sport, Off-Road, Off-Road Plus) as well as two custom modes so riders can set up their bike to their performance liking. I found Road mode to be the most useful as Rain was a little too soft and Sport was a little too twitchy for inner city maneuvering. However, once the hustle-bustle was behind me, Sport mode was a blast. Just like in a well sorted sports car, toggling over tightened everything up for focused performance.
In my limited off-roading endeavours I swapped time between both settings and found that both worked well for where I was. In poking around I did find that the Off-Road Hard suspension setting was best for me but again, I wasn't exactly tackling Dakar or even the Mojave.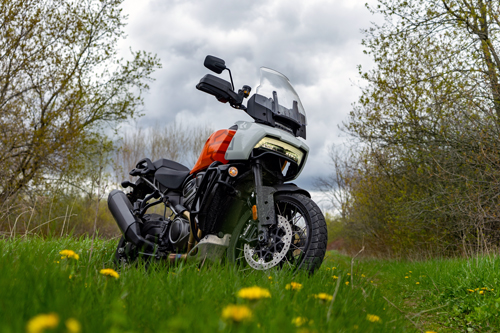 Ride:
The combination of a motor that loves to run, a competent and communicative chassis and sophisticated suspension system makes the Pan Am an absolute riot on the street. From word go, it egged me on, begging for deeper leans and more aggressive throttle inputs. It goes without saying that I've never treated a Harley like this before nor has one asked for this kind of treatment.
It's a fast bike with fairly neutral handling. I didn't feel the need to wrestle with it at all and mid-corner stability was better than expected. In Sport mode, I let the compression braking scrub speed for most of my corner set-ups but even when getting on the binders, the semi-active suspension kept the bike flat and easy to control. Cruise control worked like a charm and for longer highway hauls, it's as comfy as I'd like it to be — running from full to empty tanks without an issue.
Off-road things were much the same. I wasn't able to get into anything too gnarly but the Pan Am took to fire/cottage roads, whooped out two-track and a severely rutted section of soft shoulder I frequent without any complaint. With the Off-Road Hard suspension setting checked, my 80kg frame wasn't able to bottom things out but my landings weren't from up on high anyways. I probably wouldn't pick the Pan Am for rally competition or a single-track trials event but I'd say for the audience this bike is targeting, it will more than exceed expectations.
Final Thoughts:
When it debuted in the mid-thirties the "Jiffy Stand" was sold as an accessory add-on for motorcycle riders. It was (and continues to be) Harley-Davidson's take on the motorcycle side-stand. Unlike the traditional kick or side-stand you see on every other make and model, the Jiffy Stand engages a secondary action that effectively locks it in place when deployed. If you ride or have seen someone park a Harley, you may or not have noticed that the bike tends to lean a little heavier onto its "stand" than other makes. This is that secondary action. And that extra motion means that the kickstand cannot fold back up once there's weight on it. Even when parked on an incline, with your bike in neutral. It may roll away, sure but it won't fold its outrigger and fall. The Jiffy Stand is a thing of simple and mechanical beauty.
I had doubts that Harley-Davidson would include a Jiffy Stand on the Pan America, given it's such a different beast. But they did. And that alone should tell you something.
Many of the storied marque's most defining traits are noticeably absent from this bike. There's no belt drive, left or right-sided turn signal switches, chrome anything, forward controls or even that signature Harley sound.
Instead, with the Pan America 1250, Harley has added horsepower, technology, capability and competitive pricing to their cultural lexicon. But more importantly, they've combined those with some of their most admirable yet subtle traits too. Their impeccable attention to detail for product finishing, heeding the needs and wants of the targeted rider, making a bike comfortable for long hauls and over-engineering things to make sure they work well. Just like that Jiffy Stand, the Pan America is truly remarkable and utterly Harley-Davidson. Bravo folks.
2021 Harley-Davidson Pan America 1250 Special
Price (as tested): $24,199+ ($26,934)
Engine: 1,252cc, DOHC, 60-degree V-Twin
Transmission: 6-speed
Power/torque: 150 hp/93.7 lb-ft
Weight: 259.9kg (fuelled and ready, with optional spoked wheels and ARH system)
Warranties: 24 months
Competitors: BMW R1250GS Adventure, Honda Africa Twin 1100 Adventure Sports, KTM 1290 Super Adventure R, Triumph Tiger Explorer 1200
Link: Harley-Davidson Canada