Exciting is a word you would rarely use to describe a full-size SUV, particularly one that is big enough to carry a maximum load of seven passengers and still offer sufficient rear storage space. But when Jim Rideout, Product Marketing Manager, Lincoln Canada, talks about the new 2020 Lincoln Aviator, its many innovations and elegant style, his enthusiasm for their newest luxury family-hauler is obvious. The Lincoln Motor Company is alive and well in 2020 with an impressive lineup of sport utility vehicles. If the new Aviator is any indication, it appears the best days for this brand are still ahead.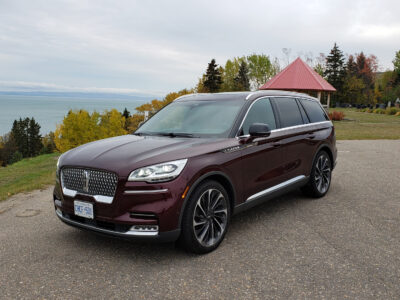 The 2020 Lincoln Aviator takes inspiration from the aeronautical industry. That makes sense when you consider the name Aviator, but Jim tells us to look closer for more connections to the wonders of flight. The roofline, for example, is shaped to resemble a wing and the wheels represent the spinning turbine of a jet engine. With so much thought put into the exterior design, it's no wonder the new Aviator has a lot going for it in the ever expanded market of luxury SUVs.
Engine performance for the new Aviator comes two ways, our time being spent in the gasoline-powered Reserve AWD model. A twin-turbocharged 3.0L V6 engine delivers 400 horsepower and 415 lb-ft of torque on premium fuel matched to a 10-speed automatic transmission. Power delivery is smooth and the transmission seems well suited to the workload.
When it arrives, the Aviator Grand Touring PHEV adds a 75 kw motor to assist the twin-turbo V6 engine.  It generates a total of 494 horsepower and 630 lb-ft of torque. With a 13.6 kwh battery pack, the expected range of 28 km on EV-power alone is not earth-shattering, but its greener footprint and additional power will undoubtedly prove enticing for buyers in this segment.
On the road, the Aviator Reserve AWD handles itself with ease as we cruise from the Fairmont Le Chateau Frontenac in Quebec City, with a lunch stop at Centre de l'Émeu de Charlevoix for a little Aussie in rural Quebec, to its sister property the Hotel Fairmont Le Manoir Richelieu some 2.5 hours east. Both of these grand hotels face the St. Lawrence River as it flows in a north-easterly direction connecting the Atlantic Ocean with the Great Lakes. Cannons pointed at the river remind us of the struggle for North America by British and American forces during the War of 1812.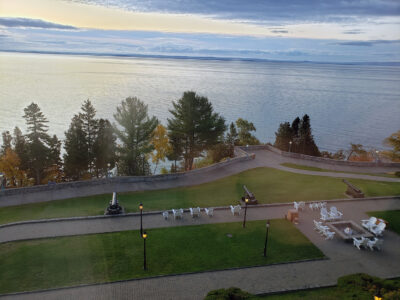 Power delivery is smooth, the twin-turbo V6 takes charge even while climbing the steeper two-lane backroads near Charlevoix, Quebec. Well rested from the previous evenings tasting of local spirits and beer before dinner, we make haste towards Baie St. Catherines and a hopeful date with humpback, black fin, minke, beluga whales. If we are extremely fortunate, we may even encounter a rare blue whale.
As we head away from the harbour, the water churns with numerous whale species and seals who seems as curious about our passing as we are of them. No blue whales approach on this day, but the sight of fin whales shooting 12 metre waterspouts into the air through blowholes, then gracefully diving beneath the ship as nearby humpback whales breach and slap their tails on the surface of the river, is one I won't soon forget. White belugas glisten in the sunshine as we cruise back to the dock, another tour group waiting with excitement to take our place.
Back on the road, the air glide suspension does an admirable job of absorbing bumps and dips while maintaining a Lincoln-worthy drive experience. A new feature Lincoln refers to as Road Preview scans the road ahead for potholes and raises the suspension when needed to flatten out the ride. Electric power steering with adaptive steering and evasive steering assist provides a sense of athleticism not typical of a large SUV. Add to that traction control, Lincoln drive modes, 4-wheel disc brakes with ABS, Intelligent all-wheel drive and a host of additional safety and driving features and the new Aviator is ready for almost anything.
Inside, the classic Lincoln aeronautical touches continue adding to the design and functionality expected in a luxury SUV. Linear brushed aluminum covers the door speakers, dash and center console. Stitched leather accents the door armrests, central dash and all seating surfaces. The engine start button faces up on the dash, requiring you to look past the 4-spoke leather and piano-black steering wheel to engage. It's a bit awkward, but once you get used to it, the unique placement makes things a little more interesting.
SYNC 3 is standard on the Reserve Series. It provides voice recognition communication and entertainment system adjustment, a 10.1" LCD touchscreen command center, 911 assist, Apple CarPlay and Android Auto as well as two smart charging USB ports.
Our test vehicle also featured the Elements Package Plus and Lincoln Co-Pilot 360 Plus. A total of 28 speakers define the top-of-the-line Revel Ultima 3D audio system as part of the Aviator Luxury Package. When combined with the Perfect Position Seating and its 30-way adjustment, heated and cooled front and second row seating, plus a heated steering wheel, this has the potential to be a better audio listening environment than most home surround sound living rooms.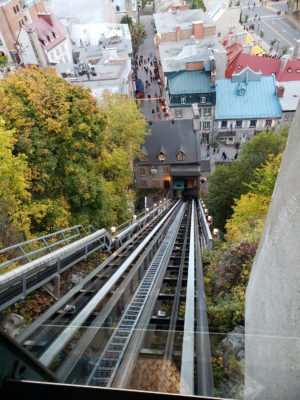 The drive back to Quebec City passed quickly as we luxuriated in the intricate rock, pop and psychedelic influences of The Beatles and other bands from the classic era of rock n roll. Checked in to the Fairmont Le Chateau Frontenac for the night, we explored the city on foot starting at the hilltop funicular, winding our way through centuries old streets and eventually arriving at Laurie Raphael restaurant for an 11-course dinner with wine pairings. The walk back was crisp as evening settled over North America's oldest city, but it was a welcome chance to work off some of our dinner.
The 2020 Lincoln Aviator is a worthy competitor in what has quickly become one of the most sought after segments in the SUV market. With strong competition already in place and new arrivals coming soon from Genesis and other luxury brands, Aviator seems well-suited to garner its fair share of buyers looking for that extra touch of luxury and sophisticated performance.
2020 Lincoln Aviator Reserve AWD
Price as tested: $87,435.00
Freight: $2,100.00
Configuration: Front engine/all-wheel drive
Engine/transmission: 3.0L twin-turbo V6/10-speed automatic transmission
Power/torque: 400 hp/415 lb-ft
Fuel (capacity): Regular (76 L)
Combined fuel economy ratings: 11.9 L/100 km
Warranties: 4-years/80,000 km (basic)
Competitors: Acura MDX, Audi Q7, Cadillac XT6, Volvo XC90
Links:
Lincoln Canada