There are many different types of trips we take as automotive journalists. Some are to remote locations, places closed off from the rest of the world due to travel length, extreme geography or carefully hidden behind protective barriers to keep prying eyes out. Others are famous as highly sought-after tourist destinations; we just get to experience it from inside the cockpit of a unique automobile.
And then there is Ilse de la Madeline (Magdalen Islands) off the coast of PEI. A bucket list destination for many travellers, it proved challenging to not only arrive for our test drive of the 2020 Cadillac XT6, but to fly back home as well. Is this place the Canadian version of Hotel California; "You can check out anytime you like, but you can never leave!"? More on that later.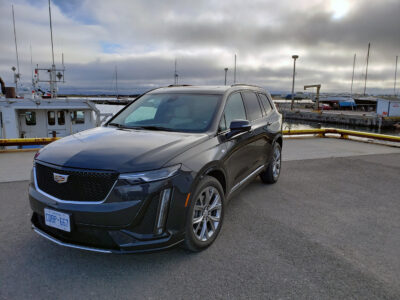 The 2020 Cadillac XT6 is the latest in a series of new SUVs being added to the growing Cadillac family that already includes the XT4, XT5, Escalade and Escalade ESV. The new XT6 is designed to seat up to seven passengers in complete comfort, but not take up quite as much real estate as the hip-hop famous Escalade. At the same time, it continues pushing ahead with the Escala Concept design theme and showcasing the new face of Cadillac.
Two models define the XT6 range at launch; Sport and Premium Luxury. Both are powered by a 3.6L V6 gasoline-powered engine matched to a 9-speed automatic transmission. It delivers 310 horsepower at 6,600 rpm and 271 lb-ft of torque at 5,000 rpm. Pull out a stopwatch and you will note zero to legal highway speed takes approximately 6.6 seconds, while top speed crests at 212 km/h.
On the mostly flat, paved two-lane roads of the Magdalen Islands, the engine and transmission combine to offer reasonable pulling power and a refined performance. I use the term "reasonable" as I feel as though turbocharging the engine should have been an obvious choice right from the start given its base curb weight of 2,127 kg.
Simply put, the V6 engine doesn't inspire you to drive the XT6 like a sporty SUV. But then, it probably doesn't need to in order to satisfy the everyday driving requirements of most buyers in this segment and few complaints will be heard about an average fuel consumption rating of 11.8 L/100 km. It will be interesting to see what future versions offer in a world consumed with massive power on one hand and EV capabilities on the other.
Ride comfort is excellent, the XT6 chassis features a real-time damping suspension for less pitch and roll, and a smooth ride over all surfaces. Electric power steering assist makes easy work of parking and turning in tight spaces. Stopping power is provided by 4-wheel disc brakes with ABS, brake assist and hill start assist. All-wheel drive with driver select mode should allow the XT6 to tackle almost all weather and driving conditions with relative ease.
From a styling standpoint, the new XT6 is an evolutionary step forward in exterior and interior design execution at Cadillac. The outward shape doesn't set any new benchmarks for other luxury SUV automakers to follow, but it should appeal to those looking for a classic, if somewhat boxy, exterior design. This is minimalism at its best and results in an interior that is in my opinion, class-leading on many fronts.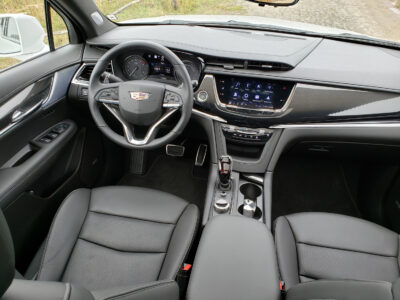 For example, at 6' 1" tall and much of that height below my waist, I was still able to sit comfortably in the 3rd row without the need to tuck my knees under my chin. Unlike some of the other similar-sized SUV's I have driven recently, the new XT6 delivers in the critical area of providing real-world 6 passenger ($920 option) or standard 7-passenger seating. Rear storage space is limited when all seats are in use, but this comes with the territory.
Leather seating surfaces, in particular those up front where I spent most of my time, offer excellent back, hip and shoulder support, as well as easy adjustment. The thick four-spoke leather-wrapped steering wheel highlights carbon fiber accents in our test vehicle, paddle-shifters and the essentials buttons and rotating knobs to control many of the standard features. We also enjoyed the sweet sounds of a 14-speaker Bose audio system with stainless steel grill covers. Apple CarPlay and Android Auto are standard.
Driving enhancements include Intellibeam headlamps, adaptive cruise control, lane keep and lane departure assist, blind spot alert, front and rear park alert, forward collision alert and rear cross-traffic alert to name a few. Our test vehicle was also equipped with the Enhanced Visibility and Technology Package ($2,705 option) that includes head-up display, rear camera mirror with washer, HD surround vision with recorder, automatic parking assist with braking and an 8-inch colour gauge cluster. Featured in Crystal White Tricoat ($1,395 option), the 2020 Cadillac XT6 looks elegant and drives with equal grace.
As our time on the Magdalen Islands drew to a close, it became obvious the island itself was doing its best to keep us there for as long as possible. A cancelled flight due to mechanical failure meant the chartered flight home would take five hours instead of the expected three. But it provided me with the perfect opportunity to reflect on the newest Cadillac and where the brand is headed.
All points seem to indicate a revitalized model line-up and a strong offering of SUV's means better days are ahead for GM's premium brand. Maybe it's time to pop the cork on that "pink champagne on ice" and once again celebrate the Cadillac of automobiles.
2020 Cadillac XT6
Price as tested: $75,293.00
Freight: $2,100.00
Configuration: Front engine/all-wheel drive
Engine/transmission: 3.6L V6/9-speed automatic transmission
Power/torque: 310 hp/271 lb-ft
Fuel (capacity): Regular (83 L)
Combined fuel economy ratings: 11.6 L/100 km
Warranties: 4-years/80,000 km (basic)
Competitors: Acura MDX, Audi Q7, Lincoln Aviator, Volvo XC90
Links:
Cadillac Canada