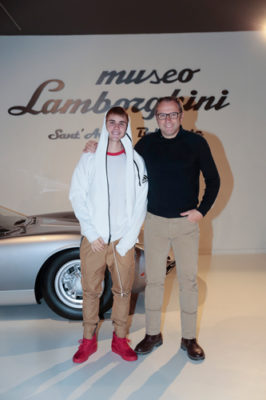 Oh, come on now; you knew the joke had to be made at some point knowing The Biebs visited the Museum and Factory of Automobili Lamborghini last weekend while on his Purpose World Tour. Canadian heartthrob, Justin Bieber, even ended his grand tour (hosted by none other than Stefano Domenicali, Chairman and Chief Executive Officer) behind the wheel of an Aventador Roadster in Bologna, much to the delight of his no-longer-allowed-to-scream-at-him fans, since visiting exotic cars seems to be OK for his mental health, but not the people who afford him the luxury of owning them….
OK, now all that nonsense is out of the way, we can focus on more much more pressing, pertinent and so much more exciting matters: Lamborghini's just released a rear-wheel drive spyder version of the Huracán.
Bieber who?
Yeah, we had the same reaction. And it seems the good folks at Sant'Agata Bolognese are just as excited about the newly redesigned and engineered Huracán Spyder.
"It offers the lifestyle appeal of open-air motoring with the pure thrill of rear-wheel drive engineering. This is a Lamborghini for those with a passion for life and the purest driving experience of the open road. It's also a Huracán for those entering the Lamborghini family, wanting a true Spyder experience without compromising on the performance and dynamic handling of a rear-wheel drive car," explained Bieber's recent tour host, Domenicali.
Featuring a soft-top, the latest edition to the Huracán family can drop its top in just 17 seconds at speeds up to 50km/hr. And with the same engine found in the coupe Huracán, a potent V10 5.2L naturally aspirated mill that produces 580 horsepower and 398 lb-ft of torque, we suspect you'll want to drop the top before you head out on the open road as slowing down to the recommended 50km/hr will just be boring. Coupled with Lambo's LDF (Lamborghini Doppia Frizione) seven-speed dual clutch transmission, shifts occur more quickly and smoothly, and there's an available launch control that helps project this beast from 0-100km/hr in just 3.6 seconds.
The Lamborghini Huracán Spyder sports a newly designed front a rear that, somehow, made it look even more aggressive and intimidating on the road. Yeah, we didn't think that was possible either, but it seems the Italians have done it.
Sale of the all-new Huracán Spyder begins in January 2017.