For 2022, Jeep is going upscale – just not in so many words.
You may have heard of the Jeep Wagoneer of the 1960s, '70s and '80s; very well-equipped and often wood-paneled, the Wagoneer and its Grand Wagoneer sibling were some of the first luxury SUVs and have since developed a bit of a cult following among surfers, hikers and winter vacationers alike. Those folks liked the trucks' rough-and-tumble drivetrain but also leather-clad and fully-featured interior. The Wagoneer was also one of the first ever 4 x 4s to offer an automatic transmission as well as power steering and independent suspension.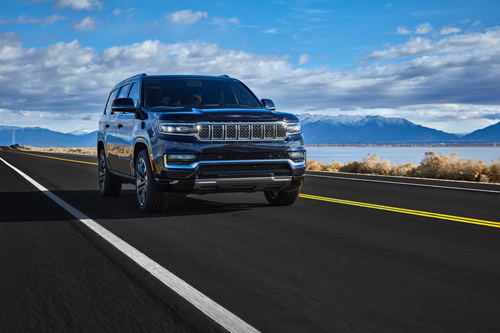 For over three decades, its gestation and evolution had it as a model unto itself, then a trim of the Jeep Grand Cherokee…and then, just like that The Usual Suspects fans, it was gone. Jeep was going in a different direction and there just wasn't room for it anymore.
Obviously, they've seen the error of their ways and for 2022 have given rebirth to the Wagoneer name and in an effort to return it to that former glory, they've kind of made it a brand unto itself, a luxury arm of Stellantis' Jeep division. For now, though, the official line is that Wagoneer is becoming a "portfolio" of vehicles, counting two for the time being – the Wagoneer and Grand Wagoneer. So would that be the Wagoneer Wagoneer and Wagoneer Grand Wagoneer, then?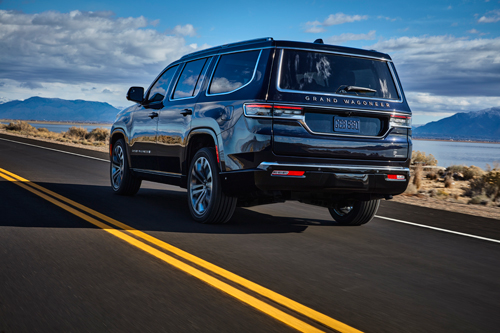 Wagoneer will essentially be picking up where Jeep left off; Jeep says that its products are currently doing a great job of servicing the compact and full-size two-row SUV segments, but they needed something to get them to the somewhat more ubiquitous "large SUV" segment – even though the three-row Grand Cherokee L debuted just a few short months ago — and that's where the Wagoneer steps in. The Grand Wagoneer, meanwhile, competes in the premium SUV segment. Looking a lot like the Grand Wagoneer concept that debuted back in September, both are body-on-frame vehicles and the same size, but the Grand Wagoneer is the luxury model of the two; think GMC Yukon v Cadillac Escalade.
Both the Wagoneer and Grand Wagoneer come with three-row seating for up to eight occupants, as well as best-in-class towing of 10,000 lbs.
A side-on look at both these rigs offers a strong silhouette, all squared-off edges and powerful lines that are reflected in the heavy-hitting front fascia with its purposeful bumper, Jeep-esque seven-slat grille and narrow but somewhat menacing headlights. Those are LEDs on both the Wagoneer and Grand Wagoneer, while the latter gets laser-cut grille rings for a sharper, more upmarket look.
Both the Wagoneer ($69,995-$85,995) and Grand Wagoneer ($100,995-$120,995) will get Series I, II and II trims (channeling a little Land Rover there), while the Grand Wagoneer gets the Obsidian trim later in the year, which provides special wheels, badging, black onyx grille, exterior mirrors and heavy-duty McIntosh 1,375-watt audio inside.
Not that the other Wagoneer models will bs shrinking violets in the stylistic sense; 20-inch wheels are standard and can be upgraded to 22" items, all available in four different finishes; we spoke before about the LED lighting throughout the line-up; and in the case of the Grand Wagoneer, the "Liquid Chrome" brightwork on the badging looks like it would melt in your mouth.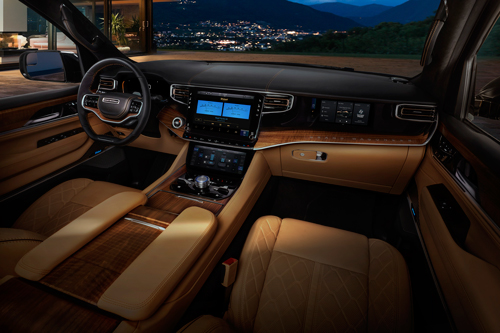 Speaking of "melting in one's mouth": both the Wagoneer and Grand Wagoneer get a Nappa leather interior as standard and generous applications of real wood inside do well to recall the original Wagoneer models — although alas, there's been no talk of any exterior wood paneling being offered. Cue up the aftermarket that we're sure is champing at the bit to offer its own take on that.
If you want even more suppleness, Series II and III trims get even more luxurious Palermo leather. It comes as no surprise that a heated steering wheel, 12-24-way power seats and heated front seats all come as standard. In another nod to its more luxurious digs, the Grand Wagoneer gets massage seats as standard.
Opulence is one thing, but these days in the premium luxury segment, you need the tech as well – have you seen the new Escalade? – and so the Wagoneer comes standard with a 10.1-inch central infotainment display, while the front passenger gets a display of their own, measuring 10.25". The Grand Wagoneer, meanwhile, gets a 12" central display. Both models get an additional 10.25" display below the main item for access to your climate control and other comfort features. It should come as no surprise that the gauge cluster in both models is also digitized.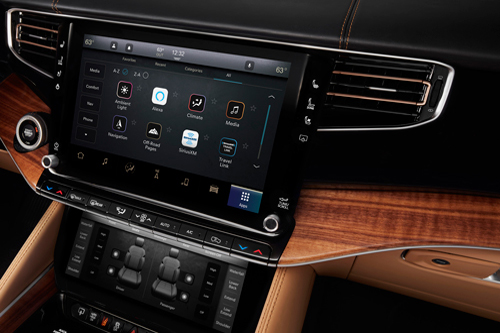 And it doesn't stop there in terms of digital displays. Second-row passengers can be entertained with the available twin 10.1" displays, while a 10.25" central display comes as standard. In case you were wondering: that's up to 75" of total display area in the Grand Wagoneer, and 50" in the Wagoneer. And to think; in the original Wagoneer, even having FM radio was a big deal!
Speaking of audio: the first of two available McIntosh system is a custom-made one, so that the sound can best travel throughout the cabin. The speaker count sits at an impressive 19, while the amp required to power them gets 17 channels and 950 watts.
Not enough for you? Then perhaps the 23-speaker, 1,375-watt amplifier option will be more to you liking. Forget room for seven or eight passengers; what we have here could be a concert hall on wheels!
Right; "on wheels". While the in-cabin experience has obviously been paid a lot of attention, lets not forget that at their core, these models are an extension of the Jeep brand and so they need to be capable as well.
Wagoneer hasn't gone so far as to grant renowned "Trail Rated" designation to either of these models – who knows? That may forever be a Jeep thing, and a Jeep thing only – but nevertheless, there are three 4 x 4 system choices: Quadra-Trac I and II, and Quadra-Drive II as well as available four-corner air suspension. Each system comes equipped with certain features – available electronic limited slip diffs, mechanical diffs, variable drive settings – to best suit the lifestyles of the various buyers.
Another big part of any Jeep or Wagoneer package, of course, is the powertrain and buyers will have the choice of two, both V8s: a 5.7-litre 48V hybrid option good for 392 horsepower and 404 pound-feet of torque, and a 6.4L unit good for 471 hp and 455 lb-ft. Both come mated to an eight-speed automatic transmission, while the 48V mild hybrid provides 130 lb-ft of torque immediately upon throttle tip-in and helps with fuel economy. The 6.4L, meanwhile, can deactivate half the cylinders to save fuel during low-load instances.
That's all well and good, but it is surprising that Wagoneer has opted not to make use – for either truck — of the plug-in hybrid technology that will soon be debuting on the Wrangler 4xe. All the reports have that as being a system perfectly capable of delivering the performance that Jeep (and soon, Wagoneer) customers require, and to not see it on either if these flagship models is a surprising development. It may be that it just doesn't have the juice to suit such heavy vehicles, or that the space required to house the various hybrid powertrain components just wasn't available in a vehicle meant to haul eight people and tow boats at the same time. We may see it come some time down the line, but for now, good ol' petrol power is what we have.
Which, of course, is the case for pretty much all of Wagoneer's competition from the likes of GM, Ford, Toyota and Infiniti as well as the German and British luxury brands, so Wagoneer is starting on a level playing field. Either way; many have eagerly awaited the return of the Wagoneer name – including us – and we can't wait to see in person what Stellantis has managed to do with it.