It's big. It's bold. It's … beautiful?
There is no denying that the first two statements are true about the 2021 GMC Yukon Denali. The third is up for debate depending on who you ask, but you can put me in the column of those who think this is one good-looking full-size SUV.
The all-new Yukon Denali goes more upscale than the model it replaces and features a host of new technologies and features, not to mention an exclusive interior design on the Denali trim that is excellent.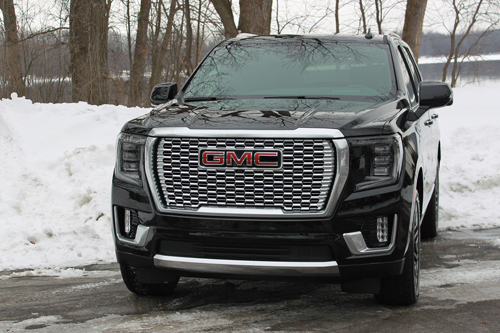 Oh it's also pricey! The starting price of the Yukon Denali is $79,798, but with more than $13,000 in options and other fees added on, our tester totalled $94,848.
That's enough to give one pause, but there's no denying this vehicle will find takers if you go by GMC's own numbers that state 60 per cent of Yukon buyers opt for the Denali.
Among the optional equipment is the Denali Ultimate Package ($8,320) and $4,165 for a set of nice 22-inch 6-spoke low gloss black wheels with machined accents, a power-sliding centre console with drawer ($400) and an illuminated mirror GMC emblem ($165)
As part of the Ultimate package, the Yukon gets the all-new Active Response 4WD system, which includes an electronic limited slip differential, to continuously monitor road conditions and reacts to improve traction, handling and overall control, GMC says.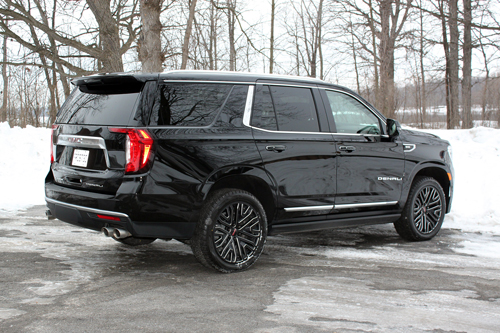 Well, I certainly put that to the test thanks to a major snowstorm during my week with the Yukon Denali and it was impressive. The SUV did not miss a beat and it was able to handle the difficult road conditions with ease – including snowbanks created by city plows.
The Ultimate package also adds creature comforts like a rear seat media system, panoramic power sunroof and much more.
For 2021, the Yukon has three engine choices, however in the Denali consumers will benefit from the all-new 6.2-litre V8 engine which is paired to a smooth-shifting 10-speed automatic. But don't look for a shifter on this gearbox as GMC has opted for a button setup mounted on the centre console.
(The other engines in the Yukon lineup include an all-new 5.3L V8 and a 3.0-litre inline-six turbodiesel.)
The larger V8 in the Denali is definitely potent, putting out 420 horsepower and 460 ft-lb of torque. Those are large numbers, but keep in mind it is motivating a large vehicle. That being said, when you need that power, it responds without hesitation, making the Denali a treat to drive even if acceleration is not the quickest.
As a city driver, however, this is not a vehicle that will be good on gas. My time with it was spent mostly on city streets and my average fuel economy was a cringe-worthy 23.2 litres per 100 kilometres. That compares to the estimated combined average claimed by GMC of 14.8 L/100 km.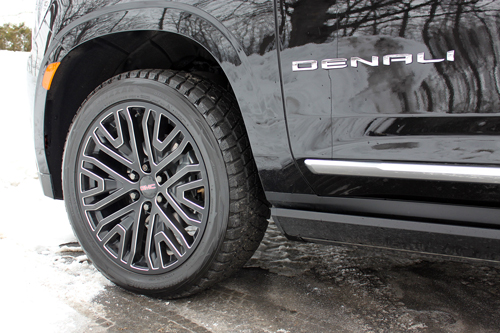 I guess I shouldn't be surprised by the gas-guzzling nature of the Yukon Denali because as large as it already was in previous years, it grew even bigger for 2021. GMC has extended the wheelbase of the Yukon thanks to a new chassis that the automaker says delivers a more confident stance.
The new look is quite bold, with a face that is hard to miss thanks to the massive Galvano chrome grille that GMC says has a precise dimensional pattern featuring over 10,000 individual reflective surfaces. That's a lot of bling!
On either side are large LED headlight assemblies that include GMC's C-shaped front lighting signature, which make quite an impression when combined.
With the optional 22-inch low gloss black wheels on our tester, the black-on-black look gives the exterior a bit of an elegant appearance as well.
And as this is quite high off the ground, thankfully it has a sidestep that automatically deploys when you open one of the four passenger doors to step inside.
And when you do, occupants are greeted by a spacious and comfortable cabin. There's a ton of black everywhere even on the inside, but it doesn't feel cramped.
And the Denali's interior is differentiated from normal Yukon's thanks to some exclusive features like a completely new instrument panel, unique seats and a choice among four colour themes, each or which include authentic wood trim and leather surfaces stitched by hand in a unique Denali pattern.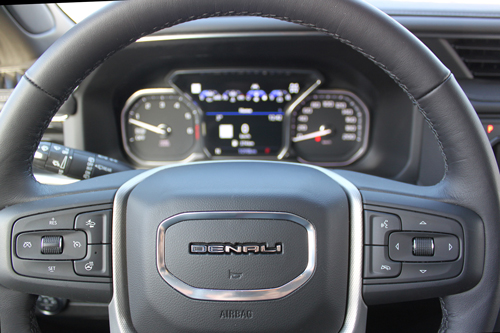 The second and third rows offer plenty of leg room and comfortable seating, and the entertainment system for second-row occupants – featuring massive 12.6-inch screens – was a hit with the kids.
GMC says it features navigation integration that allows passengers to suggest destinations to the driver – this gives a whole new meaning to having a backseat driver!
Thankfully, the Yukon Denali is equipped with an excellent Bose 14-speaker surround sound system that lets you crank up the music and tune them out.
The brain of the infotainment system is a 10.2-inch screen, featuring some clear menus and offering a good response time.
It features GPS navigation, satellite radio, Wi-Fi hotspot, as well as wireless Apple CarPlay and Android Auto.
Out on the road, the ride inside the Yukon Denali is limo-like in how smooth it handles and how quiet the cabin is.
Even over some bumpy winter roads covered with ice, the vehicle never felt unstable at any point.
The Yukon Denali is huge, and you can definitely feel it behind the wheel. But thanks to all the power under the hood, this isn't a lumbering behemoth. It remains responsive to driver inputs, whether that be for stop and go city driving, or for cruising along on the highway.
A week with the all-new Yukon left little doubt in its capabilities, styling, creature comforts and more. It's a solid offering from GMC, but that price tag is steep – and with taxes would top $100,000. That could definitely give some consumers pause, considering what other vehicles are out there in that range.
All things being equal, though, the Yukon Denali has a lot to offers in terms of looks, creature comforts, storage capacity and plain old brute force!
2021 GMC Yukon Denali 4WD
Price as tested: $94,848.00
Freight: $1,900.00
Configuration: Front engine/Four-wheel drive
Engine/transmission: 6.2-litre EcoTec V8/ 10-speed automatic
Power/torque: 420 horsepower/ 460 ft-lb of torque
Fuel (capacity): Premium (90 L)
Combined fuel economy ratings (L/100 km): 14.8 L/100 km
Observed fuel economy (L/100 km): 23.2 L/100 km
Warranties: 3-years/60,000 km (basic)
Competitors: Chevrolet Tahoe, Cadillac Escalade, Ford Expedition, Infiniti QX80, Lincoln Navigator, Nissan Armada, Toyota Sequoia
Links: GMC Canada