The Dodge Charger SRT Hellcat Redeye Widebody Jailbreak would surely win the prize for the longest model name in automotive history, if there were such a thing. Maybe that's why it has the wide body.
It would also be in the competition for the world's fastest production four-door sedan, maybe ever.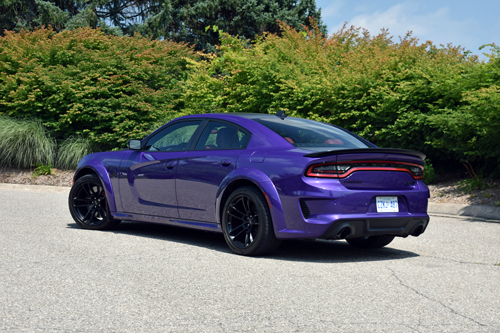 You can play "spot the Benz bits" with your friends, as this seventh-generation Charger shares some under-the-skin tech with the German giant's then-current E- and S-Class cars.
Some over-the-skin bits too, as we shall soon see.
Exterior: The Charger has always been a handsome car, and has aged particularly well. The Widebody package, arriving in 2020, gives it added presence. Better measure your garage before you buy to ensure it will fit.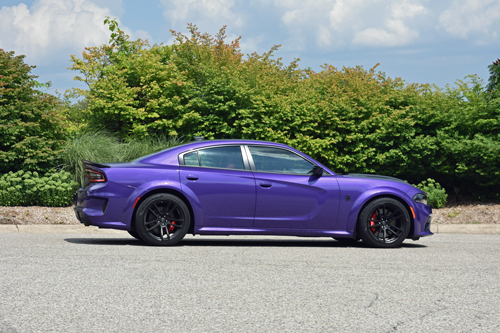 All those air scoops on the front and hood seem to be functional, to feed air to the engine and to keep things cool.
"Stellantis" or whatever Chrysler is calling itself these days has retained its sense of humour w/r/t paint colour names. My tester was "Plum Crazy Pearl". Sad to say, the best paint colour name ever, "Thanks Vermilion", doesn't seem to have made the cut.
The hood, roof and trunk lid are matte black, which is surprisingly difficult to keep clean. Anybody know why?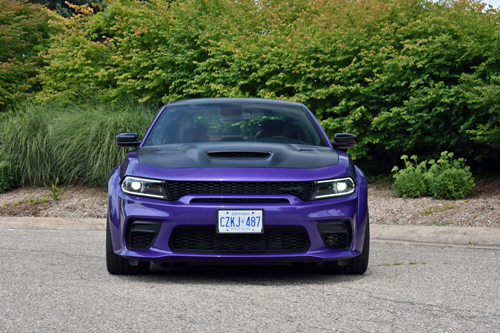 The 305/35 ZR 20 Pirelli P Zero skins on 11 inch wide black aluminum five-double-spoke wheels let the Frisbee-sized brake rotors and red-painted Brembo brakes show through, and are shrouded by equally huge fender flares.
The tires are rated for three-season use, so you'll either need a set of winter tires, or garage the car when it gets cold. All this power, rear-wheel drive and summer tires? Sounds like fun to me.
Every aspect of this car announces to the world that it means business…
Interior: …including the form-fitting yet comfortable multi-adjustable front seats. Red leather might seem an odd choice for the purple paint, but it works for me.
The rear seats will be fine for two. Any middle-seat riders will have to be creative in finding a place to put their feet.
The trunk is huge, and those rear seat backs can be split-folded to provide lots of people/luggage options.
Like just about everything in this car, you can reconfigure the dashboard to suit your preferences. You'll need six months reading a chapter of the Owners Manual every night to figure out all the options; I left just about everything the way it came from the factory, except for adjusting the side-view mirrors correctly, which in this car, you can actually do.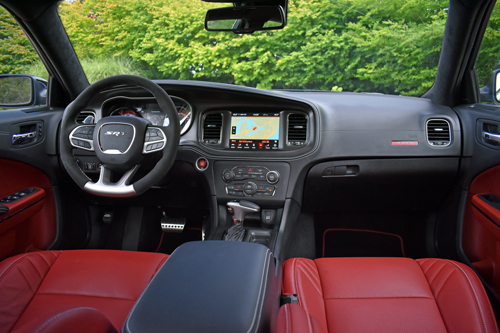 If you haven't been in a Stellantis product for a while, you may be surprised by the exemplary assembly quality – way to go, Brampton assembly plant – and by the fit and finish of the interior materials. Car and Driver thought the cabin looked "down-market", but who are you gonna believe?
Those aforementioned Mercedes bits? Among them, the left-side steering column stalk which requires you to take your hand off the wheel to work the wipers. This is just as stupid here as it was on the Mercs, for what should have been an obvious reason back then, let alone now. Geez, don't they read my stuff?? Memo – right side steering column stalk please, although given this is Charger's last year of production in this format, it's not gonna happen.
There are the de rigeur shift paddles on the steering wheel. Why I'm not sure, because the transmission shifts better by itself than you probably can.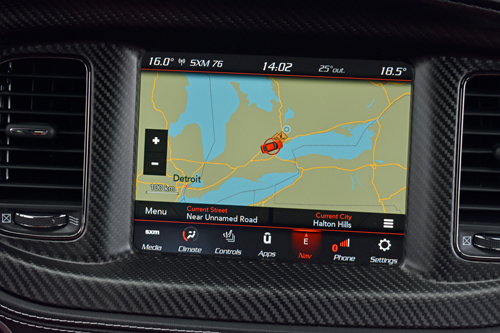 The usual Stellantis high-end infotainment system is for the most part easy to figure out, although having to hit "Nav" THEN "map" seems awkward. Shouldn't it just default to the map?
It is Apple CarPlay and Android Auto enabled, and my tester had the $1,500 Harmon Kardon sound system with no fewer than 19 speakers. As if it could play anything that sounded better than the exhaust.
There are a million options for setting up the car the way you want it, but there should be at least a million and one – why, oh WHY does the car have to tell you its headlights are on? Of course they're on; they should always be on. And I don't mean just the dumb and dangerous front-only Daytime Running Lights. Remember – all lights on, all the time.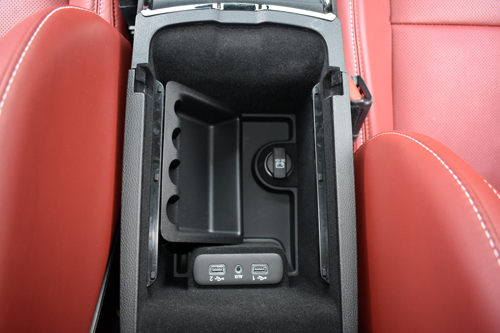 And if the car knows they're on, it should be smart enough to turn them off when you shut the car off, with perhaps a time delay to let you get from your parking spot to your door at night.
There are all sorts of 12 volt and USB outlets to plug in all your gear.
Powertrain: "THAT THING GOT A HEMI??"
Indeed it does. The 6.2 litre supercharged V8's 807 horses make it one of the most powerful engines you can buy at any price. The supercharger supplies boost from the first tap of your toe, and the exhaust system provides a wonderful aural accompaniment.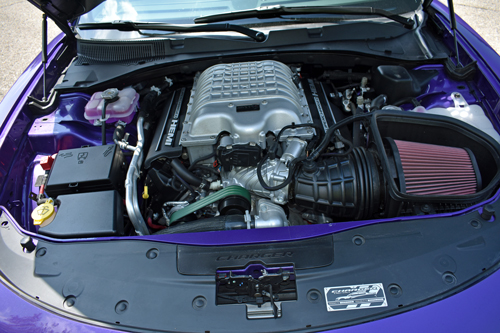 The 8-speed autobox has been stiffened to handle the prodigious output, and responds quickly to throttle-induced downshifts, clicking down as many ratios as it deems necessary to obey your accelerative demands.
Some Charger models have four-wheel drive, but this one is rear drive, dividing the power application and turning to individual axles. Probably a wise move, and certainly more fun.
A limited-slip differential, needless perhaps to say.
Drive: With this massive engine, the Jailbreak will rip off a 0 – 100 km/h sprint in 3.6 seconds, and take you to over 300 km/h if you can find a legal place to even try. You fear no-one at the stoplight grand prix.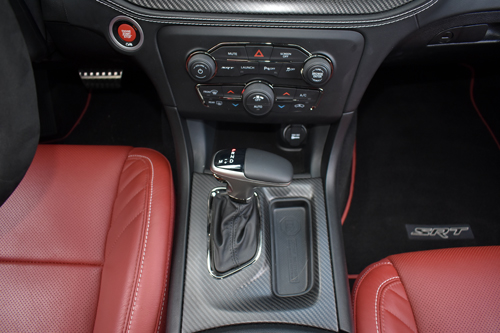 Because the car advertises its power from every milligram of its being, you won't feel the need to blow everybody away all the time. At least I didn't.
The equally massive brakes bring the car back down right quick, with a nice progressive pedal.
The fat Pirellis provide prodigious corner power.
Stiffened anti-sway bars and the three-mode Bilstein adaptive dampers are turned for competition use, but despite a bit of bump-thump on freeway expansion joints, the suspension provides a surprisingly compliant ride.
I've already mentioned the car's width; good job it's got an excellent back-up camera.
Conclusion: I couldn't help but think of the Porsche 911 Turbo S while driving the Jailbreak. Two more radically different cars may be hard to imagine, but they do share one characteristic – the bandwidth of the suspension. Balls to the wall, or just tootling around town, both cars are equally at home.
Unlike the Porker, the Charger is built in Canada, at Stellantis's plant in Brampton Ontario.
The biggest challenge the Jailbreak faces stems from an old real estate adage – it's better to buy the cheapest house in an expensive neighbourhood than the priciest house in a less exalted environment.
From an admittedly considerable distance, one could mistake my Jailbreak tester which listed at an eye-watering $131,340, for the base Charger SXT trim level, which starts at $45,990. Nearly three times as much.
But if you're confident enough self-esteem-wise, go play with those Porsches, and you can take three friends with you.
2023 Dodge Charger SRT Hellcat Redeye Widebody Jailbreak
Price as tested: $131,340
Configuration: front-engine, rear-wheel drive
Engine: 8.2 litre V8 HEMI, supercharged
Transmission: eight-speed automatic, paddle shifters
Power: 807 horsepower at 6,000 rpm
Torque: 717 lb-ft of torque at 4,000 rpm *** subject to confirmation!! ***
Fuel consumption (litres per 100 km): 19.0 City, 11.5 Highway, 15.6 Combined
Warranty: Overall, 3 years, 60,000 km; powertrain, 5 years 100,000 km
Website: Dodge Canada