Have you ever wondered what influences automakers to choose the names for their different vehicles? In Maserati's case, many of their creations are inspired by wind. For example, their newest Sport Utility Vehicle is named Grecale and refers to a strong, cool, northeasterly Mediterranean wind that blows off the coast of southern Malta. What's in a name, you ask? It turns out there is a lot more than many of us think.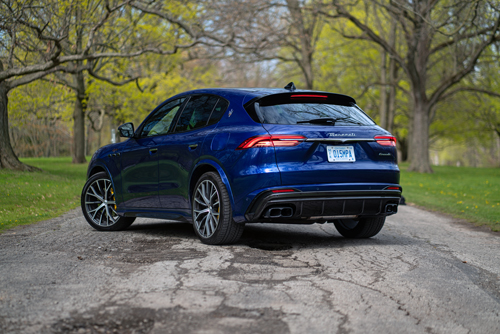 The 2023 Maserati Grecale Trofeo is designed to deliver dynamic performance while at the same time offer a spacious and relaxed cabin experience for up to five occupants. The luxury SUV market gets more crowded with each new model year, so staying ahead, not just getting in the game, is extremely important.
Maserati is no stranger to designing beautiful automobiles and Grecale, especially in Trofeo form, is no exception. It's challenging for an automaker to craft elegance into what is essentially a modern wagon, but the designers in Modena, Italy have succeeded where others may have somewhat missed the mark. During my weeklong test drive, I had many people comment on its graceful lines, the deep Blu Intenso metallic paint and its bold, trident embossed grille. There is no mistaking this for anything other than a Maserati.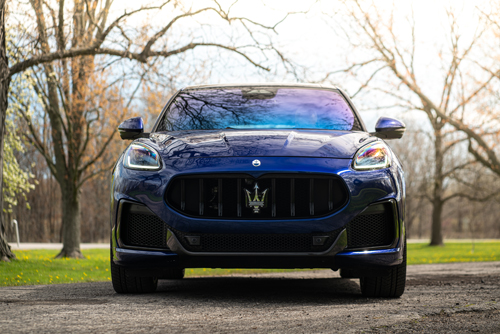 Based on the company's Giorgio platform, Grecale shares the same basic structure as the Alfa Romeo Stelvio and Jeep Grand Cherokee, which is not a bad place to start from. Not too many people would associate the Jeep Grand Cherokee with the Grecale, but you can certainly see some family resemblance with the Stelvio.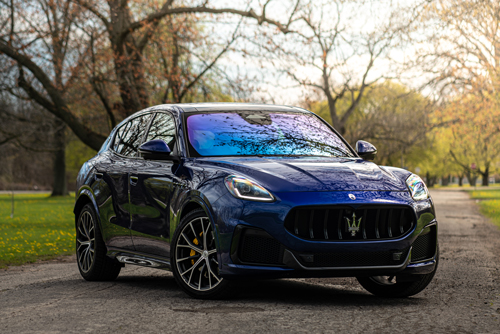 What separates Maserati's vision for this SUV is presence, it looks sophisticated and menacing in equal parts, not to mention possessing just the right amount of chrome and black trim. Carbon fiber accents, black exhaust tips and 21" Crio Staggered alloy wheels make a bold statement, as do the optional painted bright yellow oversized brake calipers.
Step inside and you are immediately aware this is no ordinary utility ride. It feels luxurious, rich in fact, with gracefully appointed leather doors, a flat-bottom sport steering and just enough satin metal, carbon and piano black accents to stand the test of time.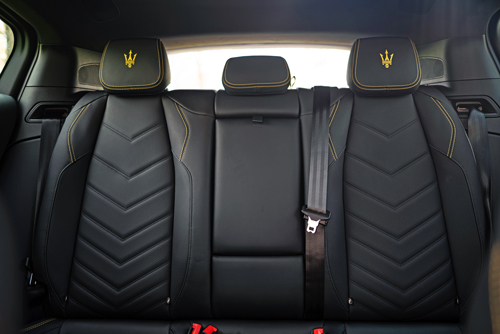 Seating is nearly perfect, but you expect that in a fine Italian automobile. Where the Grecale goes next level is offering 14-way power sport seats. Chevron styling and the bright yellow stitching featured here is further evidence to the craftsmanship delivered in Grecale; it really pops!
The dash layout is attractive and purposeful, while the center console with its push button gearshift is maybe a little unconventional for a serious sports vehicle, but the benefit is added storage, instead of a typical gearshift lever. The Grecale seems to have found its happy place with balance, performance and style in perfect harmony.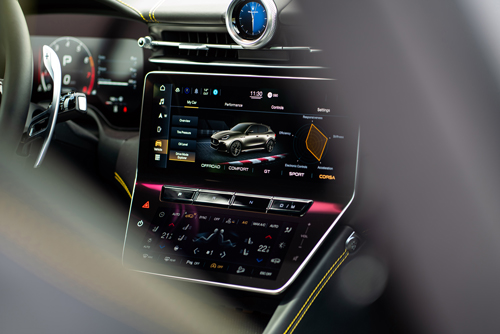 No Maserati is worth its weight in aluminum and carbon fiber if it can't perform at a level that resonates with their trident moniker. And resonate is something the Grecale does with ease.
A twin-turbo 3.0 L V6 cranks out 523 horsepower and enough torque (though Maserati doesn't officially list how much) to pull the Macan-sized SUV from 0-100 km/h in 3.6 seconds. Top speed is rated at 285 km/h.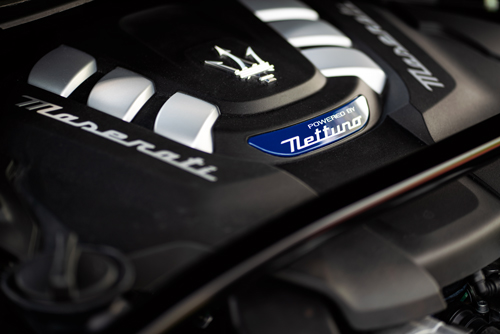 This is the same engine that powers the uber-exclusive Maserati MC20 (detuned slightly in the Grecale) so you know the Modena automaker is serious about delivering a powerful drive. Pop the drive selector into Corsa, drop a gear or two, then paddle-shift up at redline and you will hear the glorious sounds of a Maserati V6 engine doing its thing. And as anyone who knows fine Italian sports cars will tell you, its thing is glorious!
The 2023 Maserati Grecale is a true Maserati. It possesses rare traits that only Italy can seemingly deliver, and it does so in a package that fits a family of five. With a list price exceeding the cost of two similar sized SUVs from the likes of Toyota and Kia, it's obviously not for everyone. But that's the point. When compared to its rivals from Porsche, BMW, Audi and Mercedes-Benz to name a few, it stands out in everyway as an alternative choice that is certain to put a smile on your face every time you start the engine. Wherever the four winds blow, Grecale is a name to be celebrated.
2023 Maserati Grecale Trofeo
Price as tested: $129,500.00
Configuration: Front engine/All-wheel drive
Engine/transmission: 3.0-litre V6/ 8-speed automatic with paddle shifters
Power/torque: 523 horsepower/ 457 lb-ft of torque
Fuel (capacity): Premium (64 L)
Combined fuel economy ratings (L/100 km): 9.4 L/100 km
Observed fuel economy (L/100 km): 11.2 L/100 km
Warranties: 3-years/60,000 km (basic)
Competitors: Audi RS Q8, BMW X5 M, Mercedes-AMG GLE 53 4MATIC+, Porsche Macan GTS
Website: Maserati Canada