The Hotel Carlyle in Port Hope, Ontario is housed in a gorgeous little Italianate style brick building. It occupies a corner lot just far enough off of "the best preserved Main Street in Canada" to make it feel like an undiscovered gem. Thanks to Port Hope's steadfast grasp on its roots, the Carlyle blends into its surroundings. It grew up with them as much as they grew up with it.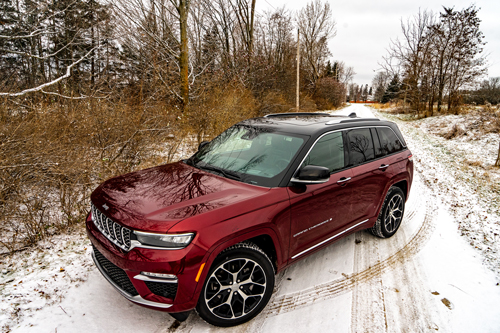 Established in 1857 the bricks and mortar were first laid to create a branch of The Bank of Upper Canada. Later in life, it became Port Hope's City Dairy and later still it transformed into an Inn, which it has remained since the late '80s. Although it continues to evolve to suit modern tastes via amenities and decor its preserved heritage is embraced – the original bank's vault serves as a private booth in the restaurant.
Now in its fifth generation, Jeep's all-new Grand Cherokee (WL) is looking to pull a similar move. Both the interior and exterior of Canada's best-selling mid-size SUV have evolved to hit the notes of modern luxury and refinement. Under the skin, tweaks have been made to accentuate a feel that matches the upscale, posh looks. The only real question is whether or not this grandest of Grand Cherokees still embraces the Trail Rated heritage its seven-slotted grill evokes.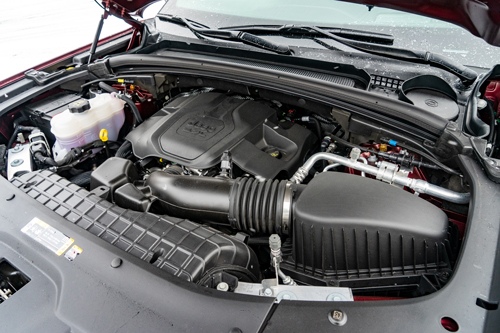 Powertrain: While the big news in the WL's powertrain department – the addition of a 4xe PHEV model that will employ the same e-mechanicals as the Wrangler 4xe – won't be fully realized until the next solstice, the new Grand Cherokee isn't hindered at all by either the Pentastar V6 or Hemi V8.
Both engines available currently are carryover units from the previous generation. The Hemi is good for 357 horsepower and 390 pound-feet of torque, while the Pentastar brings 293 horsepower and 260 pound-feet of torque to the table. Both are mated up to a "TorqueFlite 8" automatic transmission – which is basically the smooth-shifting industry darling ZF 8-speed auto-box, built and branded under licence by Stellantis.
You can both feel and hear the difference when you check the Hemi box on the order sheet, but unless you need the extra towing capacity (3,265kg vs 2,812kg), the Pentastar is an excellent motivator. Despite being bigger in all dimensions, this new GC is 120-kilos lighter on average, so even with the V6 it hustles with plenty of shove when you want it to.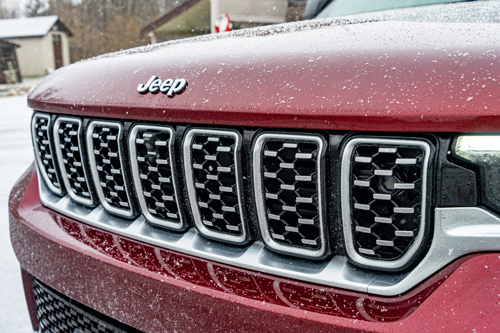 Given that gas prices have climbed some 40% in the last year (and are pegged to go even higher) you'll also be happy to note that the Pentastar does nearly 4L/100km better in combined fuel economy too, scoring an observed average of 10.8L/100km.
Power goes to all four corners regardless of trim level, but there are choices to be made here too. Quadra-Trac I is the standard 4×4 kit available on Laredo and Altitude models and works automatically to split power between the front and rear axles. Quadra-Trac II takes things up a notch and can funnel up to 100% of the output to the axle with the most available traction while Quadra-Drive II can shift power to the wheel with the most traction, not just an axle. Complete with a limited-slip differential, low-range, locking diffs and electronic swaybar disconnect this is the official Trail Rated, off-roader's choice.
Exterior: Visually the new Grand Cherokee is very similar to the silhouette introduced by the Grand Wagoneer, except in a smaller, more manageable package. And that's no bad thing.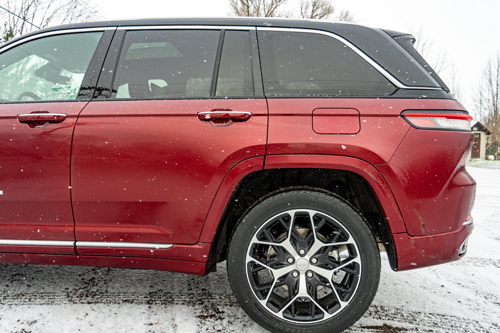 Sharper, sleeker lines hide the GC's increased proportions and the forward canted grill delivers a classic presence that the previous generation lacked. The lowered beltline is flat and purposeful, creating separation between the sheet metal and greenhouse while also linking fore to aft – just peep how it expertly bisects the rear taillight too. When optioned with the blacked out roof, the expanded greenhouse looks as light an airy on the outside as it does from the inside.
In my eyes, the packaging here is a much more timeless design as it doesn't rely on large radii to soften the edges. It's easily the most attractive Jeep in the lineup and will likely age well, too.
Interior: Open the doors to the new GC and, regardless of trimline, you'll be greeted by a cavernous and well-appointed interior. Like the exterior, the lines are clean and classically inspired. Tweaks to the chassis and this Jeep's widened track creates more passenger and cargo space than ever before. From the driver's seat, you feel a part of the thing instead of someone perched atop it, which is something I've felt the two previous generations lacked.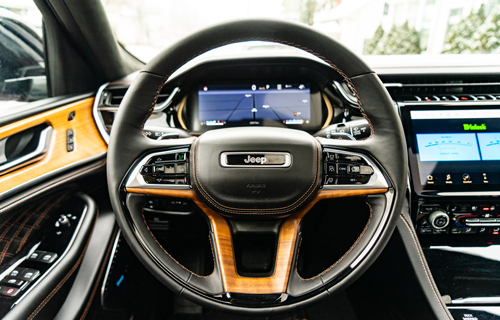 Opt for the Summit Reserve edition and the levels of luxury and refinement escalate quickly. Open-pore wood trim is gorgeous, warm and inviting. The quilted, Palermo leather from the heated, cooled and massaging seats works its way to the dash and door panels too. Even the second row guests can have their buns toasted or cooled. Piano black accents are everywhere though, so be warned as you will want to stock up on microfibre cleaning cloths.
Infotainment: While much digital ink will be spilled to praise the stellar, 19-speaker McIntosh sound system and screens-a-plenty in the top-tier models, I was pleasantly surprised by the levels of tech included in entry level trim.
Stellantis' U-Connect system is typically one of the best out there and version 5 finds its way into the entire GC fleet. A large 8.4-inch touchscreen sits atop the centre console and wirelessly displays Apple CarPlay and Android Auto content. This alone should become industry standard and I commend Jeep for not bundling it in an expensive options package.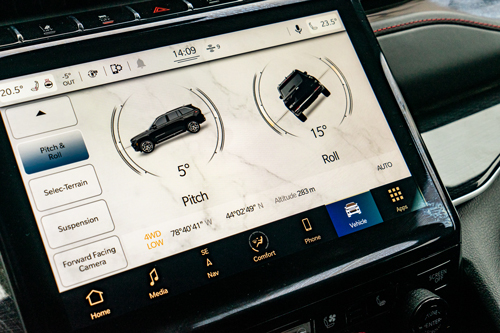 The driver's cluster consists of a 10.25-inch display and a myriad of options are available for your viewing pleasure. Wheel mounted controls tackle all of the essentials and there are tactile controls for the radio and HVAC units too.
Drive: Leaving the Hotel Carlyle on a snowy December morning, I pointed the V8-equipped Grand Cherokee Summit Reserve north west on a winding route towards Port Perry.
With the Quadra-Lift suspension in its low setting, handling is confident and compliant. Despite the accumulation on the ground, the ~2,300kg Jeep doesn't place a wheel wrong at all, even under heavy acceleration. If the designers had opted for a thicker steering wheel, I could be convinced this SUV has Bavarian roots. There is an extra helping of athleticism to the new GC's road manners, thanks in part to the active suspension but also this generation's wider track, too. The cabin is quiet, plush and affords excellent visibility. I cue up some tunes, toggle the McIntosh Amp visualization skin onto the display and relax with a warmed and massaged lower lumbar.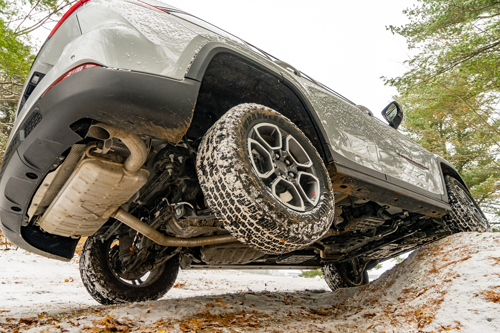 Of course, this being a Jeep it needs to perform off-road as well. Piloting a Trailhawk model through a dedicated course at Canadian Tire Motorsports Park reveals that it is far more capable than most buyers will ever need.
Approach, breakover and departure angles are impressive at 35.7, 24.4 and 30.2-degrees respectively (besting Toyota's TRD Pro 4Runner which delivers 33, 19.8 and 26-degrees), so there isn't much that it can't lumber over. With 4WD low selected, the sway bar disconnected and the suspension bladders filled to deliver 287mm of ground clearance, the Trailhawk shrugged off each obstacle as if it were Alex Honnold being asked to summit a schoolyard Big Toy. I didn't even bother sliding the Selec-Trac system out of auto-mode, and even after stopping dead on a snow covered incline, the Pentastar-equipped Trailhawk just dug in and carried me to the crest like an underappreciated Sherpa.
Conclusions: Combining plush, posh and pampering amenities with good old fashioned rough and tumble off-road character is a delicate dance. Push the envelope too far in either direction and you could either sour aspirational buyers or disappoint your core audience. Much like the Hotel Carlyle, the new fifth generation Jeep Grand Cherokee successfully embraces its go-anywhere heritage while wrapping its occupants in opulence and decadence. Prepare to see quite a few of these on the roads and trails in the coming months and years, and plenty of smiling faces within.
2022 Jeep Grand Cherokee
Price (as tested): $60,120 (Altitude); $72,015 (Trailhawk); $87,115 (Summit Reserve)
Configuration: Front-engine/Four-Wheel-Drive
Engine/Transmission: 3.6-litre V6 or 5.7-litre V8 / 8-speed automatic
Power/Torque: 293 hp / 260 lb-ft (V6); 357 hp / 390 lb-ft (V8)
Cargo capacity: 1,067.5 litres; 2,004.8 litres (with second row folded flat)
Towing capacity: 2,812 kg (V6); 3,265 kg (V8)
Fuel economy: (combined litres/100 kilometres): 10.9 (V6) ; 14.1 (V8)
Alternatives: Ford Explorer, Honda Pilot, Kia Telluride, Toyota 4Runner, Volkswagen Atlas
Link: Jeep Canada