There are a few changes to the Alfa Romeo Stelvio for 2022, and that includes the introduction of a new trim called the Veloce, which was my ride this past year. It replaces the Ti Sport trim and is one of four variants available for the Stelvio.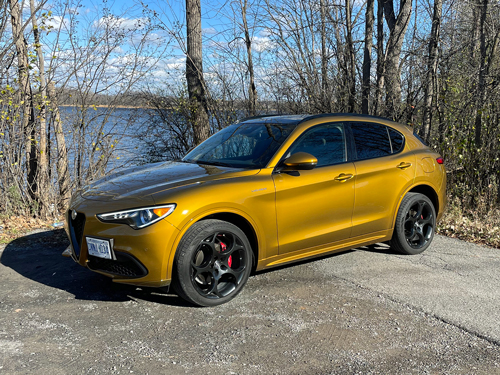 The new Veloce features items such as sport leather seats, a body-colour appearance kit, power adjustable seat bolsters, a limited-slip differential rear axle, sport rear diffuser, Dark Miron V Scudetto grille, gloss black window surrounds, aluminum steering column-mounted paddle shifters, aluminum interior trim, gloss red brake calipers, a premium Interior and Sound Package, as well as leather dash and upper doors.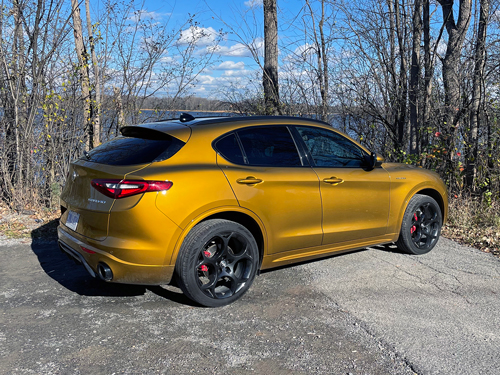 Veloce means fast in English, and this SUV certainly has the engine to back that up. It is equipped with a 2.0-litre turbocharged 4-cylinder engine which is rated at 280 horsepower and 306 pound-feet of torque. That means plenty of grunt, with smooth acceleration and a hearty exhaust note when pushed. Power is moved to the all-wheel drive system through an eight-speed automatic transmission, which also features paddle shifters.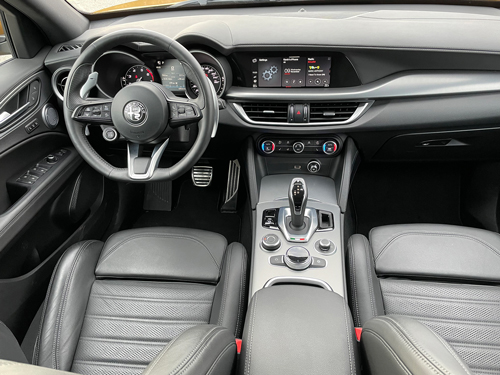 My test vehicle was definitely a standout thanks to the optional paint choice. With an almost golden look, it certainly suits the luxurious Alfa Romeo. But even without that colour, the Stelvio is one of the most elegant SUVs in the segment, which you would expect from an Italian brand.
You will quickly notice the V Scudetto grille, the Dark Miron colour definitely pops, which is matched by a mesh treatment in the rear, flanked by two large exhausts. It also features body-coloured wheel arches and side sills, while the exterior look is capped off by the sleek 21-inch five-hole alloy wheels. Peaking through those wheels are the red brake calipers, with the Alfa Romeo logo in white.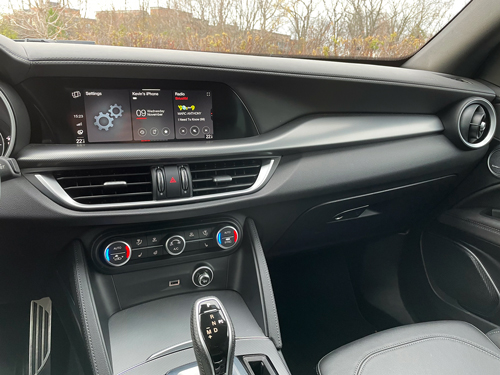 The infotainment screen may be somewhat of a disappointment given what its competitors typically feature, but once you get past this slight misstep, it's easy to revel in the overall cabin experience which is awash with luxurious materials, and has excellent fit and finish. The front seats are very supportive and comfortable, and I love the Alfa Romeo emblem embossed on the headrest.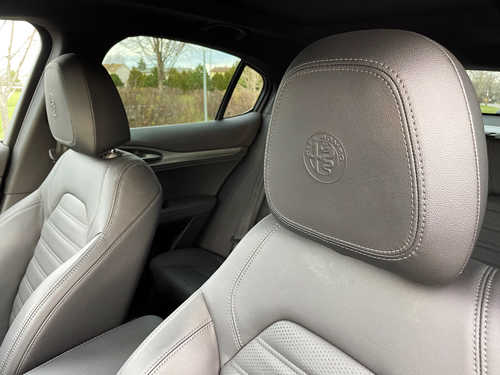 It did take me some time to get used to the ignition button being placed on the steering wheel, but that definitely fits with the sports car vibe the Stelvio Veloce delivers. A 14-speaker harman/kardon premium audio setup, featuring a subwoofer, floods the cabin with sweet tunes. Rear occupants should be pleased with the amount of legroom, while even the cargo area is well appointed with high-end finishings and the middle seatback folds down allowing you to slide in items like hockey sticks or skis.
The 2022 Alfa Romeo Stelvio Veloce AWD is a very stylish – dare I say sexy – SUV. A perfect choice for a winter sleigh ride, especially if you don't mind driving fast!