While the redesign of the Bentley Bentayga for 2020 was actually a strong move on Bentley's part, the fact that with the redesign came a dropping of the previously-available W12 motor in favour of a twin-turbo V8 was a sad exclusion for many.
Well, those lamenting that loss can now rest more easily as the W12 is set to make its return under the hood of this: the 2021 Bentley Bentayga Speed.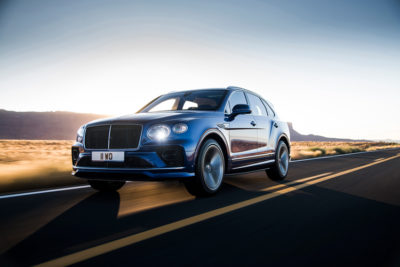 Rated at 626 hp and a colossal 664 lb-ft of torque, the hottest version of Bentley's truck is said to accomplish the 0-100 km/h sprint in about 3.9 seconds, and keep powering on all the way to a 306 km/h (190 mph) top speed. That's more power than  the Rolls-Royce Cullinan, the BMW X5M Competition or the Mercedes-AMG GLE63. In short: that's a whole heck of a lot of pull. The engine can also run on just six cylinders when cruising, and there are four drive modes to chose from: Sport, Comfort, Custom and "Bentley", the last of which is specially developed by Bentley as the perfect balance of all the various chassis and powertrain elements.
It should come as little surprise that it looks the part as well: the Speed trim adds dark tinted headlamp lenses, upper and lower front grille, unique 22-inch wheels (available in two tints on "regular" Speeds; more on this in a minute) and dark-tint taillights.
If you want an even more specialized look, there is the option of choosing the Black Specification, which replaces all the exterior brightwork with carbon fibre or gloss black inserts. Further, the carbon fibre used for the rocker panels and front splitter actually gets hand-rolled by craftsmen at Bentley's Crewe HQ.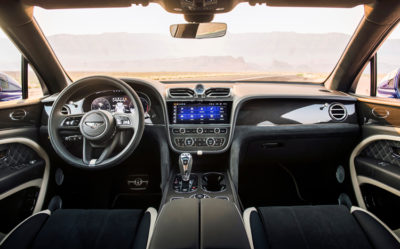 Inside, Alcantara suede inserts on the gear lever, steering wheel, seats, door pillars and headliner are a first for the Bentayga, and they are complimented by what Bentley calls a "colour split", whereby two leather tints are woven together for a deeper look overall. Exterior colours, meanwhile, count 88, 24 of which are dual-tone options.
Of course, all that power's great but the Bentayga remains a big, heavy vehicle and you need to be able to keep all that mass in check as you start winding through the twisities. To do so, Bentley has developed what it's calling the world's first-ever electric active roll technology. With it, lateral cornering forces are immediately counteracted by a 48V system. It works to control body roll but also fore-aft movement during acceleration and braking. This is important, as with the available carbon ceramic brakes, stopping power should be generous.
Finally: with the new model comes an updated infotainment system that now provides a modifiable (though, with only two ways, hardly) digital gauge cluster, 10.9" touchscreen, more informative heads-up display and a switch from wired to wireless Apple CarPlay and Android Auto integration.
If power's not your thing and you're looking for a more efficient drive (beyond the six-cylinder cruising provided by the Speed, of course), look for a Bentayga Hybrid in six months or so after the Speed arrives in late 2020/early 2021.