I needed another motorcycle like I needed another hole in my head. I just couldn't help myself. The Kijiji ad had only been up for a couple minutes and I had accidentally found it while looking for a part for one of my other motorcycles. It was a simple ad: "1970 Triumph Bonneville 650. Hasn't run in 10 years". The address was close (18 blocks from my home as I later discovered) so I called the phone number.
The owner said the motorcycle was stored in a garage behind a house he rented out but he just happened to be near there and could meet me in a few minutes. I wasn't expecting much. Most of these old bikes have seen better days, with chopped frames, extended forks, cut exhaust systems and engines that should have been rebuilt many moons ago.
When I arrived at the location, Dan, the  owner, threw open the garage door and the first thing in sight was a 1965 Fargo pickup painted a dark blue and murals on the hood. The body was as straight as an arrow! As I admired the bodywork, Dan told me he and a friend had spent many hours sanding to get it looking that great. My hopes went up but I still hadn't seen the Bonneville.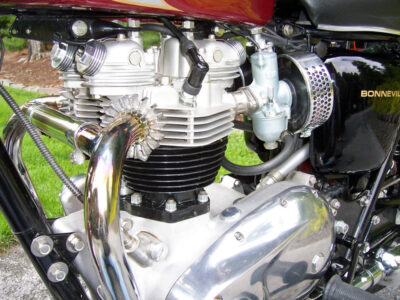 Tucked into the back corner of the garage behind a couple boxes and a lawn mower sat the Bonneville. It had an inch of dust on it.  Dan rolled it out and explained it had been his Dad's bike but that Dan really wasn't into motorcycles. His Dad had parked it ten years previously and it hadn't been started since. I looked it over carefully. It was dirty but this was also a survivor. With 16,000 miles on the odometer, the only non-original parts on the bike were a pair of Dunstall mufflers instead of the stock units. Two reflectors were missing from below the gas tank but everything else was there and all stock! Dan told me his Dad had installed a new seat cover on the bike and replaced all the cables only a short time before it was parked. I kicked the engine over (no electric start) and shifted through all the gears. Mechanically it seemed excellent.
Looking the bike over even closer, I found even the original bolts were still in place, which from my experience is a miracle. The vertical twin design of the Bonneville engine has both pistons moving up and down at the same time. This creates a vibration in the machine at idle that shakes parts and their fasteners loose over time. I remember riding beside a good friend with his 1971 Triumph Bonneville. Sitting at a stop light, the front wheel was shaking so fast it was just a blur. When I ribbed my friend about this, he simply applied the front brake. The front wheel stopped shaking but the rest of his bike started to! Loctite thread locker is a British bike owner's best friend.
In the automotive world, we call vehicles like this Bonneville  a "barn find" – a vehicle in decent condition that has been stored away for long periods of time and is either in good condition or is historically significant. This Bonneville met both those parameters. Other than needing the fuel tank cleaned inside and the carburetors overhauled because fuel had been left in the bike, this motorcycle was in exceptional condition. Even the paintwork was good enough to put in a show as it sat. I didn't need another motorcycle but couldn't pass up the opportunity to own this one. A few minutes later we had settled on a very reasonable price and my next task was to get it home.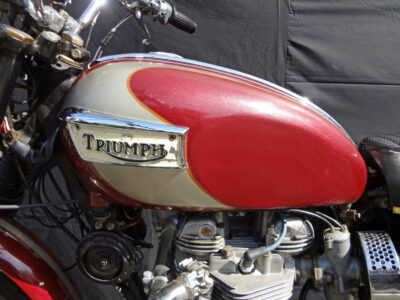 Loading the motorcycle into the back of my truck felt like too much work. I could have borrowed a trailer but that would take a day. Instead, we put air in the tires and I decided to push it home. The day was sunny and the temperature was about 18C. The streets to my place have no real hills so I started to push – 18 blocks I counted.  Three people offered to get me gas, thinking I run out of fuel, and two others offered to buy the Bonneville from me right then and there for much more than what I paid for it. No deal. I wanted to ride this bike.
Upon arriving back at my garage, I took a few minutes to wash the bike and it looks amazing. Between work, looking after the house and yard, and finishing up the concert season with my Choral group, there hasn't been enough time to do more than admire the Bonneville but the plan is to get it running in the next couple weeks and enjoy some summer rides. Then next fall it will get all the care and attention necessary to bring it back to mint cosmetic and mechanical condition, most of which will involve hours of cleaning and a couple seals. After all, the Triumph has already called my garage home by marking its spot on the floor with a typical vintage Triumph oil leak.
Related links:
Triumph Canada