If you thought the maniacal super sedans coming out of Mercedes-Benz's AMG skunkworks were something, Porsche is here with the new 2021 Panamera to say "you ain't seen nuthin' yet." Especially in Turbo S guise.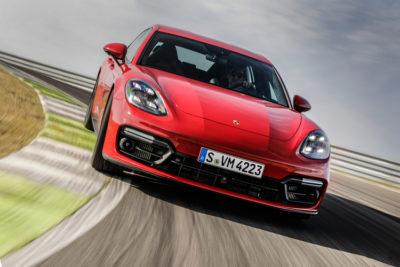 Equipped with all-wheel-drive and boasting a twin-turbo V8 good for 621 horsepower and 605 pound-feet of torque, the latest edition of what some would call the "anti-Porsche" can thunder to 100 km/h from rest in just 3.1 seconds in Sport Plus driving mode. Which, as it happens, is 0.1 seconds quicker than it took the legendary McLaren F1 supercar to complete the same feat. In a classic example of German comedy, Porsche actually says that the extra power has a "very positive effect on driving performance."
You…don't…say.
Coupled with chassis adjustments that include tweaks to the three-chamber air suspension, torque vectoring and Porsche Dynamic Chassis Control (PDCC), the Panamera Turbo S was able to lap the infamous Nurburging Nordschleife racetrack in just under 7:30 minutes, which is a record for four-door saloons, or "executive cars". That 0-100 km/h time plus a top speed of 315 km/h tends to have that kind of effect.
At the other end of the Panamera Spectrum we have the 4S E-Hybrid, which is an all-new version of the Panamera. It is a plug-in hybrid electric vehicle, which is a powertrain previously seen only on the Panamera Turbo S E-Hybrid and Panamera 4 E-Hybrid.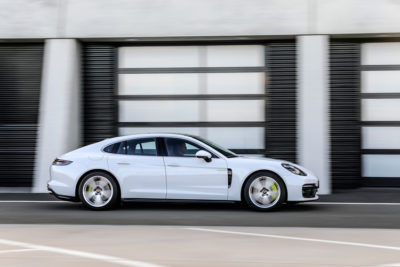 Adding an "S" to that latter model provides a 134 hp electric motor integrated into the eight-speed dual-clutch transmission ("PDK" in Porsche speak") for a total system power output of 552 hp and 553 lb-ft of torque. The 4S E-Hybrid is able to keep the 0-100 km/h time below four seconds – the feat is done in 3.7 seconds, to be precise – and propels the big Porsche to 298 km/h. All that, and the 4S E-Hybrid can still cruise on just electric power for up to 54 km, according to the Worldwide Harmonized Light Vehicle Test Procedure (WLTP). That's thanks to an optimization of the cells for the 17.9 kWh battery pack, which is up from 14.1 kWh in the standard 2020 E-Hybrid.
The new Panamera GTS, meanwhile, is for those that aren't quite ready for the ultra-hardcore Turbo S version, but are looking for a non-hybrid with a performance focus.
For 2021, the GTS model gets a 20 hp boost over the 2020 model for a total of 473 hp, and Porsche says they've tuned the engine to perform more like a classic sports car (what was that about the Panamera being the "anti-Porsche", again?) by having the power increase up to the rev limit.
Power remains unchanged for the entry-level Panamera and Panamera 4 models, which both get a turbo V6 engine good for 325 hp and 331 lb-ft. Porsche does say, however, that the PDCC and Porsche Active Suspension Management systems in the two cars have been tweaked for better performance.
Style-wise, all Panameras now get the Sport Design front end that used to be an optional add; the tweak adds new air intake grilles, larger side cooling openings and different lights. The rear light bar on the Turbo S has now been updated, and the GTS gets new darkened taillamps. Three new wheel styles ranging from 20 to 21 inches are now being offered.
Inside, the 2021 Panamera doesn't look all that different but more features have been added or improved upon; the online voice control system is more responsive, and lane keep assist with road sign recognition is now standard. 2021 also sees the standard fitment of lane keep assist, night vision, heads-up display and park assist with surround-view camera.
Watch for the 2021 Panamera to arrive in dealers by mid-October 2020. Price start at $99,300 for the base rear-wheel drive Panamera.
Pricing: 2021 Porsche Panamera
Panamera: $99,300
Panamera 4: $104,600
Panamera 4S E-Hybrid: $128,500
Panamera GTS: $147,500
Panamera Turbo S: $202,400