Be it Friday evening or Saturday morning, a sea of stuffed silver and grey SUV's clog Southern Ontario's eastbound artery throughout the spring, summer and fall. Helmed by like-minded drivers who've loaded up kids, gear and fido too, Prince Edward County (PEC) provides the perfect escape for both quiet respite and culinary adventure. Trust me when I say, getting there via the shortest route can turn driving into an absolute slog. But it doesn't have to. There are other windier, emptier routes available for us enthusiasts and — I'm going to let you in on a secret here — there are better, more engaging vehicles than those SUVs for the task.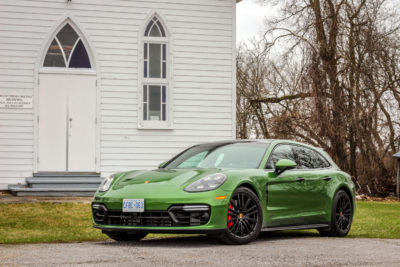 Peeling off the 401 near Port Hope, I tap the left paddle of my PDK-equipped Porsche Panamera GTS Sport Turismo a few times and revel in the burble of rev-matched downshifts. There are a multitude of road combinations that will lead towards our ultimate destination, The Drake Devonshire, and I intend to explore a few of them while getting to know this Mamba Green Metallic beast a bit in the process.
Thanks to its second generation re-design, the Panamera has shrugged off its bulbous, hobbled-together appearance and finally embraced its inner wagon. The sculpted, shooting brake design bestowed upon the Sport Turismo variant I'm driving is easily the standout of the range. Thanks to the subtle tweaks to the C and D pillars at the rear, there's a clean cohesion to its bodywork that appears missing in standard Panamera guise. At least that's how it appears to my eyes and the foot traffic heading towards Port Hope's Coffee Public tends to agree; I counted more smiles than sneers while we caffeinated ourselves.
The pavement on the B-roads linking Bewdley to PEC has, like us, suffered through a rough and lingering winter. Cracked and pock-marked, it's not the friendliest asphalt as far as most sports cars are concerned but the Panamera GTS seems to shrug it off with nary a niggle. The three-chamber air ride suspension, which notably sits 10mm lower in GTS guise, soaks up everything even at above posted speeds. And best of all, that lower ride height means this 5-door Porsche won't wallow in a fast corner.
Pop that fifth door and there is ample cargo space — 520L — for a longer-than-long weekend away. With just a suitcase and small duffel bag, my co-pilot Mr. Pegg and I have merely dropped pebbles in a pond. Fold the seats down and a stop off at Primitive Designs in Port Hope, where art and metal form the exotic, wouldn't be out of the question.
From behind the leather-wrapped and heated wheel, the Panamera GTS Sport Turismo is an extremely comfortable spot to be. The 18-way adjustable seats, standard in both the Sport Turismo and GTS, adapt and hug in all the right places. A sea of piano black and anodized aluminum sprawls across the leather adorned dash and centre stack, highlighted by an intuitive touchscreen user interface. I personally still prefer to play with buttons and knobs and held the last gen Panamera's interior layout on high, but I'll be damned if this isn't a well appointed, minimalist appearing cockpit.
Flex your right foot and the Panamera's all-wheel-drive system simply gets to the business of building speed. There's no drama, just an engagement of the warp drive as Centreton is quickly replaced by Morganston on our Nav screen. The 4.0L, twin-turbo, V8 powering the GTS is essentially a de-tuned version of the mill that sits in the Panamera Turbo. That de-tuning results in a still substantial 453 horsepower and 457 lb-ft of torque which slots the GTS directly betwixt that Turbo and the standard Panamera, in terms of performance.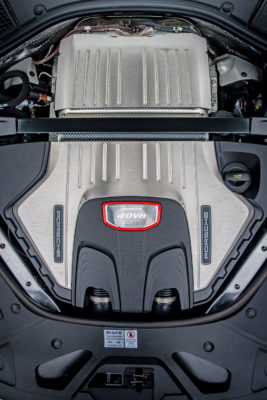 We nose into the Drake's tightly packed parking lot for a late lunch and appreciate the addition of four-wheel-steering to the Panamera for making this near-three-metre long car feel small and maneuverable. As we sit and enjoy the Drake's beer battered haddock and duck-fat-fried "chips", the waves of Lake Ontario are crashing just feet from our table. There's a hum from the conversations of the other guests but that quickly melts away. Our escape from the city is complete and it was accomplished with style, panache and levels of fun that folks trapped on the highway will simply never know.