Octane-fuelled learning crosses age and gender boundaries
With comments such as "amazingly passionate" and "best prof ever" peppered throughout the reviews on Rate my Professor, UBC's physics/engineering prof Dr. Andre Marziali scores top marks from his students at the prestigious University of British Columbia, which sits high above Wreck Beach at the western tip of Vancouver's Point Grey.
The rave reviews from those under his tutelage extend beyond the walls of academia to the searing-hot late summer pavement of the Pacific Traffic Education Centre (PTEC) abutting the Pitt Meadows Airport in British Columbia.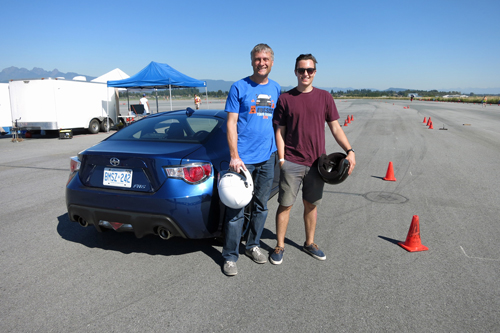 As part of the Justice Institute of British Columbia (JIBC), PTEC is a driver-training facility for police and other first responders. It's also where the UBC Sports Car Club, established in 1956, holds its Autocross 101 training programs. This is where you'll find Professor Marziali providing drivers new to the sport with science-based racing theory before riding shotgun with them to deliver one-on-one in-car training.
Autocross – the basics
Autocross racing is a sanctioned, regulated form of grassroots competition that enables participants to enjoy the thrill of motorsports without the burden of paralytic expenses often associated with auto racing. It's also a remarkably safe endeavor in which drivers race the clock for bragging rights, not each other. The race course is generally confined to a large paved parking lot, or in this case the massive pad of asphalt belonging to the JIBC's PTEC.
The course is defined by bright orange cones laid-out to create a circuitous web of challenging segments that flow from one to the other, and include such elements as offset gates, diminishing radius turns, long sweeping curves, G-circles, and the ever popular inline slalom. While speed plays a role in the competition, when all is said and done science and driving ability carry the day. Understanding the limitations of tire grip and the physics of inertia help a driver anticipate and manage the effects of understeer and oversteer.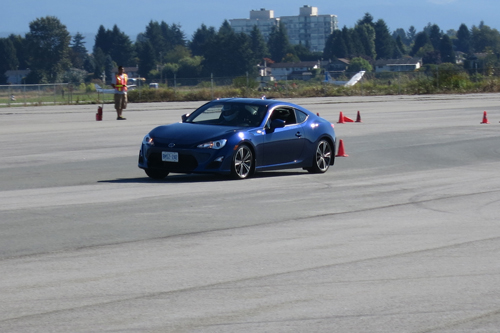 As world-champion rally racer Colin McRae once said, "straight roads are for fast cars, turns are for fast drivers." Knowing the fastest line to follow through each corner, gate, and slalom is where savvy drivers make-up time. Skill is the great equalizer for horsepower. Autocross courses are heavily skill-dependent, not horsepower hungry. Finesse trumps raw power every time, especially when the Professional Autocross Index – otherwise known as PAX – is applied.
PAX is a weighting system similar to a handicap in golf. It is a method of evening the playing field – or in this case, the track, which requires a competitor in a Ferrari to drive equally as well as a driver in a Honda Civic to score similar points. There are many other factors at play here, which include a series of classes for stock vehicles and similar classes for modified vehicles.
The "reality" in autocross is that most drivers race cars that are largely stock street-legal vehicles, which also serve as daily drivers.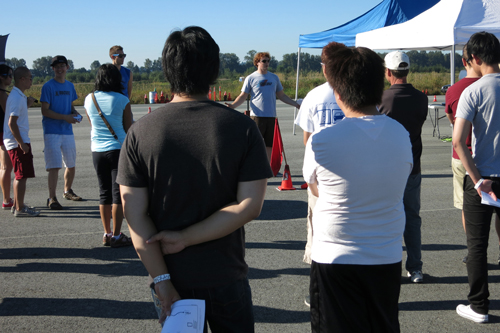 Class is in session
Most legitimate sports car clubs provide driver-training opportunities for autocross participants. The UBC Sports Car Club generally holds two Autocross 101 programs per year. I recently attended the end-of-summer session held at the PTEC facility. My then 19-year old son Austin was invited to participate, which he eagerly did using a 2015 Scion FR-S graciously supplied by Toyota Canada.
The class consisted of 19 drivers, three of them female. Ages ran the gamut from fresh-face teenagers to empty nesters with new-found vitality and wheels to match. Bound together by a common goal, the participants soon became brothers and sisters in arms, cheering each other on and laughing like giddy kids on a first date. The camaraderie within the autocross community is truly remarkable regardless of one's ability on the track or the capital invested in one's car.
Along with fun, there's serious business at hand. Safety is paramount. Rules are in place to ensure that everyone has a fabulous day, and that no one leaves in an ambulance. The UBC Sports Car Club driving instructors are all exceptionally talented, capable, and safety minded.
A ratio of two students per instructor ensures that everyone is given personal instruction specific to their needs and ability. Austin and Jordan – a 4th year UBC student of mechanical engineering driving his modified Datsun 510 – were assigned to Professor Marziali for the day.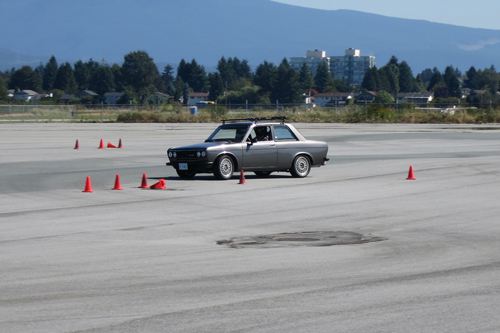 A patch of clean pavement served as a chalkboard for our high-revving prof as he led his students through the physics of cornering and the inherent limitations of the four small contact-patches uniting road and vehicle. After students walked and analyzed the course with their respective instructors, the outdoor classroom was traded for the car.
Establishing a baseline
Determining a baseline has never been so exhilarating. With instructors seated next to them, students lined-up in pre-grid to await the green light that would launch their inaugural run through the autocross course. With the use of sophisticated electronic timing, every hundredth of a second was accurately captured as each driver made three runs through the course; the fastest serving as a baseline to measure improvement against.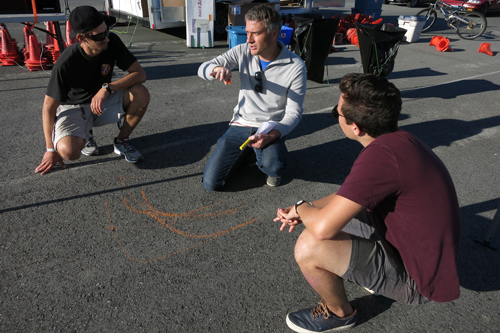 With baseline times established, the course was broken into its essential elements of: a slalom line, a G-circle, a series of offset gates, and a diminishing-radius sweeper. Supported by coaching from their respective instructors, students spent the better part of the day perfecting their skills at all four stations. In the afternoon, the course was reassembled, allowing each student to make four timed-runs of the complete course before the day slowed to a close.
Every student a winner – and a safer driver
The timing board revealed each student's improvement, and it was fascinating to see. Each improved upon their baseline by significant margins, some dropping from the 40 and 50-second range to the thirties and forties while others – such as Jordan – cracked the barrier in the high 20s. Austin, who has benefitted from similar advanced driver-training in the past dropped from 33.73 seconds to 30.22 seconds.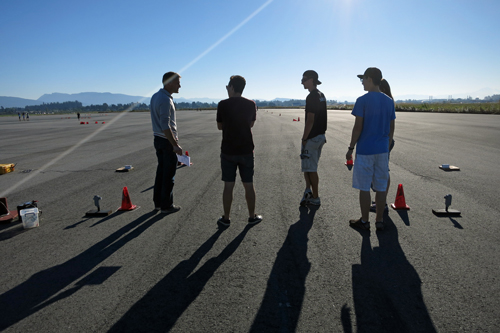 While the day was filled with fun and excitement, it also served a greater purpose by developing driving skills that are completely transferrable to the street. In effect, making each student a better, safer everyday driver.
As Formula-One World Champion Jackie Stewart once said, "it is not always possible to be the best, but it is always possible to improve your own performance." I have no doubt that each of the 19 Autocross 101 participants did exactly that.
A special thank you to the UBC Sports Car Club, its president Kevan Cote, and Dr. Andre Marziali. More information on Autocross 101 can be found at: http://www.ubcscc.com/