If the availability of a California Route 1 version, the hopped-up GT version or even the standard version of the popular Ford Mustang Mach-E still wasn't enough to scratch the itch, Ford is coming with yet another alternative in the form of the Rally version, said to combine the genes of the Mach-E with those of the fondly-remembered Ford Focus RS — you can see that when you consider the Rally's none-too-subtle roof-mounted spoiler. It's allowed Ford to proudly call it the "first ever rally-inspired EV" and while we're not sure that's necessarily a quality that too many EV builders have striven for, it's still pretty darn cool.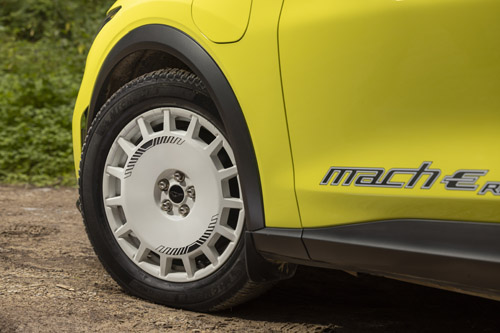 Speaking of cool: to help differentiate the Rally from other models, Ford has given the Rally white-coloured wheels designed to recall the items spinning underneath Carlos Sainz Sr. and the late Colin McRae's Focus rally car in the late '90s early 2000s. There are also rally-style mudflaps, side cladding and added underbody protection for both the front and rear motors; it should come as no surprise that the only way to get a Rally model is in the dual-motor AWD configuration. Available colours now include the famous Grabber Blue, Grabber Yellow and Eruption Green hues that Mustang-philes have grown to love over the years. Hood stripes are also standard, but there's no word — yet — on if we'll be seeing the blue/red Martini or blue/yellow/green British Petroleum stripes that made the Focus rally cars so popular…
Inside, there are specialized Ford Performance seats with "Rally" logos on their headrests and white accents on the steering wheel and dash.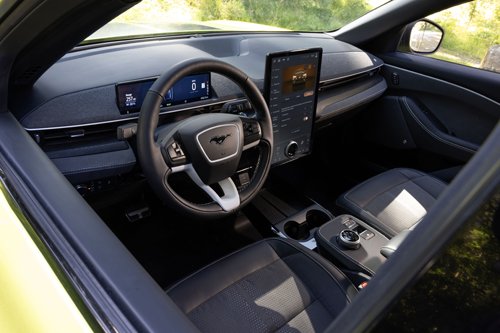 In addition to standard AWD, other performance tweaks include a power boost to 480 horsepower and a pretty startling 650 pound-feet of torque, a 20 mm jump in ride height (you know, for doing actual jumps…right?) with tuned MagneRide shocks as well as Brembo brakes with 385 mm rotors up front. It also gets a Rallysport drive mode which allows for a more rear-wheel bias and just a little more slip (and, in a more practical sense, better traction on slippery surfaces) as well as the latest version of Ford's BlueCruise semi-autonomous tech. Look for a 7-minute drop in charge time, making for a 36-minute 10-80 per cent charge time. There are no official range figures just yet, but Ford is aiming for a 250 mile count, about 400 km in Canadian money.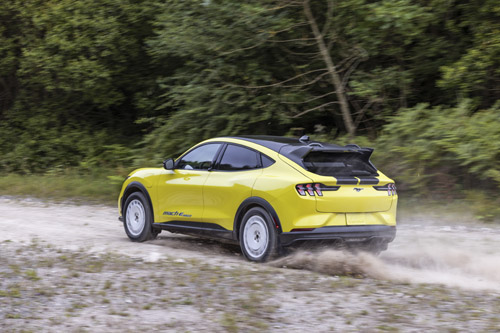 In addition to attracting wannabe rallyists, Ford is thinking that a vehicle like this will attract younger, more lifestyle-centric audience; you know, the type that likes their tech but wants a little on-road fun from their EV as well.
Look for the 2024 Ford Mustang Mach-E Rally to arrive in dealers later this fall and while we don't yet know Canadian figures, expect a US $65,000 hit.