Today, Volkswagen pulled the sheet off the all-new Taos compact-crossover, a vehicle that sits just below the Tiguan in VW's ever-expanding crossover and SUV market. Indeed, VW believes that almost 30 per cent of the manufacturer's worldwide sales will be of the SUV and CUV variety by 2030.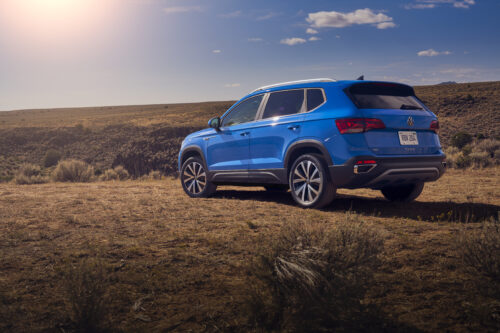 For its part, the Taos is about 235 millimetres shorter than the North American Tiguan; we specify that here because there is a shorter Tiguan available in other world markets. So why not just being that shorter wheelbase Tiguan here, instead of releasing a whole new model?
"The Tiguan — in terms of chassis, sheet metal and powertrain – is under the skin a very premium vehicle particularly when you compare it to a lot of its existing competitors," said Hein Schafer, senior vice president of product marketing and strategy at Volkswagen North America. "Our thinking (with the Taos) was a more affordable platform and to try and find a car that looks dramatically different, too."
When the Taos arrives around the middle of 2021, three trims will be available: Trendline, Comfortline and Highline and while no pricing has yet been announced, Volkswagen did hint during a media sneak preview we recently attended that it will likely run somewhere in the US $23,000-$26,000 range.
In addition to all that, Schafer did say that VW is looking at the possibility of doing a more aggressive version of the Taos, much like the Base Camp accessory package available for the Atlas SUV.
In order to offer it some unique styling, VW has given the Taos standard LED front lights that are reminiscent of the Atlas Cross Sport, more squared-off fenders than the Tiguan and a new tailgate treatment highlighted by large "Taos" scripting across the bottom below the VW badge, which is a styling touch we can expect to see on more VWs going forward.
So, it maybe a little shorter than the Tiguan, but it only loses about 45 litres of passenger volume, which is quite an achievement done so by pushing the wheels (that measure 17", 18" or 19") to the corners of the body so you reduce as much wheel well intrusion as possible.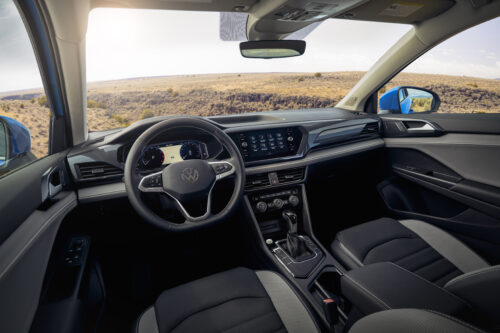 Inside, all Taos models get a digital gauge cluster and large infotainment screen that ranges in size from 6.5" to 8", as well as standard WIFI hotspot, optional eight-speaker Beats audio. Styling-wise, however, the interior is a little more traditional with many right-angles and broad, flat surfaces that don't have quite as much flare as something you might see from a Kia Sportage or Hyundai Kona. While establishing a price-point was crucial for VW during the Taos' development, buyers will be able to choose from luxurious interior appointments such as real-leather seating on higher trims.
Power comes from a single engine choice – a 1.5-litre turbo four-cylinder engine good for 158 horsepower and 184 pound-feet of torque, which puts it in the thick of the competition power-wise from the likes of the Jeep Renegade and Subaru Crosstrek. Unlike the latter, the Taos will be available in either front-wheel-drive or all-wheel-drive, with all FWD Taos models getting an eight speed automatic transmission and all AWD modes getting a seven-speed dual clutch gearbox. Unsurprisingly, VW expects most Taos models sold in Canada to be of the AWD variety.
As many manufacturers are doing these days, VW is offering an advanced safety suite under the "IQ Drive" moniker. It provides forward collision warning, active blind spot assist, lane keep assist, adaptive cruise control with stop-and-go ability and available park-distance control and adaptive headlights.
The VW Taos arrives in Q2 of 2021 as a 2022 model.