It's unassuming and doesn't draw many double-takes, but there are some undeniable qualities about the Volkswagen Tiguan that continue to make it a popular choice.
And new for 2020, the Tiguan IQ.Drive trim we tested adds a host of extras and additional safety features to elevate the model further in the highly competitive midsize SUV segment.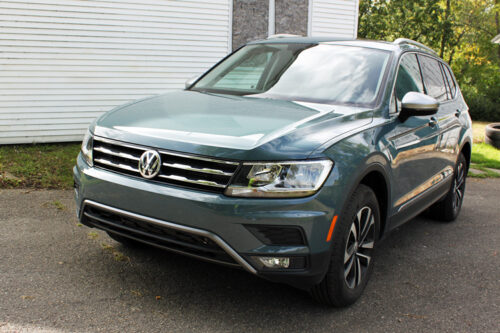 Actually, there is one thing that stood out about the Tiguan I drove recently and that's the colour. It is called Petroleum Blue Metallic and it's quite unique – as is the fact that the seats and some interior trim is colour-matched. Volkswagen has nailed this one, I must say, as it makes quite the impression.
The IQ.Drive trim slots in between the Comfortline and top-tier Highline (Trendline is the base) and has a price of $40,435 once the $760 optional third row is added.
As mentioned, the IQ.Drive trim includes some extras like a panoramic sunroof, 17-inch Dublin alloy wheels, front assist – autonomous emergency braking for adaptive cruise control, side assist (blind spot monitor) with rear traffic alert and lane assist, adaptive cruise control with stop & go, as well as satellite navigation.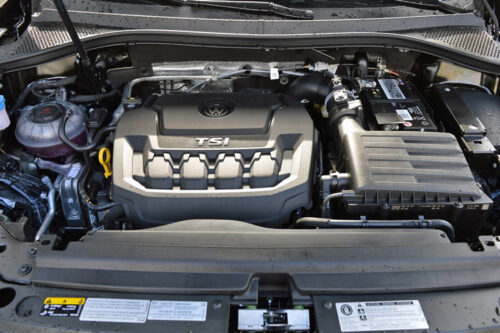 Helping you get where the GPS is telling you to go is a 2.0-litre turbocharged 4-cylinder engine. It delivers 184 horsepower and 221 ft-lb of torque, moved through an 8-speed automatic (with Tiptronic) transmission.
The Tiguan also features 4Motion all-wheel drive, with driver selectable settings depending on the driving conditions via a dial in the centre console.
While the numbers are okay, the Tiguan does feel like it could benefit from a few extra ponies at times, with acceleration feeling especially lax on occasion.
On a more positive note, the Tiguan did deliver for me when it came to real-world fuel economy. Rated at a combined average of 10.2 litres per 100 kilometres, I was able to return a score of 10.0 L/100 km.
The Tiguan's overall design is quite nice but definitely on the more conservative side of things. That will appeal to a certain clientele, who will be drawn in by the model's nice lines and silhouette.
As mentioned earlier, the IQ.Drive trim does offer the ability to make the Tiguan stand out a bit more with its colour scheme, with the 17-inch wheels on this trim another plus for the styling.
On the inside, though, the Tiguan excels with an excellent cabin design and layout – bolstered in our tester by those colour-matched features.
As you would expect from Volkswagen, all the controls and dials are neatly arranged and easily accessible.
And the cabin is also quite roomy for the front and middle row passengers.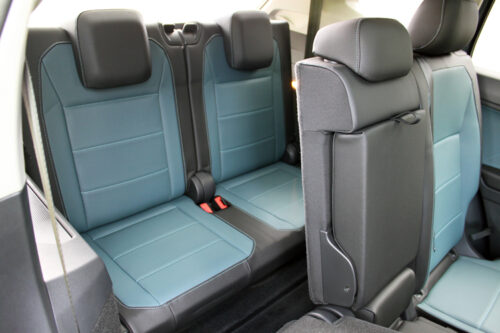 The optional third row on the tester is a nice feature, however it does not offer a ton of leg room for those who will be chosen – or volun-told – to sit back there. And when in use, it severely limits an otherwise generous cargo area, reducing the versatility in that respect.
The Tiguan does have some of the key niceties one expects of its interior though, including heated seats, dual climate control and the 8-inch infotainment screen. The system features the navigation system, as well as App-Connect, which means it is fully compatible with Apple CarPlay or Android Auto.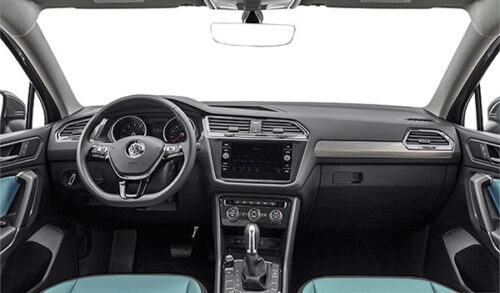 While it doesn't have the Fender audio system like the Highline, the IQ.Drive trim's audio system is far from being second rate. It also comes with satellite radio and three USB ports.
Out on the road, the Tiguan is a competent drive, but fails to deliver anything you could qualify as exhilarating.
The vehicle is composed and comfortable over smoother pavement, but gets a little rough around the edges on bumpier roads – and lord knows there are lots of those in Canada.
The Tiguan IQ.Drive has some excellent features and qualities that are sure to attract a fair share of buyers, but this is a highly competitive segment and there are lots of options for consumers.
Volkswagen is betting that the additional safety features on this trim – not to mention that cool colour option – will help put it over the top when it comes time to put pen to paper on a purchase agreement.
2020 Volkswagen Tiguan IQ.Drive
Price as tested: $40,435.00
Freight: $1,885.00
Configuration: Front engine/All-wheel drive
Engine/transmission: 2.0-litre turbocharged 4-cylinder/
8-speed automatic with Tiptronic
Power/torque: 184 horsepower/ 221 ft-lb of torque
Fuel (capacity): Regular (60 L)
Combined fuel economy ratings (L/100 km): 10.2 L/100 km
Observed fuel economy (L/100 km): 10.0 L/100 km
Warranties: 4-years/80,000 km (basic)
Competitors: Chevrolet Equinox, Ford Escape, Honda CR-V, Hyundai Tucson, Jeep Cherokee, Mazda CX-5, Mitsubishi Outlander, Nissan Rogue, Subaru Forester, Toyota RAV4
Links:
Volkswagen Canada