Remember The Man With The Golden Gun's exotic murder-world island? Erupting from the ocean amid hundreds of other such conical jungle-covered islets, it sits in Vietnam's Ha Long Bay, a UNESCO World Heritage Site. That's also the location of Vinpearl Ha Long, the first of two 5-star Vinpearl island paradises I visited last month.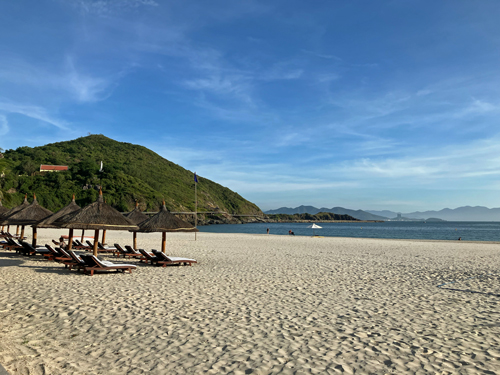 Vietnam is thousands of years old. So, any pop culturally influenced opinions you have of this equatorial land are probably incomplete. The following pitches Vietnam as an exotic beach holiday.
Here's why: boasting 3,260km of ocean coastline within total 310,070km2, this country's a narrow strip where you're never far from the ocean. Close your eyes. Now, allow those Hollywood visions of merciless jungle and steaming metropolises to be replaced by vibrant green ocean and pristine white beaches. Aah!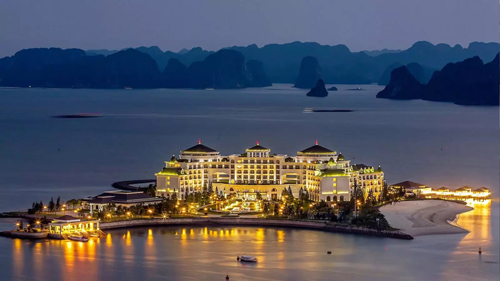 The flight from North America feels endless but if you can afford to stay at someplace like Club Med, you can afford Vinpearl now. Just 60km from Van Don International airport, Vinpearl Ha Long specializes in relaxing people who've sweated days flying from all over the world. You arrive at a palatial marble building, then walk through it — it's functionally just an expensive prop — to a dock with a ferry whose dimensions are similar to a vaporetto (Venice's floating answer to a streetcar) which whisks you across a narrow bay to a private island with an immense, even more palatial white marble hotel. Indulge!
Yes, avail yourself of the many spa options — especially those not offered in Canada, like the hourlong hair wash, whose scalp massage leaves you blissed as a junkie on the nod — but be sure to tour the nearly 2,000 surreal islets in the sprawling 1,550km2 bay. Then move on.
The topography surrounding Vinpearl Nha Trang, 1,000km or so south, is still jagged and jungular, just slightly less so. Like where you just were, you ride a small ferry across a short bay to a huge hilly island dedicated to its guests' pleasures.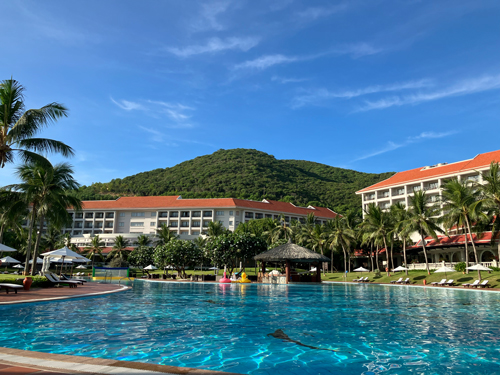 The humidity here is less severe too, though the whole country is uncomfortably hot throughout the summer and still Floridian in winter. Pack light.
Got kids? There's a Disneyesque midway with rides and princessey faux castle. Got stress? Take a couple's massage in a seaside cabana that you walk to, cliffside. Parasailing, jet skiing and paddle-boarding are offered throughout the day, or you can just float in the bathtub-warm ocean. The pool's room temp too but includes a swim-up bar that opens blessedly early for the still jet-lagged.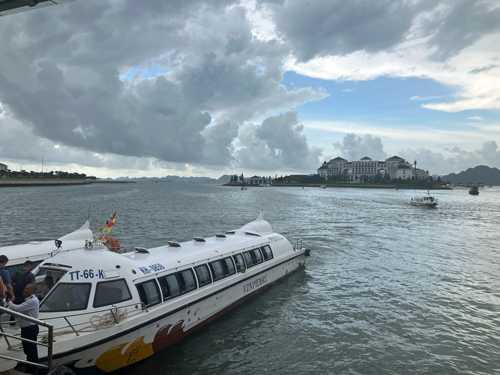 Got a yen for something historically different that you CAN'T find at a Canadian hotel? There's a vast Buddhist pagoda temple on the hill overlooking the Nha Trang resort. Visit quietly with respect, clothed in more than beachwear, and you're welcome to wander. Note how the faithful honour their dead with food, anything from lovingly stacked mounds of mangoes to junky choco-snacks. Outside, there's a contemplative garden full of statuary, capped with an immense Buddha facing out to sea. A marble marker features a quotation from Dhammapada, 110AD, in English: "Though one should live a hundred years, immoral and uncontrolled, yet better, indeed, is a single day of life of one who is moral and meditative." Wow!
You may return to the beach now with something interesting to talk about. Just be moral!
Last tip: If you're considering a beach vacation in Vietnam, go soon. Most years these resorts are packed with Chinese and Russian tourists. But with a zero-COVID policy in the Sleeping Giant and Vladimir's euphemistic "special military operation", there's loads of elbow room currently in Vietnam.
I just checked. A Saturday night's stay for a room in August 2022 is just $226.76 CAN.