Lincoln has been making a lot of noise about, well, not making any noise at all. The brand has gone all-in on their 'Quiet Flight' mantra, intent on developing vehicles which create a calming and uncomplicated experience for both driver and passenger. Think of a space which is as welcoming as a rolling sanctuary after battling crowds at the airport on your last business trip, or as a space in which to start unwinding after work whilst fleeing the office on a Friday.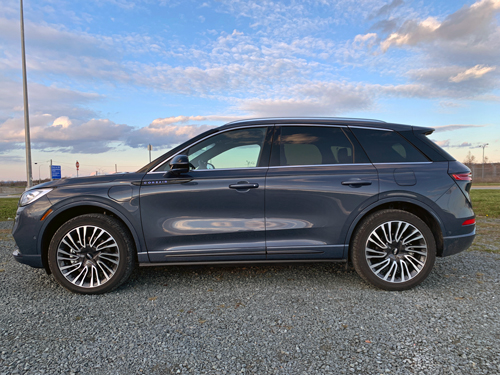 This approach is going to serve them well in the rapidly approaching all-electric era – assuming impatient marketers don't put the kibosh on it before Lincoln gets a chance to roll out some EVs – but for now they're applying it to this initial 'tweener stage of plug-in electric hybrids (PHEVs). After all, an electrified drivetrain should drill right to the heart of a so-called 'quiet flight', keeping a lid on noisy internal combustion engines while sipping fuel.
Powertrain: Lincoln brands its PHEVs with a Grand Touring suffix, rather than heading for the inevitable 'e' designation universally recognized but overused by far too many automakers. In practice, it makes a bit of sense; grand tours are defined by time on the road and behind the wheel, so infusing electrons into the equation to make that experience quieter and more fuel efficient is awash with logic.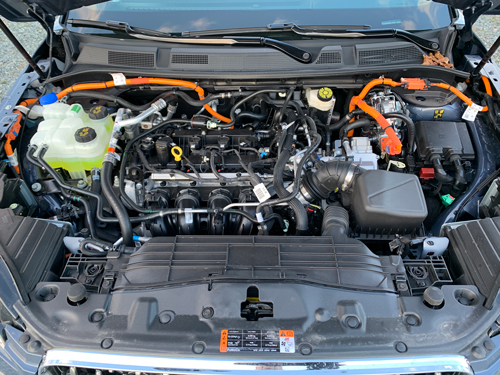 The all-wheel drive Corsair Grand Touring is powered by a 2.5L inline-four which tag teams an electric motor integrated into the rear axle to produce a combined system output of 266 horsepower. Its transmission is technically a planetary-gear system specifically for hybrids, but most customers will simply assume it is a continually variable transmission due to its behaviour which is largely unobtrusive. Its 14.4 kWh battery permits electric-only driving of roughly 40 kilometres when conditions are right.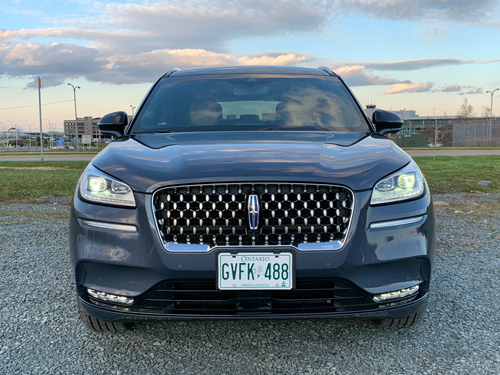 The four-banger part of this equation does occasionally put the 'coarse' in 'Corsair' but only does so when the driver calls down to the engine room for maximum power. Absent demands for hard acceleration, the powertrain is inconspicuous and goes about its duties like a silent butler. Its programming is a bit eager to light the fires of its internal combustion engine in certain drive modes, but we had no trouble sticking to battery power around town given a light foot. Even in Pure EV mode, the Corsair will kick over to gasoline power if acceleration needs demand it or the battery is low on charge.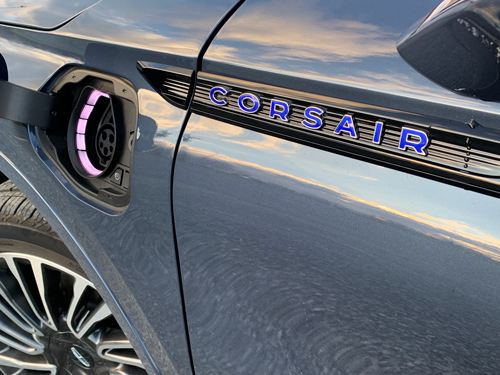 Exterior: Lincoln's new design language translates very well to a machine this size, with the brand finally figuring out how to make a statement without installing giant krill-hungry grilles. Any similarities of appearance between this junior Corsair and the (almost) top rung Aviator are purely intentional; viewed in a vacuum, the neighbours may mistake this machine for its more expensive (and rear-wheel drive) brother. A hint of blue is infused into the model badges, subtly announcing to the world you're driving a plug-in hybrid from Dearborn. This author has never understood the styling rationale behind wholly incorporating taillights into a cargo hatch, a decision which renders the rear of this Corsair startlingly expressionless when accepting a week's groceries or whatever you're loading into the cargo space.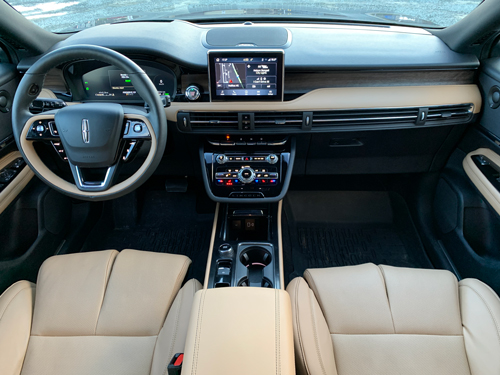 Interior: The caramel-hued 24-way leather-faced seats are part of a pricey options package and can take several minutes to Goldilocks into a 'just right' position using the Mercedes-style adjustment controls. These perches are thrones when they're set properly to your liking, but lumps of piled stones when they're not. Fortunately, memory functions abound so recalling a sweet spot is easy as pushing a button. Massaging options are extensive, some of which borderline on the inappropriate. There's ample space up front but the second row was tight for my 6'6" frame. If carting around the kids and their friends is a frequent chore, consider the next-rung Nautilus.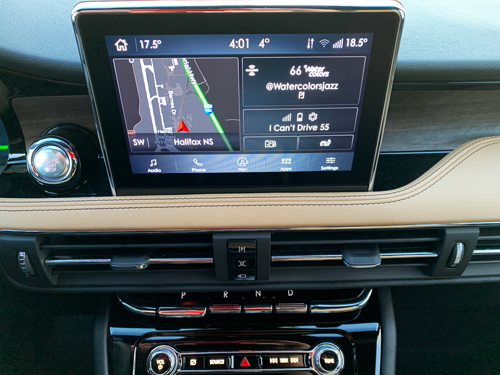 Infotainment: The central 8-inch infotainment screen in our tester is quite small compared to the units found in its immediate competition, perched atop the dashboard like a piece of toast. Even upgrading to the excellent 14-speaker Revel audio system does not correct this oversight, but at least the unit is packed with the likes of Apple CarPlay and a usable voice recognition system.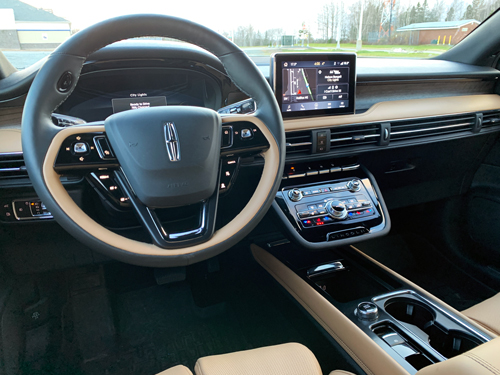 But perhaps the relative lack of digital real estate is intentional. After all, the dandy 12.3-inch gauge cluster screen sitting in front of the driver can be configured to display only the bare minimum of information – speed, fuel level, odometer – when set to its 'Calm Mode'. Perhaps this is part of the Quiet Flight ethos, intent on providing only what's necessary by stripping away noisy and distracting bells and whistles. To me, it seems like a waste of a good screen; to others, the lack of theatrics is appreciated. There are numerous redundant physical controls for key systems, all of which feel expensive and have an excellent tactile function.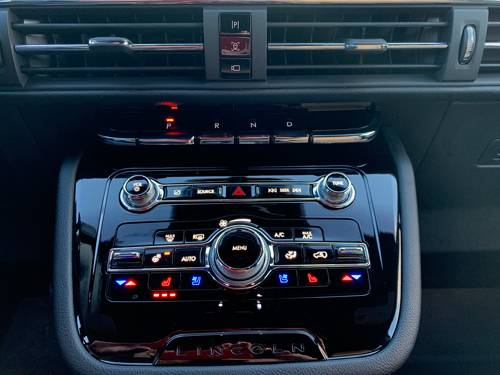 Drive: Plug-in hybrid powertrains purport to provide the best of both ICE and EV worlds – electric motoring around town fused with gasoline-fuelled practicality on the open road. Drive modes permit the Corsair to bank its electric power whilst on the highway, saving it for in-town driving instead of letting it be siphoned away at speed. The internal combustion engine smoothly lights its fires when needed, devoid of the harsh shudder which accompanies this action in some of the Corsair PHEV's competitors.
An intuitive light ring on Corsair Grand Touring's charge port makes charging dead simple. Drivers can use either the Level 1 charging cord included with the car or seek out a robust Level 2 public charger. The latter will juice the 14.4 kWh battery in about 3.5 hours, while the slower household outlet will take about 10 hours (read: overnight). A quick glance at that light ring on the charging port conveys the Corsair's current charge status, a handy feature.
Conclusion: In the Corsair Grand Touring, Lincoln has built a sensibly-sized crossover whose power team might be just the ticket for consumers who want to electrify their ride but aren't totally sold on the idea of living with an all-electric – being able to travel roughly 40 kilometres without burning a single drop of gasoline will appeal to many. And while this writer subscribes to the concept of conspicuous consumption (which is completely at loggerheads with Quiet Flight ethos), he recognizes the Lincoln approach will charm the socks off drivers who would rather silently enjoy their PHEV relaxation chamber instead of shouting about it.
2022 Lincoln Corsair Grand Touring
Price (as tested): $76,025.00
Engine: 2.5L I4 hybrid
Transmission: CVT automatic
Power: 266 horsepower (total system output)
Fuel Economy: 7.0L/100 km (gasoline only combined)
Fuel Economy: 3.1Le/100 km (hybrid combined)
Competitors: Lexus NX450h+, Volvo XC60 Recharge
Link: Lincoln Canada