Brand partnerships can be a tricky thing, especially in the worlds of automobiles and timepieces. Enthusiasts that frequent these spaces are exceptionally passionate and savvy. All of those thoroughly vetted "vertical integration" and "corporate synergistic strategies" that make perfect sense on filing documents, can amount to bupkis if targeted customers smell a needless cash grab or nonsensical co-branding — I'm looking at you, Bulova X Harley-Davidson.
Porsche and TAG Heuer, on the other hand, make a lot of sense. Perfect sense, even.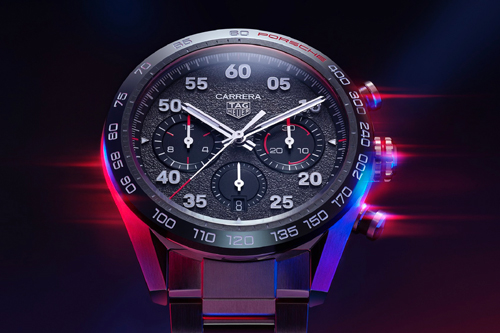 The Heuer Carrera debuted in 1963, the same year that Porsche's omnipresent and omnipotent 911 did. Porsche built the TAG Turbo engines that powered Niki Lauda and Alain Prost to F1 glory with the McLaren Team and the reason why Steve McQueen strapped a Heuer Monaco to his wrist while filming Le Mans was because Porsche 917 driver (and dealership owner) Jo Siffert did.
To celebrate the dawn of their newly announced partnership, TAG Heuer has released a special-edition Carrera watch. Dubbed the TAG Heuer Carrera Porsche Chronograph, the 44mm, three-register timepiece is based off of TAG Heuer's recently refreshed Carrera Chronograph line. As such, this watch is powered by the same, in-house Calibre Heuer 02 Automatic movement that boasts an 80-hour power reserve.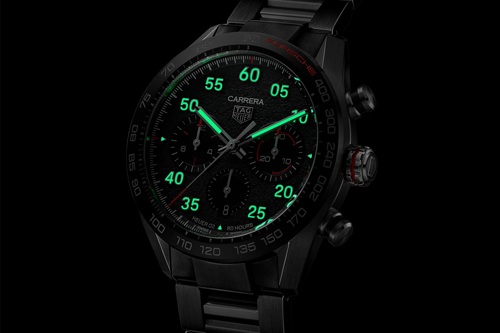 To differentiate the Porsche version, subtle tweaks have been made. The luminous, numeral indices take inspiration from Porsche gauge clusters while the winding rotor, visible beneath a clear caseback, resembles a steering wheel from Stuttgart's past. The dial has also been textured to mimic the irregularities of asphalt and the colouring matches that of Porsche Motorsport. Of course, there is also Porsche branding visible on the bezel as well as that aforementioned rotor. To put one on your wrist it will cost $5,850 USD with a leather strap or $6,050 for the stainless steel braceleted version.
As Vicarious' resident timekeeping aficionado, I'm a fan of this move but am more excited by the potential future timepieces that it may birth. The Carrera Porsche Chronograph is certainly no slouch in terms of watch design and execution — it offers a clean, easy to read and reputable timepiece for fans of both brands — but it's a bit of gentle play geared more towards petrolheads than hard-core horologists. But I'm sure this is just the first timepiece of many to come. With such rich histories as well as vested interests in the electrified and connected futures of both disciplines, I imagine this to be the tip of a very large iceberg that will set those savvy and passionate tongues from both world's wagging for quite some time.
Link: Tag Heuer