CITIZEN's latest electronic offering really puts the smart in smartwatch. Unveiled at this year's CES, among the many features of the Android-powered CZ Smart YouQ is a built-in self-care advisor that can anticipate how tired or alert someone might be at any given moment, in order to provide a series of tips to help him or her optimize everyday living.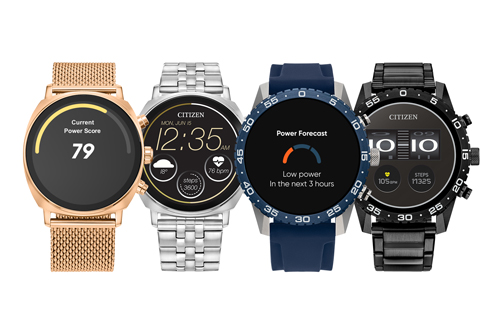 "The latest CZ Smart watch is a game-changing product that brings CITIZEN's legacy of watchmaking together with best-in-class research and technology of NASA and IBM, directly to wearers' wrists," said CITIZEN WATCH American president Jeffrey Cohen. "Coupled with the proprietary CZ Smart YouQ application, this smartwatch is a revolution in wearable wellness."
Sold in 41-millimetre Casual and 44-millimetre Sport styles, the timepiece leverages tech pioneered by the NASA Ames Research Centre Fatigue Countermeasures Laboratory and IBM Watson Studio, which is a data science software platform. This allows it to learn things like user sleep and wake cycles (also known as chronotype), heart rate and even alertness once a series of short, gamified Alert Monitor tests — originally developed to determine the mental acuity of astronauts — are taken.
Over a period of seven to 10 days, the integrated AI analyzes all of the above and is then capable of recommending "Power Fixes," via the proprietary app, that are various actions one can take to mitigate the effects of fatigue and promote overall better habits. These suggestions become increasingly personalized as more data is aggregated.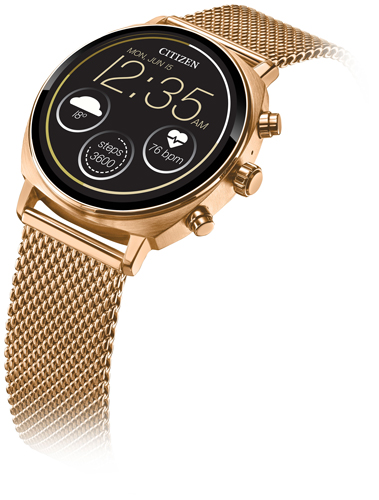 The aforementioned Casual model boasts a mesh bracelet, stainless steel links and silicon straps, and the Sport consumers have a choice of silicone, leather and stainless steel bracelet straps. Case colour options for the former are rose gold, silver, gold and black, while the latter case and bezel combinations include silver/silver, black/black, silver/black, silver/blue and gold/black.
Performance hardware is comprised of a Qualcomm Snapdragon Wear4100+ processor and 1 GB of RAM. Both offer downloadable and customizable dials, and the 8 GB of storage comes pre-loaded with a number of apps such as CZ Smart YouQ, Google Fit, Strava, Spotify, YouTube Music and Amazon Alexa. The battery is said to last for up to 24-hours depending on usage, an improvement of 20 per cent compared to the last generation, and a full charge takes about 40 minutes.
In the second half of 2023, a Hybrid variant will arrive as well blending the best of analog and digital by swapping out a touchscreen for traditional hands installed over a display controlled through buttons on the side of the case. The CITIZEN CZ Smart YouQ is set to arrive in Canada in March starting at an MSRP of $399.