Yesterday, Toyota Canada held a slightly awkward, socially-distanced press event featuring three products so utterly different, well, that was the point. They could.
In a market where so many of his competitors are disappearing brands and entire breeds of vehicles from pickups to sedans, Toyota Canada VP Stephen Beatty championed his company's "broadest product lineup we've ever had." He added that when customers enter a dealership, there's something for everyone.
The featured vehicles? The all new Corolla Cross, and new generations of the GR 86, and Mirai.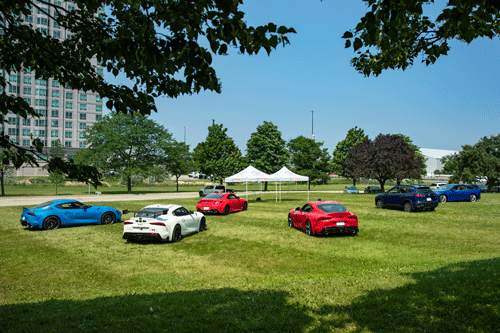 Chalk, meet cheese! You have before you yet another compact SUV — the only thing Canadians strap themselves into more these days than face masks — plus a race car you can drive your mother to work in; and a unicorn in a tuxedo.
What, you may ask, would the buyers of three so disparate vehicles have in common? They're all humans. And that's about it.
As for the actual presentation, it's like Toyota Canada's practicing for when things get back to normalish. Last week, several of the same masked faces hosted another such awkward event down the 401 in Kingston, but featuring just a single product, the Lexus NX. On both occasions, nervous automotive journalists bumped elbows with hand-sanitizer-smeared engineers and PR reps.
And both occasions were 'static'. We didn't actually drive the vehicles. So, these were more like augmented-reality Zoom meetings. But let's talk a bit about this day's bizarrely different vehicles.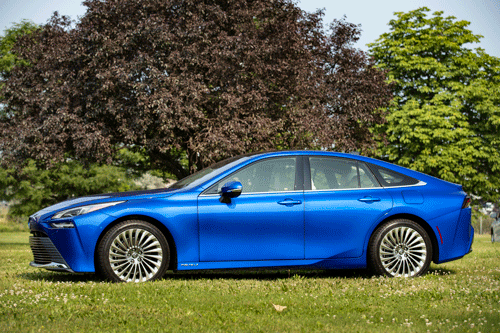 For early adopting elf lords and Gucci-heeled tree-huggers, there's the hydrogen powered Mirai.
This isn't sci-fi, you read that line right. The Mirai runs on an electric motor that runs on hydrogen! As Toyota's marketing materials remind us, hydrogen is "the most abundant element in the universe." (Yes, it's even more common than compact SUVs.)
So, you never need to plug it in. Just be somewhere in the universe, right? Umm.
Sadly, despite hydrogen's omnipresence, fueling stations where you can fill up with it are inversely as common. Today in Canada, only Québec City and Vancouver have hydrogen stations. While it takes just five or six minutes to refuel once you get there, for most Canadians, it's also ten- to sixty-hour drive to either one. It's not like Torontonians needed yet another reason to be jealous of these far cooler cities.
A 60-hour drive between refuelings isn't doable just yet — but be patient. This second generation Mirai boasts 30% greater range than its elder, with 17 more fuel cells for a total of 330. The new range now totals an impressive estimated 650km. So, unlike with fully electric vehicles, don't expect the phrase hydrogen anxiety to become a hashtag any time soon.
Here's a good example of the Mirai's technological unicornery. Its exhaust is — get this — water. Water?
It doesn't pollute, it sweats. H2, oh! Suddenly we're talking ph levels instead of hp.
An enviro-blogger who attended the event said that he once drank that exhaust as a click-baiting experiment. (Mind, he stutters now.)
Another wonder? Its purification system emits air back out into the environment that's cleaner than what it took in. So, the Mirai's not only a zero-emissions vehicle, it's negative emissions.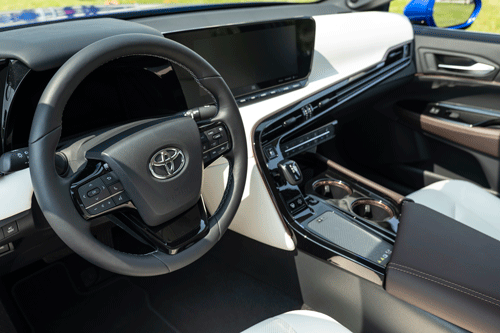 It's also beautiful and beautifully appointed. The converted can save the world in style. Those five white leather seats — one more in the back than the first generation — are the automotive equivalent of cleavage in a nightclub.
Moreover, you can save Earth flying sideways because it's a rear-wheel drive. Going sideways feels appropriate for a vehicle that's symbolically charting its own path.
And all this from a company that, rather than specialize in one sandbox over the years, has also delivered such workaday favourites as the Camry, Prius and Tacoma. Up yours, Elon!
For the Torquish speakers, Toyota laid out the new GR 86.
Winner of the 2021 Automobile Journalists Association of Canada's Performance Car of the Year award, Toyota's sexy GR 86 sports car is street legal but track ready. Something Vin Diesel would cook a steak on. Weighing in just one pound heavier than the last iteration, the 2022 GR 86 packs more power and performance. So, prepare for a flood of Torquish jargon.
Ahem: The 2.4-litre, naturally aspirated and horizontally opposed four-cylinder boxer engine emits 228hp and 185 lb-ft of torque, up from 205 and 156. The manual version leaps from 0 to 100km/h almost a full second faster than the last generation.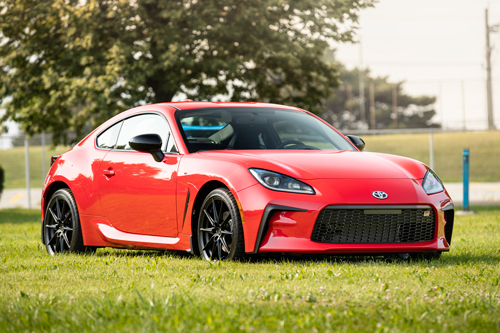 (If you care about the available automatic transmission, go sit in the corner and think about what you did.)
Front and rear frame reinforcements contribute to a 50% increase in torsional rigidity. Side bolsters keep the driver and passenger from doing cartwheels in their seats in deep corners, never mind the slightly lower centre of gravity from the previous gen.
Driving modes eschew Eco, of course, starting at Normal, then shamelessly advertising Sport and Track. Given the times maybe Toyota should change the latter mode to New Normal.
Speaking of jargon, the double-bubble roof isn't just fun to pronounce, it improves the drag coefficient and leaves you extra centimetres overhead for a helmet when you're ripping through gears at the track — or begging to be thrown in jail on suburban roads.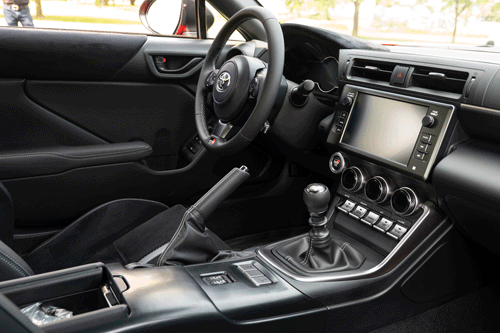 The Toyota team laid out several models: the new GR 86, two GR Supras, plus an insanely virile GT 4 race car across the company lawn.
Remember, however, this was a 'static' event. We didn't get to drive any of the vehicles. Just sitting in them unignited in 30-degree heat with 90% humidity was more like basting than fantasy. Displaying such vehicles to a gaggle of track fanboys was like showing off your wine cellar to an alcoholic who just had his jaw wired after a barroom brawl.
The all new Corolla Cross is for everyone else and their mother.
If you were born in Canada between 1960 and 1980, your kindergarten class likely contained four Johns, two Cathys (or Kathys), three Davids and, if Catholic, at least one Mary.
Why, you may ask, are you reading this?
Think of compact SUVs in the urban/suburban market as the kindergarten class of 1975, and the new Corolla Cross as the David whose family just moved into your school zone.
Corolla's long been a popular name in Canadian families, so the brand extension is a smart idea. At the very least, it's an idea Toyota's banking on: you'll find the Corolla Cross logo in 24 places throughout this vehicle.
The word cross, in this case, means SUV or crossover, but nothing Catholic … unless you mean small c catholic. Yes, catholic has another meaning: 'all-embracing' or a 'wide variety'. Which kinda describes the compact SUV market in Canada.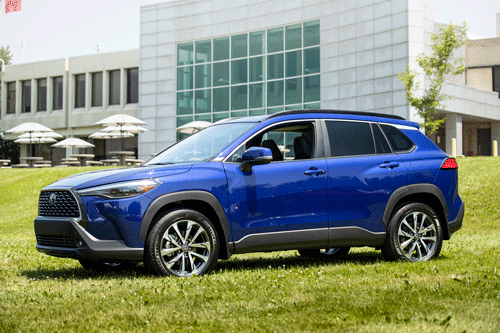 Consider. 81.5% of Canadians live in cities. Many want just one car that performs multiple tasks. Hence, the ubiquity and seemingly endless offerings of compact SUVs. You could call them catholic, or maybe the Goldilocks of vehicles: not too big, not too small, not too pretty, not too ugly, but bull's eye in the middle of what so many Canadian buyers desire.
Most of these buyers won't care about torsional rigidity, or leaving the air cleaner than how it was before they got in their car and took a hit off their Juul. But they will care that the Corolla Cross is longer, wider and taller than the C-HR. That's another compact Toyota SUV but one which lands in the Baby Bear end of the Goldilocks spectrum.
They will probably care that the continuously variable transmission (aka CVT) controlling their two-litre four-cylinder engine has a launch gear for some up-front chutzpah when the light goes green. And they'll probably like its middling fuel efficiency numbers: a Goldilocks 7.4km/100h for the front-wheel drive and 7.8 for the heavier all-wheel drive.
In small c catholic tradition, the Corolla Cross will appeal to a wide variety of Canadians. And Toyota, all embracing of the car-buying public has successfully shown off its wide variety of product.