This week Lexus Canada introduced multiple small batches of automotive journalists to the all-new NX. The presentations were conducted from several paces away and behind branded black masks. There are four main changes to this compact SUV that they want you to know about: powertrains with differing levels of electrification, the driving signature, some design points, and advancements in technology. The topics invade each other's territory so we'll discuss them individually if a tad messily too.
Like most big automotive manufacturers, Lexus is hurrying its switch to electrification, promising ten new vehicles with assorted levels of juicing by 2025. Among these are a self-charging hybrid, the NX 350h, and the NX 450h+, Lexus's first ever plug-in hybrid. (There will be ten other new vehicles by the same that powered by gasoline, including the NX 350 2.4L Turbo and NX 250 with a naturally aspirated 2.5L four-cylinder.)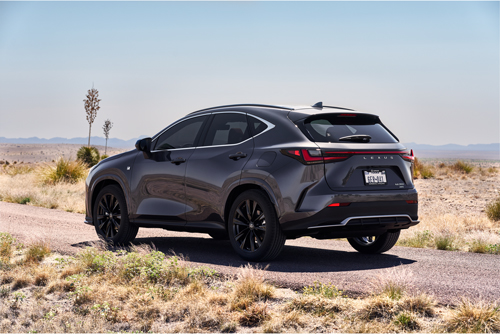 Our hosts were keen to emphasize that, despite this being an SUV with a longer wheelbase than last year's model, the new NX will still drive very much like a Lexus. Martin Gilbert, Director of Toyota Canada's Lexus Division, expects the NX will "capture the pure excitement of driving with the way our newest vehicles naturally ignite a passionate spark." Goodness! One example is the 40 extra horsepower drivers will have in the new 2.4L turbo gas-powered NX.
Gilbert's points about design fall in line with the above. Note the cockpit practically envelopes the pilot. Not that Lexus's designers have ignored passengers. That aforementioned extended wheelbase delivers slightly more legroom to those in the three rear seats. Meanwhile, ultra nerds and taller passengers of previous NX models will also notice a slight heightening of the ceiling in the rear. Small changes are often enough to make big differences.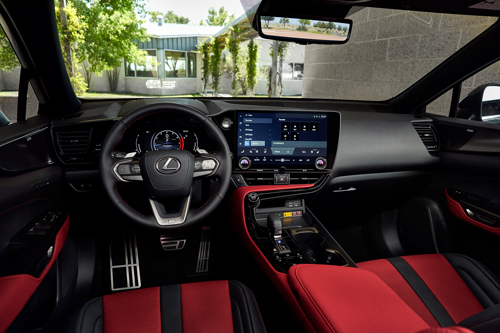 Mind, design is about more than how things look; what often matters more is the stuff you don't notice. Lexus's new safety system is integrated with more automated features, brought to life with extra cameras and sensors. One example: a sensor alerts the computer if something is coming beside, like a bike or a millennial on an electric scooter, scoots from behind up the passenger side. If the passenger doesn't see the invader and tries to open the door, it will remain locked to prevent unwittingly granting an ugly door prize.
"You can override the feature" with three quick taps on the button, Gilbert adds. Which will be a relief to those more evil Torontonian Lexus owners who resent waiting for passing cyclists or owners of silent scooters.
All of which segues nicely to the subject of technology. Obviously, Lexus would like you to take note of its Safety System 3.0 much of which is designed not to be noticed at all but simply work. Other bits you can program to alert you. Take Road Sign Assist. You can choose to have signs you may not notice on the highway highlighted on your info display. If you want, it'll even alert you with sound when you're speeding. There's also adaptive high-beam. Using information from a camera atop the NX, this feature removes specific LEDs from the headlights at night which may dazzle oncoming drivers — but without losing the definition of the road.
It was a pity we weren't able to test any of the NX models yet because there's a great local story. The NX will be made in Ontario's Cambridge North plant at Toyota Motor Manufacturing Canada (TMMC). Erin Buchanan, the TMMC General Manager, reminded us about the obsessive levels of quality care that goes into Lexus vehicles.
The TMMC is vast. The Lexus division alone employs 3,000 workers. I remember taking a tour there two years ago. The Cambridge Lexus plant was the first opened outside of Japan where senior Toyota management can closely monitor the making of their most expensive products. So TMMC staff are trained to Gladwellian levels of expertise.
In grand old Japanese tradition, they earn belts a la karate practice. New team members have to train for a thousand hours in their 'dojo' to earn a purple belt. Takumi, the black belt level, takes 60,000 hours. At some point between those levels, workers develop such finely honed skills that they can detect any defect in a newly stamped metal panel exceeding .3 millimetres. Which is about the thickness of three sheets of paper, giving that number some (albeit tiny) weight. More impressive, they can identify any such flaw within four seconds.
Speaking of obsessive, now consider this: Lexus Canada's team will meet its deadlines for delivery of the new NX models despite any havoc the pandemic wrecked on everyone else's supply chains lives. Indeed, it shouldn't be too long till we do get to test the all-new NX. The team in the TMMC plant is outputting one every 70 seconds.