The summer driving season has arrived like gangbusters in most corners of the country, with temperatures finally swinging into the thermometer's upper regions after a surprisingly frigid month of May. Whoever wrote 'April showers bring May flowers' has never tried to take their muscle car out of storage in Canada on Victoria Day weekend.
Even hopeless gearheads who use their rear-wheel drive whips year 'round (like this stickshift 2018 Challenger R/T), shedding the winter tires in favour of something with a bit more grip marks the true start of summer. This season, Toyo Tires has a new addition to their high-performance lineup, called the Proxes Sport A/S, which solves a particularly tricky problem.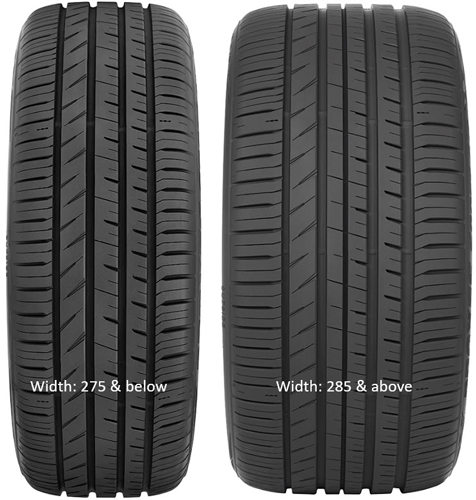 Many vehicles with a bent towards performance (be it straight-line speed or corner-carving handling) are best experienced on a set of sticky summer-grade rubber. The compounds and tread pattern in these types of tires permit great traction in ideal conditions, but can be a handful in slick conditions or ambient temperatures outside of their comfort zone.
These new tires greatly expand the temperature window in which the tires perform, permitting their use in conditions through which the driver would otherwise be white-knuckling it if they were on a different type of ultra-high performance tire. Toyo says the improved wet and dry performance of its Proxes Sport A/S is attributed to a newly developed silica tread compound. They won't spill the beans to its secret sauce, of course, but did tell us the tread's taper and improved rib design creates even contact pressure during braking while also adding a dose of stability while cornering.
Students of tire technology (all three of us) will spy those multi-wave sipes integrated into the tread pattern. They're present to improve performance in both wet and dry conditions, since they increase slightly the contact area when pressed into the tarmac under braking. The inside tread in particular is designed to handle water when the rain strikes, along with those angled grooves which help evacuate moisture from the tire contact patch. A so-called 'rim protector' juts out ever so slightly and helps guard against curb rash on wheels during those moments of mental fade while hauling into that parallel parking spot downtown.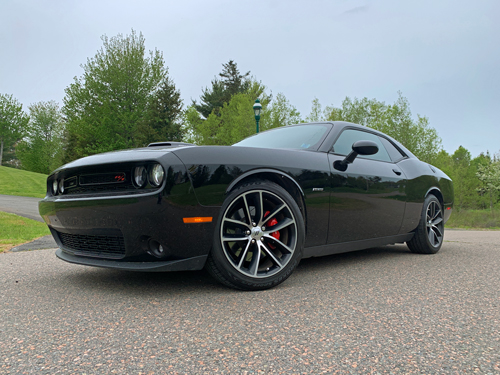 All this is well and good, but how do they work in the real world? The Challenger shown here accepts a tire that has a 245 section width with a 45-series sidewall on a 20-inch wheel. The new Proxes Sport A/S lived up to its promises on a warm June afternoon, permitting spirited driving along your author's favourite North Shore highway. That dynamic taper incorporated into its tread design provided ample stiffness to the tread blocks, helping prevent the infernal flex and deformation of said blocks that can be felt on some tires during enthusiastic cornering.
If you've ever felt like your tires were slipping or folding underneath the car while taking your machine though a twisty section, you've experienced block deformation. It's like rolling your ankle while walking – suddenly the part that supposed to be touching the ground is vaguely pointed sideways. The lack of this behaviour, as with the Proxes Sport A/S, translates to a confidence-inspiring feel and consistent feedback from the road.
In an interesting twist of engineering, Toyo has added an additional centre rib of tread for tire sizes of this line with section width of 285 and above. Simply stretching what's there on smaller tires wasn't good enough a solution for the company, since the chance existed for infinitesimally less precision at extra-wide sizes. The extra rib solves this problem while remarking on the team's desire to chase performance markers instead of designing one tire and calling it a day.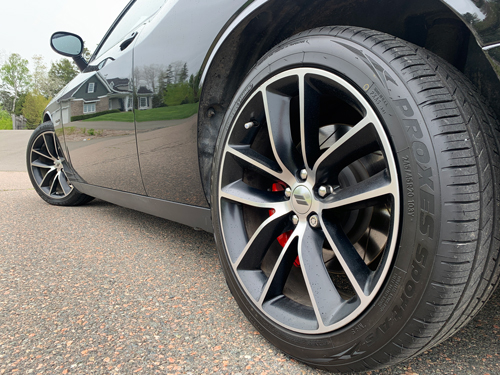 These new Toyos do slap a bit harder than the Yokohama rubber mounted last autumn on the Challenger, translating into a slightly higher level of road noise. That could be down to its tread pattern, which is an asymmetrical design that's likely funneling some road noise through its tread blocks. Ride comfort is roughly equal to the Yoko's. And, while this tire is marketed as an all-season solution able to cope with lower temperatures, we always recommend mounting a set of winter-specific rubber when the snow flies – especially here in Canada.
If you're a fan of the Toyo line, know this new tire is a direct replacement for three existing tires in the company's lineup: the Proxes 4, Proxes 4 Plus, and Proxes® T1R are discontinued with debut of the Proxes Sport A/S. The new rubber is designed for sport coupes and sedans, explaining their presence and making them a great fit for the personality of this Challenger. Some sporty SUVs and crossovers can also benefit from a tire like this, and with almost 90 different sizes available, there's a solid chance customers will find the size they need.
Proxes Sport A/S is a premium tire with a performance bent that will appeal to upscale gearheads looking for something that'll handle a bit of fun during playtime but not lose all semblance of traction when weather conditions are less than perfect. Sunny skies with the occasional spurt of dour weather? Sounds like the playbook for these new Toyo tires – and the Canadian summer driving season.