With two-hundred horsepower fast becoming the starting point for top-end supersport and hypernaked motorcycles, it stands to reason that tire manufacturers would look to develop new rubber that can better handle that kind of output. As such, Pirelli recently introduced their all-new Diablo Rosso IV tires.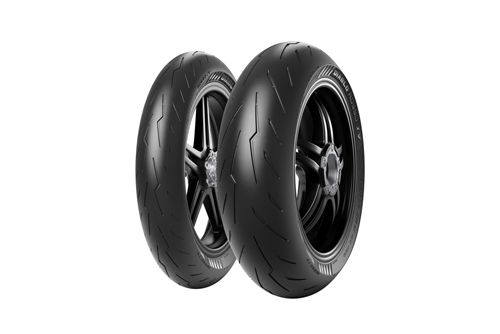 Designed as a high performance street tire, the Diablo Rosso IV succeeds the Diablo Rosso III. If you're looking for a frame of reference, those DR3's are the current OE tire of choice for Ducati's all-new Monster and their Hypermotard line of bikes, to name but a few.
You'll no doubt notice that the iconic Flash siping on the IVs is quite minimal, so obviously the aim here is to maximize the amount of rubber hitting the road. However, as you'll also notice in the spider graph below, wet weather traction has increased over the Diablo Rosso IIIs. In fact, according to Pirelli's testing, the Rosso IVs outperformed the IIIs in all categories while matching their mileage and even outgunned their more track-biased tire, the Diablo Rosso Corsa II in on track testing.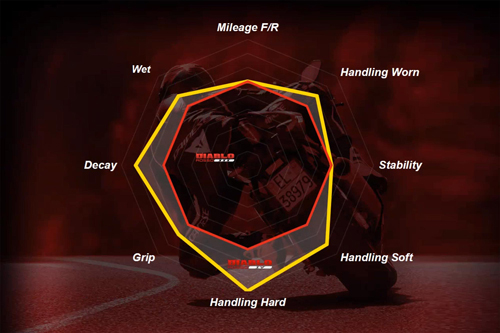 Part of the reason behind these gains lies in the tire's construction. The rayon cord stiffness has increased by 30%, which Pirelli claims also helps deliver more precise rider feedback while the contour of the tire has been shaped to maximize traction across the range of lean angles rider's commit to. This style of construction also reduces the end count of the strands used, so there is more space for the silica compounds to do their thing.
Interestingly, the construction of the rear tires changes from a dual compound, cap and base, full-silica tire between the 160 and 180 widths, to a three compound one for wider hoops. The additional material is employed at the edge and is similar in stickiness to Pirelli's race tire compound, so those should be some grippy chicken-strips.
Being a "supersport" product, the Diablo Rosso IV is a sport bike specific tire, so you can have any size you like so long as it fits a 17-inch wheel. For front tires, that means the standard 110 and 120 widths can be spooned on while rears range from 140 through 200.
Link: Pirelli Tires