Genesis GV60 Pricing
As fuel prices continue to spike globally due largely in part to the ongoing conflict in Ukraine, the introduction of new EVs like the Genesis GV60 can't come soon enough for many. Arriving in dealerships in the next week, the company has just announced pricing for the lineup.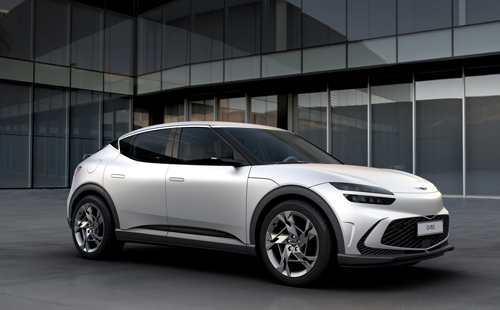 Two trim levels are being sold in Canada, both with all-wheel drive. The entry-level Advanced starts at $71,000 and utilizes a 74-kilowatt electric motor in the front/160-kilowatt in the rear creating a net 314 horsepower and 446 lb-ft of torque. The top Performance grade has two 160-kilowatt motors boosting the total output to 483 horsepower and 516 lb-ft of torque, and extra equipment like an electronic limited slip differential, active suspension and more.
The interior is quite well appointed regardless of grade featuring Nappa leather ventilated and heated seating, glass Vision Roof and 12.3-inch digital instrument cluster.
Incoming Kia EV Vans
Kia is another brand doubling down on zero emissions technology, unveiling the Niro Plus back in April which is a bigger version of the standard compact crossover and offered in a taxi variant. Now, it has teased a shadowy photo of what appears to be a number of futuristic looking commercial vans, part of a portfolio of so-called Purpose-Built Vehicles (PBVs).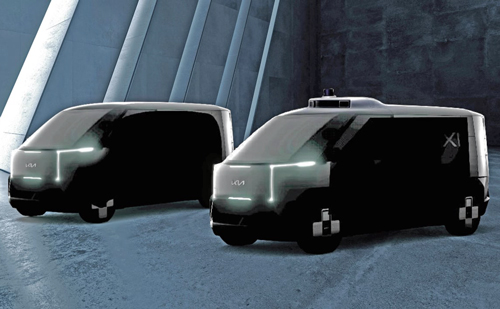 These products are to be assembled at a new dedicated soon-to-be-constructed factory within the existing Kia Hwaseong manufacturing facility in South Korea. The initial units are slated to roll onto the factory floor in the second half of 2025.
Aside from vans, other vehicles are expected to be manufactured as well including a micro-sized offering as seen in the image. Whether any of these will become available on our shores remains to be seen.
Lotus Eletre
Dubbed the world's first electric hyper-SUV, Lotus is moving to unfamiliar territory with the reveal of the Eletre that should be heading to North America some time in next couple of years.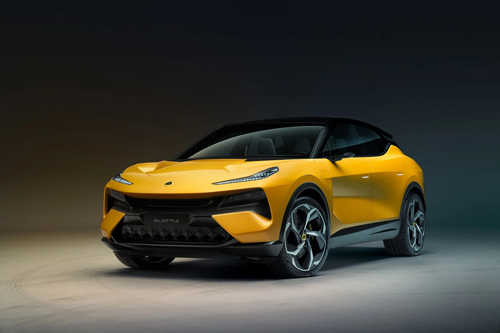 Meaning "Coming to Life" in some Eastern European languages, the Eletre does not pull any punches in terms of visual design looking like the Lamborghini Urus in a lot of ways down to the yolk-coloured exterior of the launch model. Styled around "porosity — the aerodynamic principle of air flowing through, under, over and around the automobile — the language is evident in the two hood vents allowing air channeled beneath the front lip to escape.
A dual-motor powertrain produces somewhere in the neighbourhood of 600 horsepower, and the high-capacity 100-kilowatt-hour battery provides a range of approximately 600 kilometres from a single charge.
It's Official: Ford Bronco to Get Raptor Treatment
While it wasn't that well kept of a secret, Ford has now officially pulled the wraps off the Ford Bronco Raptor, a twin-turbocharged, big-tired and altogether bonkers looking thing that also sports a race-ready suspension.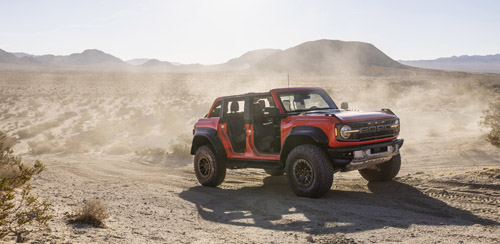 Power comes courtesy of a 3.0-litre EcoBoost engine to the tune of 418 horsepower and 440 pound-feet of torque. Those figures are down on what's made by the F-150 Raptor flagship, but up on those made my the forthcoming Ranger Raptor with which the Bronco shares a platform. The Bronco Raptor is immediately recognizable as a Bronco, but gets stylistic additions like heavy-duty steel front bumper and LED headlights. Underneath the skin, we find a fully-boxed steel frame as well as special axles developed by Ford Performance and live-valve Fox 3.1 off-road dampers.