After officially announcing its roadmap for a more sustainable future in September, Genesis is taking initial steps towards alternative energy with the premiere of the sporty GV60.
Debuting digitally late last week via a short film titled "Plug Into Your Senses" on the brand's YouTube channel, the zero emission compact crossover aims to become a benchmark in the segment.
"The GV60 is the first dedicated EV model with the most dynamic design, representing Genesis' electrification. It will set a new standard for luxury electric vehicles with a powerful driving performance and various key features based on interactions with customers," says Jay Chang, global head of Genesis brand, in a media release.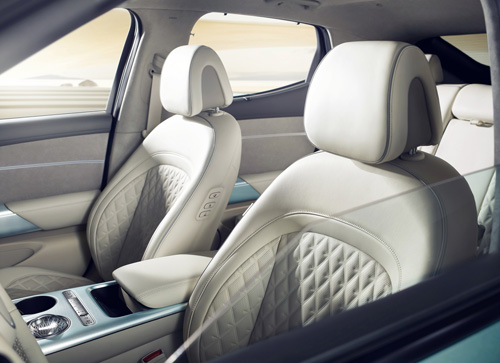 Joining the ever-popular rank of coupé-style SUVs, the vehicle has a uniquely athletic look that stands out among the lineup of competitors. Check out the bulbous body panels, clamshell hood incorporating the front fenders as a single panel, and signature Two Line split headlamps. The side mirrors are digital, and there are concealed door handles which pop out as the driver approaches.
A fresh winged emblem is being introduced as well, boasting a repeating guilloche pattern often seen on premium watches. The entire piece is nearly 80 per cent thinner than the standard one resulting in a much sleeker appearance.
The Two Line motif is repeated at the rear with the multi-section taillamps, and a futuristic spoiler sits at the bottom of the window housing a razor thin LED brake light.
If you thought BMW's crystal shift knobs were cool, get a load of the Crystal Sphere found on the floating centre console. Acting as a transmission selector while the crossover is on, when off the shiny ball becomes a mood light seriously upping the interior ambiance. The rest of the interior can be described as minimalistic chic, featuring a wide instrument cluster and infotainment display combination panel, following the Genesis design ethos of the "Beauty of White Space."
The GV60 is available in a wide range of configurations to suit different needs. For example, there's a single electric motor (168-kilowatt) rear-wheel drive trim outputting approximately 225 horsepower and 258 pound-feet of torque, and a dual motor (74-kilowatt front/160-kilowatt rear) all-wheel drive with 314 hp and 446 lb-ft of torque.
Enthusiasts will surely be eyeing the performance-oriented dual motor (160-kilowatt front/rear) all-wheel drive variant delivering an impressive 429 hp 446 lb-ft of torque. All offerings utilize a high-capacity 77.4 kilowatt-hour battery, providing between 368 and 415 kilometres of range, which benefits from an advanced conditioning function helping it operate at an optimum temperature and even allowing quicker charge times.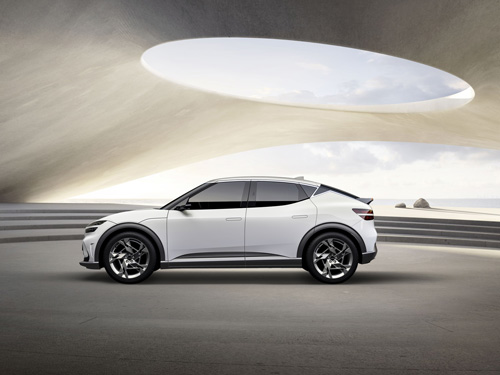 The onboard electrical system also supports Vehicle to Load mobile charging at 3.6 kilowatts, rated higher than the power supply in the average home, meaning customers can plug in various devices and small appliances during outdoor activities.
Other innovations include biometric technology: Face Connect (an infrared camera on the B-pillar recognizes a registered user and unlocks the door), and Fingerprint Authentication (drivers can start the vehicle without a key, authenticate in-car payments and release valet mode). When updates are required or new software added, everything happens wirelessly over-the-air like any mobile device.
The 2022 Genesis GV60 is set to launch first in Korea, followed by North America likely sometime next year.