Ducati Streetfighter V2 and V4 SP Debuts
If you're one of those purist Ducatisti who insist on V-Twin power, rejoice. The Streetfighter V2 has just debuted and it looks to be an absolute weapon.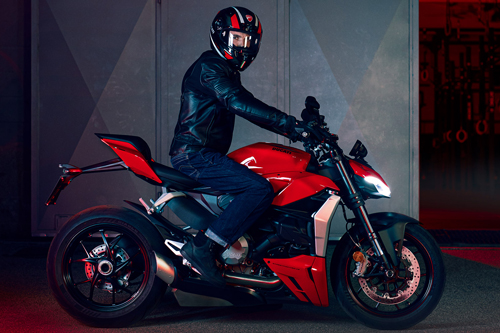 Built upon the Panigale V2 architecture and featuring the same 955cc, Superquadro, V-Twin engine, the Streetfigher is a comfier way to scare yourself silly. There are 150 horsepower on tap and 75 pound-feet of torque, which is down a bit from the Panigale, but the tuning is said to be optimized for the street. The comfier part comes via the revised rider triangle that the use of handlebars instead of clip-ons allows.
A single-sided swingarm extends the wheelbase of the Streetfighter a smidge over its fully-faired cousin, so there should be some increased stability, too. Suspension is fully adjustable at both ends, courtesy of Showa, braking is tackled by Brembo and the Streetfighter V2 wears a new set of Pirelli Diablo Rosso IV's. Pricing starts at $18,995.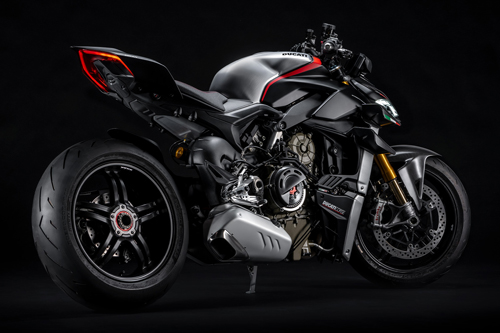 However, if you're of the opinion "purity be damned, ultimate performance reigns supreme", then you'll be happy to know the Streetfighter V4 SP has also debuted.
Dialing everything up to 11, the V4 SP is a 208 horsepower rocket, complete with winglets, carbon fibre everywhere (including the wheels) and Ohlins SMART 2.0 EC suspension. Painted in Ducati's "Winter Test" livery, it looks fast standing still and would undoubtedly be an amazing way to roast a set of tires before shaking hands with St. Peter. To quote Patrick Swayze's Bodhi, if you want the ultimate you gotta be willing to pay the ultimate price. In this case, that'll be $40k to start.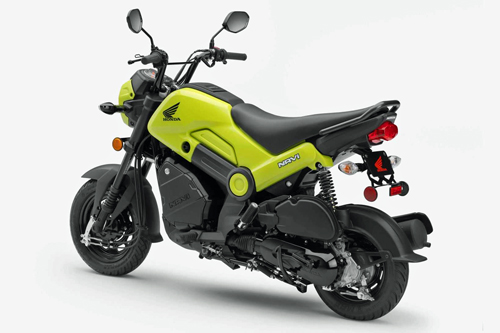 Honda Navi Added to US MiniMoto Ranks
Slotting somewhere between a Ruckus and a Grom, the Navi is a smart little commuter bike that's powered by a fuel-sipping, 109.2 cc, single-cylinder engine. Mated to a constant velocity transmission (CVT), the Navi is similar to a scooter in that there is no gearing or clutch to worry about — just twist and go. That tiny motor sits near the back wheel — which is also similar to a scooter — so that big ol' hunk of black plastic you see where a motor would usually reside is actually a stowage cubby that can easily house a laptop, small gym bag or other commuter essentials. And all of this two-wheelers commuting bliss can be yours for $2,299.
For those of you intrigued by the Navi, Kyra Sacdalan will have a full report headed our way shortly.
Cardo Freecom Debuts
Listening to tunes — especially during a commute — is one thing and chatting with riding buddies is surely another, but in today's connected, 2-wheeled world a helmet-mounted communications device has become essential. Virtually every OEM now utilizes an app to facilitate communication and mapping abilities via your smartphone and, unless you want to be kept in the cone of silence, you need to keep your ears on, good buddy.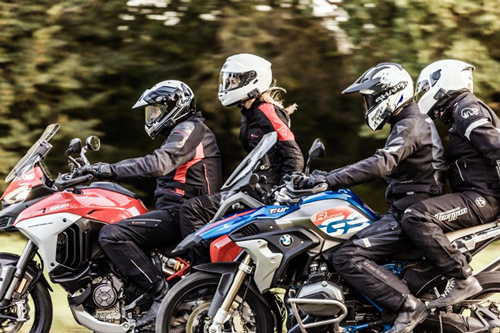 Cardo's newest generation of devices has debuted, and while their entry-level Spirit line brings definite value to the table, it's the new Freecom (2X and 4X) that's caught my eye ear.
Working with a live, Bluetooth 5.2, intercom, the Freecom 4X can connect up to four riders, while the 2X connects two riders, from 1.2km apart. Best of all though, the system allows for automatic reconnection of those riders, should one of you get stuck at a red light somewhere along the line. Of course, it will also easily pair with your smartphone (and bike) and allow for up to 13 hours of "talk time" while only needing 20-minutes charge time to net another 2-hours of use.
The Freecom line also enables over-the-air updates, so there's no need to plug in for new firmware and it packs an FM radio, live voice recognition and a beefy set of 40mm JBL speakers into the mix. We're hoping to have more to report, once units become available and we can swap mittens for riding gloves.