Triumph x Breitling
The Triumph Speed Twin is one of those rare machines that really ticks all of the boxes for most riders. They're aesthetic is timeless; they pack a potent and characterful modern engine and deliver an ergonomic package that is easy-ridin' at its finest – all with a hang-tag that won't break the bank…
Unless of course you opt for this latest limited-edition model, The Triumph Speed Twin Breitling.
Limited to just 270 units (a number that corresponds to the 270-degree crank firing order of the parallel twin engine), each bike features a numbered placard atop its triple-tree, some gorgeous, hand-applied paintwork, unique gauge faces and a set of fully adjustable Öhlins twin shocks with piggyback reservoir. The scripting of the paintwork and those bespoke gauges are inspired by the Breitling Top Time Chronograph, a Triumph co-branded version of a Breitling Chronometer that is also seeing its release announced too.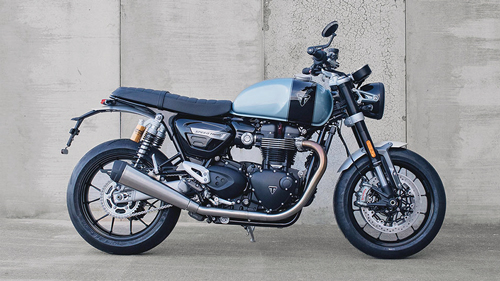 Customers of the Speed Twin Breitling bike will have an opportunity to also purchase a limited edition version of that watch. The "Owners Edition" will have a slightly different dial to the one offered in the "core collection" (both versions are colour matched to the motorcycle, although differ in finish) and buyers can also have the production number of their watch match that of their bike.
Trust me when I say (as our resident watch and motorcycle nerd) that this is an incredibly cool and appealing notion. The bike is absolutely gorgeous. The Ice-Blue and black livery is stellar and I even like the little bespoke badging bits on the engine cases and scripted Breitling "B" on the saddle. The watch is equally compelling, with an aesthetic that matches the bike perfectly and offers a celebrated, accurate and fairly robust automatic movement. I'd rather it didn't have the Triumph "T" logo sitting on its face, but overall it is as tasteful a collaboration as I've seen.
But I don't think it's worth the $7,300 upcharge that Triumph is asking for. Especially when you consider that the $21,300 CDN MSRP doesn't include the watch. That will run you an additional ~$7,300 ($5,600 USD). Custom paint and some upgraded shocks won't exactly cost as much for a stock Speed Twin buyer/owner and with the scratch leftover, you could outfit your wrist rather nicely too. Still, for those interested in something truly rare and with a tax rebate to burn, this is a pretty way to spend.
Indian Pursuit Debuts
Built upon their Challenger line of bagger-bikes, the all-new Indian Pursuit is a modern take on the V-Twin touring bike that combines the traditional looks of the genre with liquid-cooling and enhanced tech and connectivity. Available in both standard and Dark Horse trims, the Pursuit isn't just a Challenger with a top-box, although it does share quite a bit.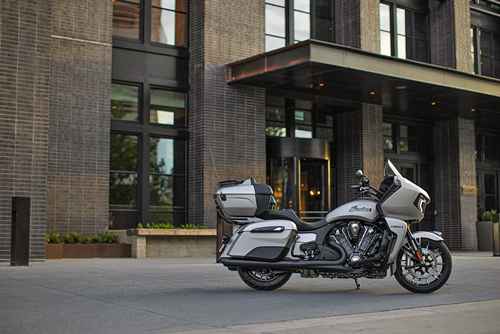 First of all the PowerPlus V-Twin engine is exactly the same, and that's not a bad thing at all. The 1,768cc liquid-cooled, sixty-degree V-Twin is good for 122 horsepower and 128 pound-feet of torque. That's enough grunt to put the Pursuit within sniffing distance of Harley-Davidson's new Milwaukee-Eight 117-equipped rides while eclipsing them by almost twenty ponies.
Storage on the Pursuit models includes over 130-litres of remote-lockable compartments, comprising both the hard saddlebags and top box, so there should be plenty of room for road-trippin'
On the tech front, the Pursuit comes with a 7-inch touchscreen display that is ready for both Apple CarPlay and Android Auto, while also boasting Indian's Ride Command connected services. There is an electronically adjustable windshield, a set of integrated, 200 Watt speakers, cruise control and heated grips as well.
Both the standard and Dark Horse models can also be optioned up to a Premium Package, which adds remote suspension adjustability as well as a Bosch IMU-enhanced suite of safety features that include lean-angle sensitive ABS and traction control.
The Pursuit starts at $36,999 CDN and tops out at $41,799 for the Dark Horse Premium, all before any customization. These bikes should be hitting showrooms any time around now, from what we understand.
Ducati Ready 4 Red Events
A few years back, Triumph motorcycles started hosting annual parties to introduce existing and potential clientele to the latest and greatest wares. It was always a good time and way less congested than traditional bike shows, with area dealers on hand to answer questions as well as some of the OEM staff too. And now it appears Ducati is set to do the same.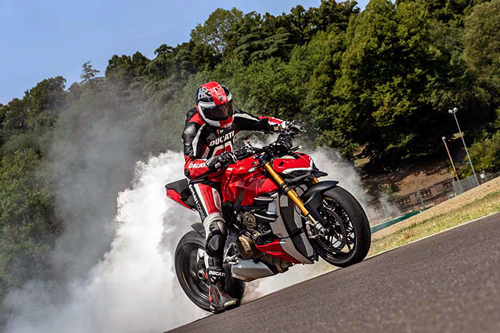 The Ready 4 Red tour has just been announced with dates and stops in six Canadian cities. Any interested riders out there can register for a free ticket to the event where you'll get to rub elbows with Ducatisti (and me, if you hit the Toronto stop!) while checking out the Desert X, Panigale V4 S, Streetfighters of both V2 and V4 variants as well as the Multistrada V4 S and newly released Pikes Peak model.
On top of being able to touch and feel those bikes, you'll get to mingle with other like-minded riders (remember doing that!!) while enjoying complimentary antipasti, refreshments and tunes as well. All of the dates, along with how to register for a free ticket, can be found here.