I will be the first to admit, when it comes to power, speed and what defines a fast car in my books, I am completely jaded. I can't help it, I drive exotic vehicles all over the world, so what might be fast to some has the potential to be rather pedestrian to me. It's a hazard of my profession.
So let me go on record then and say my experience as a veteran automotive journalist has spoiled me. But, you won't hear me complaining anytime soon and my standards of excellence will never get in the way of a fun drive.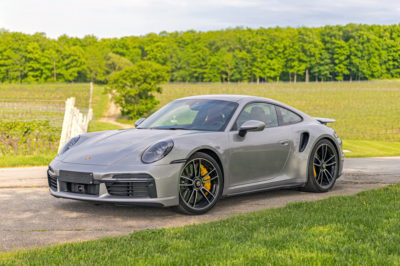 When provided with any opportunity to take the wheel of any sports car that is designed for maximum performance and style, I will always be first inline. But tweak that just a little and ask me to chose one that I could actually live with on a daily basis, driving it back and forth to work and taking family members along for a ride, there may actually only be one real choice in today's supercar market.
Honed on the asphalt two-lane highways of the Bavarian Black Forest and on racetracks around the globe, the Stuttgart-crafted Porsche 911 has been around since the 1960's in various iterations, yet has always remained true to its original domed exterior shape and rear engine design, water or air-cooled notwithstanding.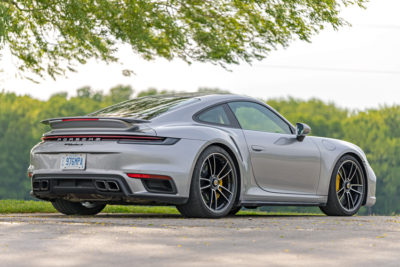 Power And Performance
The 2021 Porsche 911 Turbo S, the beast of the brand that delivers as much beauty as it does brawn, takes the 8th Generation 911 to near stratospheric heights. Powered by a 3.8L 24-valve flat 6-cylinder twinturbo engine matched to a razor sharp 8-speed PDK dual-clutch transmission; the numbers are simply astounding.
Larger exhaust turbochargers and piezo injectors, plus exhaust manifolds derived from the 911 GT2 RS aid responsiveness, helping to deliver a total of 641 horsepower and 590 lb-ft of torque. It launches the new 911 Turbo S from 0-100 km/h in 2.7 seconds with Sport Chrono Package. Zero to 160 km/h takes a mere 8.9 seconds.
Keeping things firmly planted to the road are 20 and 21-inch front/rear Turbo S wheels and wide Pirelli P-ZERO tires on our test vehicle. Top speed is listed at 330 km/h and while I obviously can't confirm the final tick of the speedometer needle, I have no reason to doubt Porsche and their claim. Just smile, relax your neck muscles and press the accelerator!
How Does It Drive?
Quick! What else can I say, but the newest Turbo S is neck-snapping, eyes-watering, breathtakingly fast! It is one of those rare cars that require you to think before you press hard on the accelerator as it will eat pavement with such voracity that you arrive at your destination almost before the thought of where you want to go has completely taken hold. Imagine it and you are there. Few modern day supercars can accelerate with such ease and control, it is truly unique.
Of equal importance to sprinter speed while moving forward, stopping power in the new Turbo S is just as impressive with large carbon ceramic Brembo brakes (diameter- 420 mm front/390 mm rear) featuring 10 piston fixed calipers in front and 4 piston calipers in the rear. 100 km/h to zero happens so quick, the headrush you receive is equal to, if not a little more intense, than when you accelerate with launch control.
Designed For Driving!
Suspension, while firm to the point of being somewhat jolting at times in an urban setting, is intentionally geared for when the road ahead stretches off into the distance. The new 911 Turbo S is a supercar after all, and that means interior ride comfort suffers in some ways. Our test vehicle also added PASM sport suspension which lowers ride height an additional 10mm. Think of it all as motivation to get out and explore beyond the city limits at every opportunity.
The Sport Chrono Package with mode switch offers five unique driving modes with the turn of a dial mounted on the steering wheel: Normal, Sport, Sport Plus, Individual and the newest setting, Wet. Having experienced 'Wet' firsthand at the new Porsche 911 launch event at the F1 track in Hockenheim, Germany last year, I can attest to its prowess in the rain and on slick roads.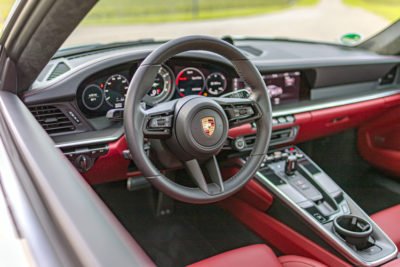 This week, however, the weather was dry which allowed me the opportunity to adjust the other four settings. My preference quickly became Sport Plus as it perfectly tweaks everything from the suspension to engine performance and the exhaust note. Performance times are readily available in the newly updated Porsche Track Precision app, in case you need to prove to yourself or someone else just how good this new 911 Turbo S really is. And you too, as the driver.
Active aerodynamics play a significant role in the new Turbo S. Improved engine airflow is a critical component to the delivering maximum power, but there is so much more. Both the front and rear spoilers extend automatically as needed, even under hard braking for improved stopping performance.
Inside, the level of driver and front passenger comfort and sophistication reaches new heights. There are the requisite two rear seats for small children, pets, or extra storage, so there is potential to bring your young family along for a short jaunt.
At the center of the digital gauge package remains the tachometer, a Porsche staple. The center console features a 10.9-inch touchscreen with the latest Porsche Communication Management (PCM) system. Audio sounds are provided by Bose with ten speakers standard and 510 Watts of power, or the optional Burmester audio system. Or you can turn it all off and just listen to your gear changes and the always entertaining exhaust note.
The 2021 Porsche 911 Turbo S delivers a rare combination of speed and agility in an easy-to-drive iconic shape perfectly suited to the 21st Century. This icon confirms you are never to old to perform at the top of your game if you keep on improving. It requires little compromise as a supercar and asks only to be driven at the limits of the driver with every opportunity, or to go get groceries and come home, the long way, of course.
2021 Porsche 911 Turbo S
Price: $241,540.00
Freight: $1,500.00
Configuration: rear engine, all-wheel drive
Engine: 3.8L 6-cylinder twinturbo
Transmission: 8-spd PDK
Power/torque: 641 hp/590 lb-ft
Fuel economy ratings: 11.1 L/100 km combined
Warranties: 5 years/100,000 km (comprehensive)
Competitors: Acura NSX, Aston Martin DBS Superleggera, Audi R8, Ferrari F8 Tributo, Lamborghini Huracán, Mercedes-AMG GT, McLaren 570S
Links
Porsche Canada