If you thought the 617 horsepower and 553 pound-feet of torque made by the twin-turbo V8-equipped BMW M5 Competition super sedan was still a little, I dunno, sluggish, then BMW is more than happy to oblige for 2022 with this: the BMW M5 CS.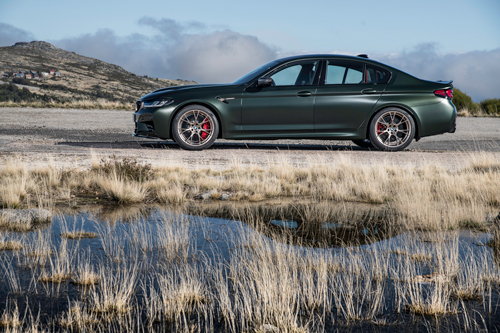 We've recently seen the "CS" moniker gracing the flanks of the bulldoggish M2, and it's now made it to that car's bigger sibling, thereby endowing the M5 with 627 hp and 553 lb.-ft. of torque. Yes, that last figure is the same, but it's now delivered over a wider rev range (though "wider" only by 90 RPM) and that hp figure means that this is the most powerful BMW road car ever. It's also dropped 230 lbs. thanks in part to more use of carbon-fibre reinforced plastic (CFRP) and the use of less noise-reduction materials. Which serves the double purpose, we're sure, of lightening the car and allowing occupants to hear the howl of that great twin-turbo 4.4L V8 all that much more clearly. Which, it should be noted, will also be helped by the M5's quad-outlet exhaust though you can elect to reduce the noise with the press of a button, so as to not wake the neighbours.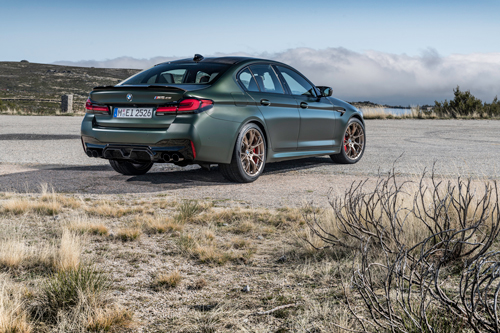 The exhaust is loud and so is the styling, what with the bronzed 20" wheels with matching side grilles and front grille surround, carbon fibre wing mirrors, rear wing, front splitter, roof and rear diffuser, red-painted brake calipers and Frozen Deep Green metallic paint seen here.
Inside, we find carbon-backed bucket seats, red-accented merino leather, digital gauge display and big 12.3" central display as well as Alcantara trim. The real twist, though, is that this mid/full-size sedan only has seating for two in the back, when typically cars in this category have a third middle seat back there. Not so the '22 M5; this is a vehicle for drivers, to be driven well and what passenger would want to sit in the back with all that going on?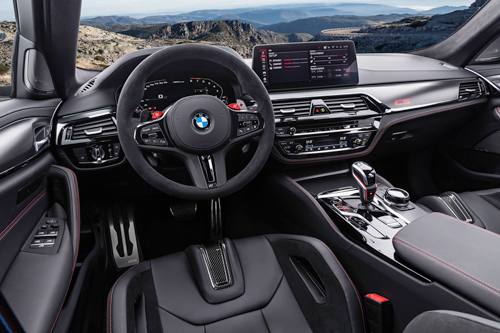 Power is sent to all four wheels (though mostly the rear, as it is a rear-biased set-up that can actually be locked to RWD-only) through an 8-speed automatic transmission with paddle shifters that can be set to three modes – efficient (yeah, right) sport (now we're talking) and track (there we go). The transmission setting, along with the traction control and damper settings can all be mapped to red "M1" and "M2" buttons mounted to the steering wheel so you can have individual settings easily called up. Or, drivers can go ahead and choose from between four presets: Road, Sport and Track. Carbon ceramic brakes are also standard.
In addition to the AWD system, BMW has also improved the chassis by adding stiffer engine mounts, firmer springs, lower ride height, more negative camber and firmer rear anti-roll bars. Grip, meanwhile, shouldn't be a problem as it's provided by super-sticky Pirelli P Zero Corsa tires measuring 275 mm up front and a steamroller-esque 285 mm at the rear.
The last M5 was an absolute wolf in sheep's clothing, more so than it had been throughout the model's 37-year existence; this one's looking to be more like a werewolf in sheep's clothing.