Mercedes-AMG recently announced that the E63 S wagon will change for the 2021 model year, but only on the outside, and a bit on the inside. Enthusiasts rejoice: the ingredients that made this the ultimate daily driver have remained intact. And since we won't be seeing the facelifted model here in Canada for a while still, we thought it was fitting to get one last ride behind the wheel of the 2020 model of what we believe remains one of the most specials cars currently on sale.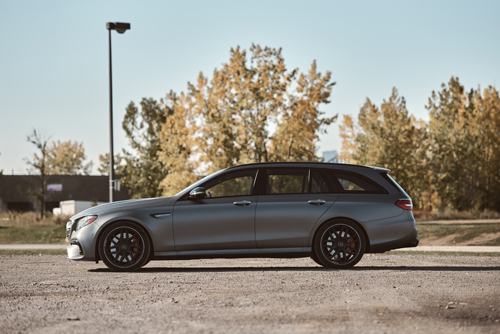 No Faults?
 Except for the fact it's out of reach for many, there aren't many things going against AMG's overpowered station wagon. On top of offering enough room for the kids, the dog and everything that comes in between, the AMG E63 S wagon comes standard with all-wheel drive, making it a great companion on snowy Canadian roads. It also offers all the comfort and craftmanship you expect from a Mercedes-Benz.
Oh, did I mention it can launch out of the hole faster than a Dodge Challenger Hellcat?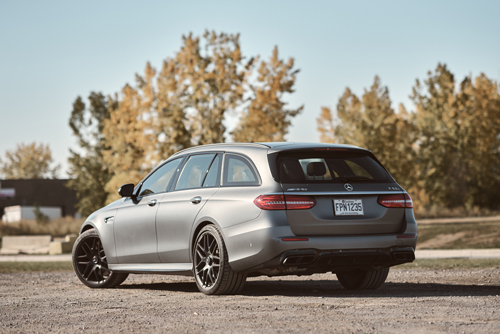 That's really why many automotive enthusiasts are so in love with this thing, because it'll take on the best sports cars currently on sale, while still doubling down as a sensible family wagon. It really is a strange case of Dr. Jekyll and Mr. Hide this one, a rare and dying breed that currently only has one real rival: the equally mesmerizing Audi RS6 Avant.
Remember that AMG GT R supercar I took out on the track not too long ago? Well this E63 S is powered by the exact same engine. Except, it has more power. Wait, what? That's right, the twin-turbocharged 4.0-liter V8 was cranked up to 603 horsepower, with torque rated at a colossal 627 lb-ft. That's about 26 horsepower and 111 lb-ft more than the sexy two-door AMG GT R.
Then again, the E63 S is a considerably heavier car given the fact that it's a five-seater station wagon equipped with all-wheel drive. But even with almost 1,000 pounds separating the two (4 669 lbs. for the Wagon vs 3,686 lbs. for the AMG GT R), this wagon will still catapult itself from 0-100 km/h in 3.3 seconds and hit the quarter mile in just over 11 seconds. We're not talking about a McLaren 600 LT here, but a freakin' station wagon.
All of this is possible thanks to Mercedes' 4MATIC+ all-wheel drive system, which not only comes standard for the E63 S, but also allows its driver to disengage the front axle for improved handling during cornering. All that power is managed through Mercedes' own nine-speed SPEEDSHIFT dual-clutch automatic gearbox.
You Just Don't See It Coming
Perhaps the AMG E63 S wagon's most noteworthy feature is how you don't expect it to be this visceral. Ever since I started driving cars for a living, I occasionally show up at a friend's house to show him some of the cars I have the privilege of reviewing for work. Charles appreciates automobiles, but isn't as tech savvy as I am. He prefers hunting and taking his brown Labrador Choco out for long walks in the wilderness.
When I told him the E63 S was one of the fastest cars currently on sale, he burst out laughing. "You mean to tell me this is as quick as that Lamborghini Huracan you brought here this summer? Get out of here!" – he proclaimed as he strapped himself in the passenger seat of my tester.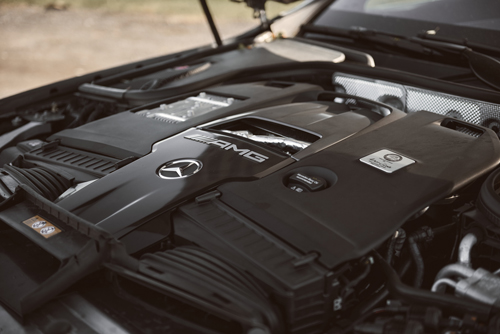 I preferred not answering. Instead, I pulled out of his driveway quietly while leaving the car in its calmest, tamest, Comfort setting. Because creating the element of surprise is what cars like this excel at. From where we were sitting, this Mercedes showed absolutely nothing about its high-performance intentions. If anything, it was more comfortable than some luxury focused automobiles due to its thick massaging front seats.
Only the rumbling V8 nestled underneath its hood revealed a bit of vigor, while the MBUX infotainment interface – at times too complicated and feature intensive – allowed us to tailor the car's cabin to our liking, from ambient lighting to a scented, filtered air. Meanwhile, the Burmester premium audio system channeled oh-so clear melodies into our eardrums. So far, this was turning out to be a serene driving experience.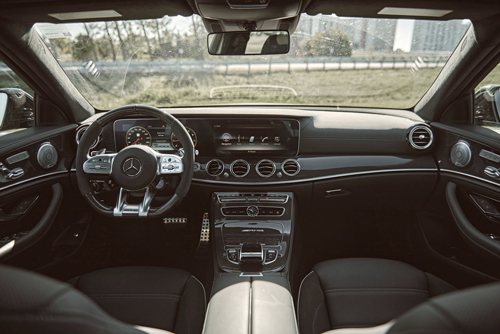 As my passenger soaked in all the stress-relieving toys, I subtlety moved the steering wheel mounted rotary dial (new for 2020) to the Race position. I pulled the left paddle shifter. An authoritative thump was felt from the car's massive exhaust pipes, confirming I had downshifted a gear. The race-tune turbocharged eight cylinder was ready for maximum thrust. That's when I noticed my passenger was realizing something was going on from the corner of my eye. I slammed the throttle. All hell had broken loose.
Of course, driving an automobile with this much power on public roads is dangerous. Not because you're afraid of crashing it, but because it has the potential of rendering your driver's license obsolete within seconds. The fact that the AMG E63 S is so easy to drive fast further amplifies the danger. Hitting double the speed limit is an act that requires only one finger on the wheel. Although I highly recommend you don't try this.
The sheer acceleration alone is downright gut-wrenching, especially during launch control where you feel your stomach in your throat. The E63 S simply grabs the tarmac as if it was one large blanket, and pulls it all towards you as though the landscape is time warping before your eyes. This all happens while you bathe in utmost German comfort and refinement, further leading to a confusing yet highly delightful experience.
Shifts are lightning quick, of course. The V8 sounds glorious, while maintaining a surprisingly civilized demeanor. And the brakes will rip the skin off your face if you dare hit that pedal too hard (figuratively, of course).
Enter a corner too fast in the E63 S and it just bites, never revealing how heavy or long the car is. It's a fantastic athlete, this one, one that feels like Clark Kent has forgotten his superman suit for the next mission. In other words, it's easy to quickly get lost in the art of driving. And I must confess, the god complex that spawned from driving a family saloon that will also rip a new one to some sports cars is highly addictive.
"Hey, slow down man!" – yelped my passenger as I was having way too much fun exploring the limits of this land missile. "Choco (the dog), is going to be sick". – he added. I had forgotten about Choco, who had came along for the ride – I contemplated as I stared at him through the rearview mirror. The pooch was standing up in the car's trunk, gazing at me with a confused look on his face from all of the hard launches. "Yes, the dog" – I answered back, "are we all good Choco?". Now tell me, how is this not the perfect automobile?
2020 Mercedes-AMG E63 S Wagon
Price as tested: $124,200.00
Freight: N/A
Configuration: Front engine/ all-wheel drive
Engine/transmission: Twin-turbocharged 4.0-liter V8 / 9-speed dual-clutch automatic
Power/torque: 603 horsepower/ 627 ft-lb of torque
Fuel (capacity): Premium (80 L)
Combined fuel economy ratings: 15.6 city/10.6L highway/13.0L/100 km combined.
Observed fuel economy 14.2 L/100 km
Warranties: 4-years/80,000 km (basic)
Competitors: Audi RS6 Avant
Links: Mercedes-AMG Canada