Oh, the many shades and styles of the Jeep Wrangler.
Through the decades, it's been a pickup. It's been turbocharged, diesel-powered and probably rocket powered at some point. It's been a movie star, and it's been a mainstay on everything from wide boulevards, to beaches, to trails.
Even the grand 'ol Wrangler has to move with the times, however, and it's time for the Wrangler to get a big ol' dose of EV power with my next entry in our "12 Rides of Christmas" list, the Wrangler 4xe. It's not a full-EV Jeep – that is coming, mind – but a plug-in hybrid with a combined 375 horsepower and 470 pound-feet of torque, fed to all four wheels through an eight-speed auto 'box. Or through a two-speed transfer case, which you need if you're going to be a Trail Rated Wrangler.
Even with the big battery required for such a task, however, the 4xe still has all the rough n' tumble bits the standard Rubicon gets such as Dana axles, plenty of ground clearance and wading ability, locking differentials and disconnecting sway bars.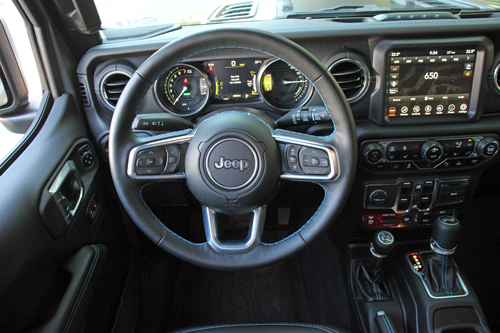 The EV aspects of the powertrain add weight, but they also add capability thanks to their ability to provide instant torque delivery, always necessary for climbing hills and scrambling over boulders. Not to mention, the 4xe version looks ultra-cool as well, thanks to the blue hue given to its Trail Rated badges, "Rubicon" lettering, winch mounts and so on. There's also a charge port on the driver's side, and even its door gets a nice, heavy-duty build to it that fits so well with the Wrangler ethos. On the surface, this is an EV transition done right.
Inside, it's still very much a Wrangler: all vertical surfaces, old-school gauges and big dials. There are, however, four important buttons unique to the 4xe: one labelled with a blue battery and three marked "Hybrid", "Electric" and "E-Save". That's how you control your powertrain; how much EV power you're using, how much regen you get when you let off the throttle and so on. Used properly, you can get about 45 km of EV range out of this Wrangler, then plug in once you get home.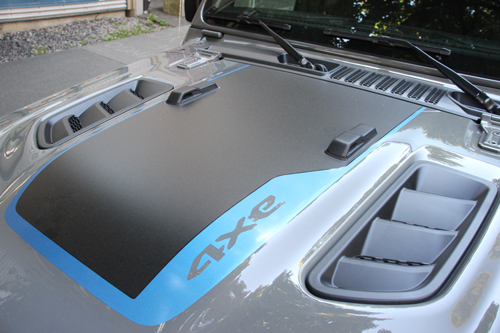 The real big deal for me, though, and why I have this on my list is how the transition to a PHEV has added a level of civility to the Wrangler. Being able to cruise in EV mode quiets things down – never one of the Wrangler's strengths, its noise, vibration and harshness qualities – and makes this a more livable vehicle on the day-to-day. The ability to save all that fuel while moving through the city and when off-roading (Jeep says that the 4xe can conquer the 35 km Rubicon Trail on electric power alone) is a boon as well. And, if you want things to be more livable still, then you can also have the 4xe in less-expensive (and less hardcore) Sahara spec.
Job well done here. Job well done, indeed.