As is the case every year, the Easter Jeep Safari in Moab, UT is about to get underway – well, every year except last year, of course – and with it, a batch of fun Jeep-based concepts that recall Jeeps of old, are Jeeps of old in the case of the restomods they often have there or are just cool takes/tune jobs on current Wranglers are hitting the airwaves.
Typically, however, the Easter Safari isn't really an event where concepts that are due to one day make production are released. That's usually the job of the various Auto Shows that also typically happen around this time of year but since those aren't going either, Jeep had to make some changes.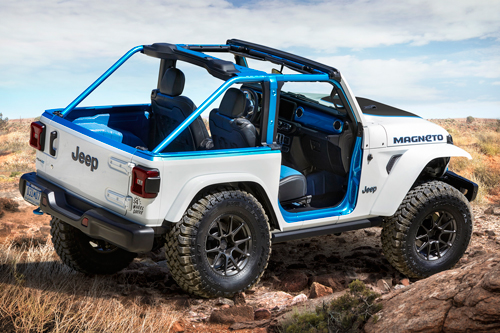 So, this year the Easter Safari does see the requisite modded Jeeps, but it also marks the first time we've been given a full-look at the upcoming battery-electric (BEV) Wrangler. It's called the Magneto (not because of the X-Men character, but because according to Jeep, EVs are all about magnets as they are a big part of an EV's powertrain) and it is a fully-electrified Wrangler.
It is also a little bit of a restomod because what Jeep has done is stuffed four battery packs (for a total of 70 kWh) and EV drive motors into pretty much a stock Wrangler. They've even kept the manual transmission and the clutch! An EV with a stick shift? Just leave it to Jeep, I guess. You won't have to use the clutch while crawling, however, but still – to at least be able to shift your own gears from time to time? That's fantastic!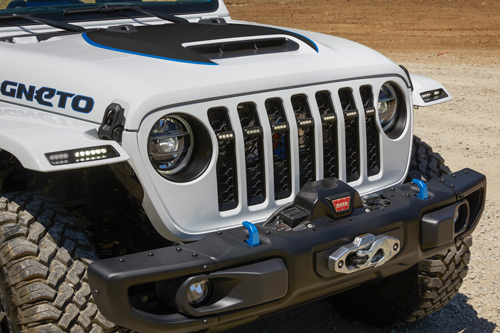 Power, meanwhile, is rated at 285 horsepower and 273 lb-ft of torque. All of the batteries, meanwhile, are protected by aluminum casings so none of the regular Wrangler's capabilities are affected by the switch to EV power; it can still ford through deep water, still gets a two-inch lift kit and 35" mud-terrain tires. So, basically, the Magneto wouldn't be out of place among more traditional Jeeps in Moab.
It wouldn't look out of place, either; in addition to the lift kit and big tires, there are 17" metallic black wheels, metallic blue roll cage, rock rails and Warn winch. Magneto-specific touches include special grey exterior paint with blue and black accents as well as blacked-out grille. Inside, the blue effect continues as it combines with black to finish the interior look.
As cool as the Magneto is, it's also quite important in that like so many manufacturers, Jeep is trying to eventually reach full electrification across its line-up. In combination with the 4xe plug-in that debuted some months ago, the Magneto (which is still two or so years away from production, which is why no range claims have yet been made) is a great next step. Not to mention that Jeep parent company Stellantis has a number of brands in its portfolio; will the Magneto's powertrain be the sign of things to come for other cars, trucks and vans in that portfolio? All signs point to that being a strong possibility.