I'm going to let you in on a secret. There's no such thing as a bad motorcycle. They simply don't exist.
Regardless of what catches your eye or tickles your fancy — whether it leaks oil, only fires on dry Tuesdays in July or will only glimpse freeway speeds when pointed downhill, with a tailwind — if it has two wheels and a motor, it will deliver that one, most important of things: fun. And the Ducati Hypermotard does this better than most.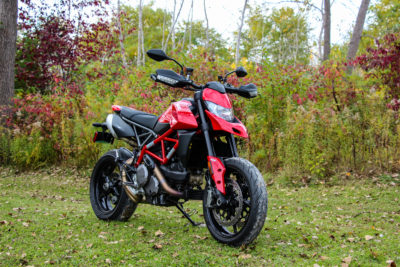 All new for 2019, the Hypermotard 950 maintains the style originally bestowed upon it by legendary designer Pierre Terblanche. The exposed trellis-frame, brawny shoulders, slim waist and beaked visage have all either been reworked completely or tweaked just a bit, but the iconic silhouette is essentially unchanged.
Ducati's familial TFT dash has been added to the Hyper's repertoire and it remains one of the best in the business. Vital information is present, accounted for and legible at near any angle. If you're a fan of Top Gear, you'll probably recognize its font, too. Rider modes (Sport, Touring and Urban) are displayed and easily toggled through.
There's a 6-axis, Bosch IMU (inertial measurement unit) that monitors yaw, pitch and roll. This magical module works in conjunction with the ABS and traction-control sensors to provide wheelie control, cornering ABS as well as a Slide-Brake function that will allow you to back this bike into a corner in a computer-controlled manner. So, think of that as a "drift" button, if you will.
Fuelling has been reworked too. In the previous generation Hyper, the throttle behaved a bit like a light switch and that's just no longer the case here. Modulation is intuitive and linear although I do have a gripe. At low speeds, I found that if I closed the throttle completely when coming to a stop, things were just fine. But if I kept the tap open ever so slightly in anticipation of a changing light or moving vehicle, while pulling in the clutch no less, the bike would stall. It's a weird symptom that repeated itself often and I'm told is a side effect of meeting ever increasing Euro emissions. Thankfully a small revision to my riding style made it a moot point.
Hanging from its bright red ribcage, the Hypermotard 950 is powered by Ducat's 937cc, Testastretta 11, L-twin motor. This engine is an evolution of the previous iteration and benefits from new, magnesium heads, an increase in compression to 13.3:1 and fuelling is tackled by a pair of 53mm throttle bodies. As such, horsepower has been bumped to 114 (84kW) (from 110hp) and torque sits at a healthy 71 lbs-ft (96Nm).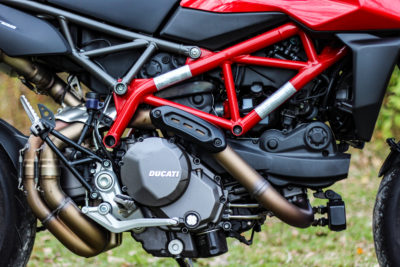 Eighty percent of that twist is on-tap at a mere 3,000 rpm and its curve feels prairie-flat. Acceleration is instantaneous and with every twist of the throttle the front wheel begs for a sniff of the upper atmosphere.
I shift my weight forward to keep its Pirelli planted. The flat, slender seat creeps up over the tank for this exact reason. The wide MX-style bars deliver an exacting level of command, so the Hyper changes direction with near telepathic reactions. There's also plenty of room for lateral movement, so getting this steroidal supermoto to lean into an on-ramp is equal parts easy and engaging. Credit the short wheel base (1,493mm) and 17-inch hoops for its ability to dance but also a communicative chassis and the fitment of fully adjustable suspension.
At near 87kg, I'm a touch heavier than your average Italian test rider, so a few extra clicks of stiffness into the 45mm Marzocchi forks and Sachs rear unit helps quell the additional float accentuated by my bloat. This also keeps the Hyper from diving deeply when under hard braking but with nearly 6-inches of travel (170mm front, 150mm rear) things will never be crotch-rocket rigid.
And that's a very good thing, as it means the Hyper is happy to traverse near any type of road without becoming unsettled. In Toronto, that means bouncing over and through perpetually pock-marked asphalt, which the Hyper did with aplomb. I wouldn't go so far to call it as plush as my Triumph Tiger ADV bike, but for something this sport-focused it is damned refreshing. You can see why Ducati had, for years previously, offered a touring version of this bike, the Hyperstrada, although that's no longer the case.
For everyday riding, Touring mode felt the smoothest of the bunch, offering full power while upping the fluidity of throttle control. It's not that things are snatchy in Sport, but they can be a bit abrupt in congested traffic situations. On one cold and wet rainy day I rode the Hyper, Urban mode was welcome as it stymies enough of that Testastretta punch to subdue worries of losing traction.
However, riding the Hypermotard with civility and discipline only really reveals a portion of this motorcycle's character. With just a hint of aggressivity from the rider Dr. Motard here transforms into Mr. Hyper and begins to egg you on. As adrenaline begins to pump and fuel increases in flow, you'll quickly be searching out curbs to hop, ramps to jump and empty parking lots or race tracks to practice wheelies, stoppies and to find out what that drift feature is all about. I imagine if I owned this bike, I'd either be a much better rider or be without a motorcycle license, in no time at all.
Unlike almost anything on the road, the Ducati Hypermotard occupies a niche within a niche. The seating position is all wrong to be a true sport bike, yet its sporty nonetheless. Despite having an enduro vibe, there's too much power and its wheels are all wrong for proper off-roading. If it were smaller and lighter, we'd call it a supermoto bike, but it's neither of those things. So, what is it, exactly?
Like every motorcycle, its good but the Hypermotard is better than most. It's the mechanical incarnation of fun. Pure and unadulterated. It might just be the unsung hero of Ducati's line-up.
2019 Ducati Hypermotard 950
Price as Tested: $15,295.00+
Engine/transmission: 937cc, Testastretta 11, L-Twin
Horsepower: 84kW (114hp) / 9,000 rpm
Torque: 96Nm / 7,250 rpm
Fuel (capacity): Premium (14.4 L)
Weight: 199.5kg
Competitors: Aprilia Dorsoduro 900
Links:
Ducati Canada