To say that Ducati has captured the zeitgeist of motorcycling with their Scrambler brand of motorcycles would be an understatement. Their mix of modern performance and retro looks not only makes for an appealing bike that's welcoming to new riders, it's also proving to be the fastest way to a buyer's wallet. Since their debut in 2015, the 803cc powered family of Scramblers have become Ducati's fastest selling machines, with some 55,000 units hitting the road worldwide. Of course, proliferation and domination are two different things. So in an effort to boost the former and get a little closer to the latter, team Ducati sussed that the Scrambler family needed to grow — in more ways than one. The Scrambler 1100 now tops the family lineup and I recently spent a week on the Special model to see if Ducati can lay claim to Scrambler supremacy.
I'll be the first to admit that when this bike debuted at EICMA last year, I was confused. A quick peek at the spec sheet revealed a bigger Italian L-Twin engine, but the bike had also put on 25 kg and only brought thirteen extra ponies to the party. With a near exact same power to weight ratio as the 800 model, it made the 1100 seem like an answer to a question nobody asked. But facts aren't feelings and just because you can doesn't always mean you should. On two wheels, you rarely need north of 100 hp to have fun.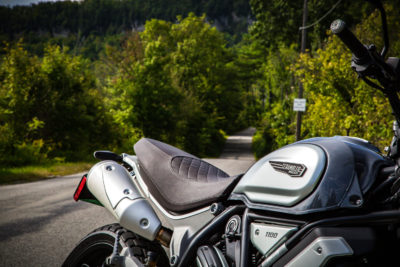 Swinging a leg over the Scrambler 1100 for the first time, the physical upsizing is welcome. At 183 cm (6') tall and hovering around 85 kg (190-lbs) I'm no giant but always felt like a big man on a little bike whenever I rode the smaller, Scrambler Icon. This just isn't the case anymore. The all-new trellis frame and longer aluminum swingarm move the contact patches nearly 7 cm further apart and an increase in rake helps deliver neutral upper body ergonomics without making the bike beneath feel like a size 9 sneaker on a size 11 foot.
The seat is also all-new on this machine. The Special model is treated to a sumptuous, saddle-brown finish but all 1100's receive the wider, cushier throne that attractively follows the contours of the subframe. The extra width makes it easy to move around and re-position for corners without increasing overall the bike's overall height — the 1100 sits barely a half-inch taller. While this is great for keeping the 1100 accessible, it does come at a price. The reach from saddle to peg can feel a bit aggressive at best and cramped at worst.
Of course, the most obvious change made is what gives this new model its name: that 1100cc, Desmodromic L-Twin engine. Well, technically it's only 1079cc mill, but fire it up and it barks and burbles in true Italian big-boy style at idle and bellows the full staccato at speed. It's not all raucous aggression, though. Where the original Scrambler's 800 mill responded to throttle inputs in fits and starts, this ride-by-wire system has been smoothed out to deliver an engine that is refined, creamy even. What it lacks in awe inspiring horsepower, has been made up for in the torque department. With 65 lbs/ft of twist available at 4,750 rpm, the Scrambler 1100 has enough grunt to get out of anything's way, at any time you need.
Bombing into a corner, reveling in the engine's addictive overrun as I squeeze on the radial-mount, twin disc Brembo brakes, the 1100 feels confident, stable and planted. Clipping the apex as best I can, my eyes search for the horizon and I'm back on the throttle to hustle to the next kink. The front forks, which are now 45mm Marzocchi units, offer full adjustability and deliver excellent feedback flicking left and right on smooth surfaces. Combined with the adjustable Kayaba monoshock in the rear, they deliver a taught handling bike overall. Once things get bumpy though, it's a tad different. Things can feel a bit jarring, with the bike crashing fairly abruptly over Toronto's omnipresent broken and pocked pavement. An option box for Ohlins suspenders would go a long way to sorting this out as they seem to have a Goldilocks solution for every bike. You can find those on the range topping 1100 Sport, but I'll admit I'm a bit surprised Ducati didn't go this route here too, given this bike's asking price ($16,995).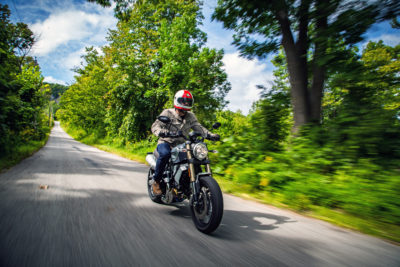 Where they didn't scrimp however, was with rider electronics. The Scrambler 1100 line is the first in Ducati's sub-brand to be outfitted with the Ducati Safety Pack of electronic rider aids. That means that these bikes have the sorcery of cornering ABS, courtesy of lean-angle sensors and an Inertial Measurement Unit (IMU). That means that, should you mistakenly grab a mittful of stop at an inopportune time, the computer will do what it can to keep things shiny side up.
There are also three rider modes — Active, Journey and City — that can be customized to offer differing levels of traction control and each can be toggled between on the fly. Of the three, only City mode cuts power (down to 75 hp), so it's most likely the algorithm of choice when things get wet. There are subtle differences in feel between Active and Journey, with the latter feeling like engine braking had slackened a touch.
I spent most of my time with the Special in Active mode, with traction control disabled completely. Here, the bike felt playful in nature and delivered a personality similar to the original Scrambler. I hustled it through the city, along crowded highways, through as many backroads as I could find and even spent some time on the dirt, all the while, the Scrambler 1100 Special delivered itself as a confident performer with very few foibles. If you have a few years of riding experience and find yourself intoxicated by the current trend of neo-retro motorcycles, this one can hustle and flow with the best of them.
Where it falls short however, is in the arena where a premium priced product simply shouldn't: fit and finish. With little searching you'll spot there's a tacked on triangle of metal where the Scrambler's tank bolts to the frame. It's been this way on every Scrambler since 2015 and, while the weld work is admirable, it's not what I want to see. And, unfortunately these baby-browns can't unsee it. Another spot of bother resides in a misstep involving trim. All the special aluminum bits exclusive to the Classic are finished with a gorgeous satin matte but the heat shields bolted to the exhaust, also aluminum, weren't treated to the same perfecting.
That may be a small oversight sure, but the routing of the front brake line certainly isn't. Looping around into the stratosphere, it looks like a total afterthought; like front brakes weren't a part of the initial design brief. Finally, the gauge cluster on this bike is just wrong. The digital tach runs from left to right and is essentially invisible at the bottom of the dial. The speedometer/gear indicator protruding from the 11 o'clock position can be read easily enough but the arrangement is just plain ugly. Simply put, this bike deserves better than this. Maybe I'm overly picking the nits here but just because Scrambler is a sub-brand, that doesn't mean its lineup should appear sub-par. Ducati can do better and they definitely should — especially when the offering retails at more than one-and-a-half times the cost of some of the equally impressive competition.
2019 Scrambler Ducati 1100 Classic
Price as tested: $16,995.00
Engine/transmission: 1,079cc, air-cooled, Desmodromic L-Twin/6-speed manual
Power/torque: 86 horsepower/ 65 ft-lb of torque
Competitors: Triumph Bonneville T-120, BMW R nine T, Moto-Guzzi V7III, Yamaha XSR900, Kawasaki Z900RS