Being a Rebel never looked so good.
As if the 2019 Ram 1500 truck wasn't already a good looking pickup truck, the good folks at Ram decided it was time to be a little more rebellious in their design. That fortuitous decision means we have the Ram 1500 Rebel to admire.
It's hard to miss thanks to the heavily blacked-out nose treatment, 18-inch wheels with massive 33-inch Goodyear Wrangler DuraTrac tires and a hood design that is all business.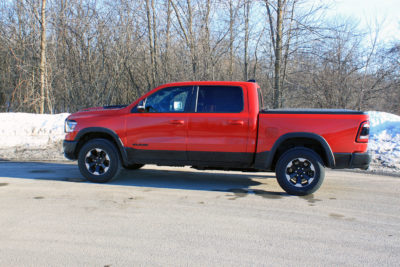 While the outside showcases how the Rebel is ready for the rough and tough stuff you want to throw at it, the interior feels more like a luxury sedan with its comfortable seating, tons of features and room to stretch out and relax. Far from the cramped pickup trucks I remember from summer jobs spent working hard labour in the heat to earn a paycheque.
The Rebel's price is also up there with a luxury sedan, though, with our optioned-out tester coming in at $73,805.
While some of the options were more for passenger comfort (panoramic sunroof, upgraded sound system and a package that included heated seats, heated steering wheel and other upgrades), many others were functional in nature.
You have the spray-in bedliner, cargo bed cover and a larger 124-litre fuel tank (up from 87L as standard), but the piece de resistance is the Active-Level 4-corner air suspension on the Rebel, which increases its off-road utility.
To help even more when you leave the pavement, the 4X4 Rebel comes with hill-descent control and underbody skid plates on the transfer case, steering system, oil pan and gas tank.
Driving this Rebel is one monster engine in the form of a 5.7-litre HEMI V8 under that aggressive hood. It unleashes a potent 395 horsepower and 410 ft-lb of torque, which makes the Rebel go in a hurry when called upon.
Don't expect small fuel bills when you drive this puppy around, though. The estimated fuel economy rating comes in at 13.8 litres per 100 kilometres, but our week with it returned no better than 17.5 L/100 km. Thank goodness for that larger fuel tank.
The Rebel's engine, backed by a stronger frame, is capable of towing 12,700 pounds on top of the 2,300 pounds of payload in the cargo bed.
Those numbers are good, but do fall short of what the 2019 Ford F-150 is capable of (13,200 pounds).
As mentioned earlier, the Ram 1500 Rebel is easily distinguishable thanks to that front-end treatment, but other exterior highlights on this trim include hood vents, fender flares and more ground clearance thanks to those larger wheels.
The Rebel comes in either a Quad Cab (with a 6-foot-4 inch box) or the Crew Cab like our tester (with a 5-foot-7 box).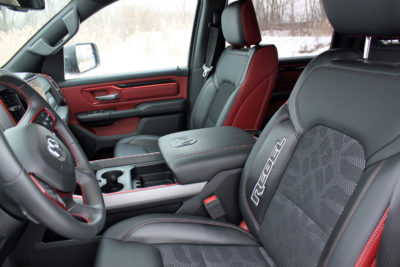 As striking as the exterior is, the Rebel's cabin equally eye catching thanks to its luxurious features and creature comforts.
Despite not being leather, the Rebel seating still has an upscale feel to it thanks to the cloth-vinyl mix, Rebel stitching and heavier bolsters to hug you tightly.
The interior features a two-tone treatment, with black and dark ruby materials accenting the seats and door panels.
The centre armrest is super wide, which can double as a place to put you laptop when using the Rebel as an office on wheels. It's also deep enough to keep some gear away from prying eyes.
The centre stack is nicely trimmed by more ruby accents and features a large screen that is a handy features when reversing, giving the driver a clear view of what is going on behind the Rebel. There's also a nice layout of all the necessary controls for the ventilation system (large dials) right above all the other toggle switches.
Immediately to the left of that is the rotary dial that replaces the shifter, which frees up extra space for the aforementioned centre console.
Rear seat passengers are welcomed with comfortable and spacious seating as well, and the rear bench flips up to reveal hidden storage compartments.
That screen in the centre stack is 8.4 inches (up from the standard 5-inch screen which would get lost in the massive dash), and offers a clear icons and functions to operate the user-friendly Uconnect infotainment system.
The interface is easy to understand and operate, and the screen allows you to control other vehicle settings and the navigation system in one central location.
So how does this Rebel deal with less than rebellious conditions?
On highways and other paved surfaces, occupants can expect a bit of a rough ride thanks to the Rebel's setup as an off-road vehicle. Then again, with all the potholes in the roads during the spring thaw, the Rebel did feel a bit more at home on beaten up local streets than it should have!
Acceleration can sometimes feel slow, but once you get moving, the Rebel has no problem keeping up.
So despite the Rebel's good looks and luxurious interior, you shouldn't be afraid to get down and dirty with this pickup truck because that is its intended use.
2019 Ram 1500 Rebel
Price as tested: $73,805.00
Freight: $1,895.00
Configuration: Front engine/4X4
Engine/transmission: 5.7-litre HEMI V8/ 8-speed automatic
Power/torque: 395 horsepower/ 410 ft-lb of torque
Fuel (capacity): Regular (124 L – optional fuel tank upgrade)
Combined fuel economy ratings (L/100 km): 13.8L/100 km
Observed fuel economy (L/100 km): 17.5 L/100 km
Warranties: 5-years/100,000 km (basic)
Competitors: Ford F-150, Chevrolet Silverado, Nissan Titan, Toyota Tundra