There is a place in the motorsport world where performance and luxury meet, and it's at that intersection where any gearhead's wildest dreams are realized, where wish fulfillment is achieved. If you need an example of the customer getting everything they could ever ask for, I will point you toward the 2023 BMW M8 Competition Gran Coupe. The Bavarian brand's broad-shouldered, low-slung, four-door sports sedan is excess in the flesh: Its commanding physical size can't be dismissed, nor the lavish interior trappings and top-tier finishes, and that description might call its sportiness into question. But rest assured, the M-badging is no mere mockery, as it's backed up by a fiery 617 horsepower twin-turbo V8 that leaves you speaking in tongues at the first pedal stomp.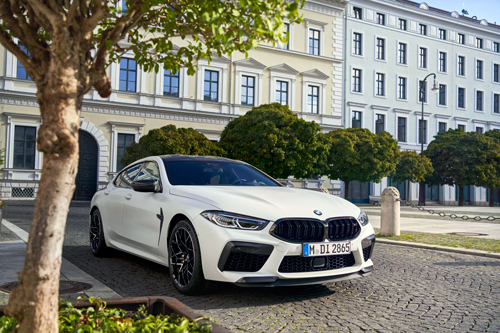 Not much has changed for the 2023 model year, save for a new 12.3-inch touchscreen infotainment display. Yes, there are the requisite color and leather option updates, though the M8 Competition's formula was patented back in 2019 — take the M5 Competition innards, slam them into a sleek 8 Series body, and Bob's your uncle, you've got yourself a GT car! Thoroughbred performance and comfort wrapped up in a bow.
These days, the M8 is offered with the Competition package as standard, which places it, along with its coupe and convertible siblings, firmly on the sportier side of the spectrum. What matters with the Competition stamp of approval is a bevy of racetrack-proven chassis bits that have honed its handling abilities to a razor-sharp edge.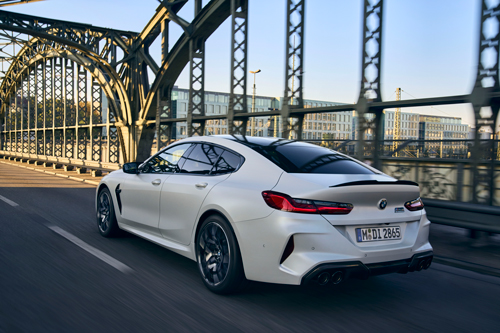 What greets you is an interior that does well to justify a six-figure price tag. The chunky leather-wrapped steering wheel is befitting an M-car, with the configurable M1 and M2 buttons designed for quick access to programmable driving modes — from track settings to grocery trotter in a single tap. The deep bucket seats, replete with heating and cooling, bolster the sporting theme without taking things to extremes. We've still got the backseats for the kiddos, and a decently sized boot to match, checking the practicality box for anyone who asks.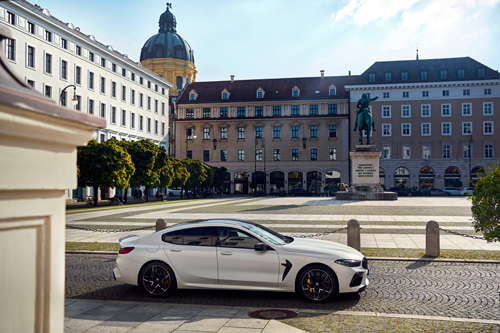 Although relatively new, the dash and center console are speckled with buttons, which flies in the face of current automotive trends (even in BMW circles) that have vowed to integrate as many functions as possible into touchscreen dashes. BMW even sprang for dramatic interior lighting — Oh là là.
Not to cast aspersions on the five-star digs, but much of the M8's allure is its 4.4-liter twin-turbo V8 engine, boasting a massive 617 horsepower and 552 foot-pounds of torque. Stamped, sealed, and delivered, this is nothing short of a love letter to petrolheads. BMW's best and brightest came together and loaded this beast with enough gumption to turn any countryside scene outside your window into abstract art.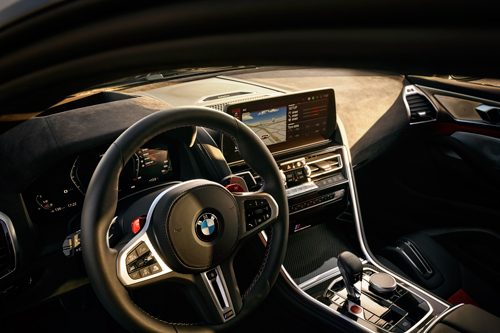 The secret sauce binding all of this together is its rear-biased xDrive AWD system and the equally excellent electronic aids, making any middling pilot feel like an ace. As those nannies peel away, the M8 Gran Coupe rear-end wriggles and writhes on the exit for an unforgettable sensation, never letting things cross the line. And if you want the full-fat M-car experience, pop it in 2WD — best saved when new tires are on the way.
Part of the chassis puzzle is the active dampers, offering three modes (Comfort, Sport, and Sport Plus). Frankly, this will be a deciding factor for M8 Gran Coupe buyers. There isn't much between them, though they aren't far off from Mother Superior's stern ruler. Slapped into Sport and Sport Plus, you'd be ready to tear up the sticky Pirelli P Zero 275/35 front and 285/35 rear tires at the track without thinking twice.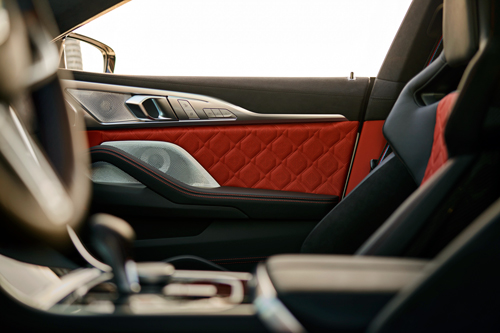 What that means is that the M8 doesn't mind a hand that'll crack the whip. In fact, this leather-clad tart tends to enjoy it. The more the chassis is loaded on the throttle or brakes, the more feedback the driver receives, and at that point, it's shouting for more. The only hiccup is when off the throttle, where things can become a touch ponderous at the wheel. So, best charge headlong, son.
If you're going to take that hard-nosed driving approach, then the optional ceramic carbon brakes aren't a bad buy, either. The braking force is immense, and I'd expect nothing less from honking discs like these. A minor tut-tut can be aimed at BMW's brake-by-wire system, which can have a sharp initial bite on the pedal.
Where the M8 Competition Gran Coupe delivers us is to a truly special place, indeed. On paper, an almost 4500-pound four-door shouldn't be able to handle, accelerate, or stop this well—but it does. The two-door variants should tug at my performance-minded heartstrings, yet the pointed chassis keeps me returning for more. Whether GT cars of this caliber live on into the future remains to be seen, but while we have it, it's best to enjoy it.
2023 BMW M8 Competition Gran Coupe
Price as tested: $154,500.00
Configuration: Front engine/All-wheel drive
Engine/transmission: 4.4-litre twin-turo V8/ 8-speed automatic with paddle shifters
Power/torque: 617 horsepower/ 552 lb-ft of torque
Fuel (capacity): Premium (76 L)
Combined fuel economy ratings (L/100 km): 13.7 L/100 km
Warranties: 4-years/80,000 km (basic)
Competitors: Audi RS 7 Sportback, Maserati GranTurismo, Porsche 911
Website: BMW Canada