Porsche's shapely wagon can now be had in three top-shelf, Turbo S, flavours. The standard Panamera Turbo S Sport Turismo makes use of a 620 hp twin-turbo V8, hits 100 km/h in 3.1 seconds and has an unladen weight of 2,210kg. The newly announced, fully electric Taycan Turbo S Cross Turismo has up to 750 horsepower (with overboost), can touch 250 km/h and depending on how heavy your right foot is, may deliver around 300km of range. Providing the link between old school internal combustion and our electric future sits Porsche's also all-new Panamera Turbo S E-Hybrid Sport Turismo; an interpretation that weighs about as much as the electric one, has more power than the petrol powered one but costs more than either. So, the question is, does that hybrid powertrain represent the best of both worlds? Is the Panamera Turbo S E-Hybrid Sport Turismo the "just right", Goldilocks-wagon of the bunch? I had to know.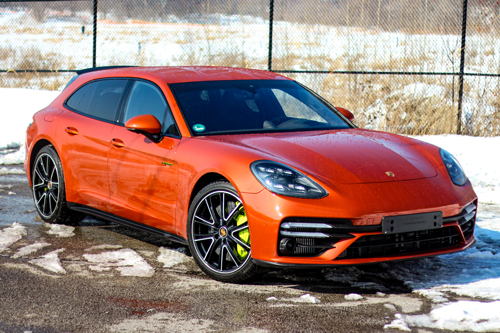 Powertrain: If there's evidence to be found for answering that question, it must surely hide in the E-Hybrid's powertrain — or, at the very least, beneath the plastic shrouding that envelopes it. Front, centre and shining under the hood, thrums this car's primary motivator; a 4.0L twin-turbo V8 engine. The internals have been tweaked since my last experience with it and it now produces a stonking 563 horsepower and 405 lb-ft of torque. That engine alone would be enough to make this 2,365kg car quick but as we know, this one packs more.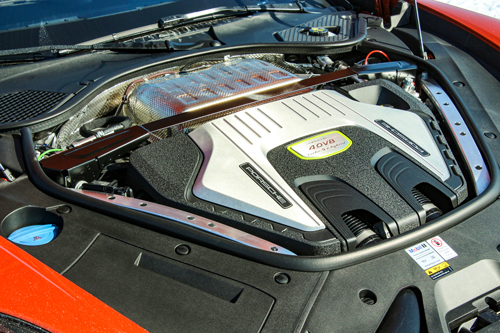 Powered by a larger 17.9kWh lithium-ion battery (up from 14.1kWh) and resting between that glorious V8 and the 8-speed, Porsche Doppelkupplung (PDK) transmission, whirs a 134 hp electric motor. On its own, that motor can silently thrust the Panamera to a top speed of 140 km/h but when working in concert, it amplifies the V8 to the tune of 690 hp. More impressive is the 568 lb-ft of peak torque that hits at a mere 2,100 rpm. And if that isn't enough, it also enables a "push to pass" feature which, while on the roll, engages an electric "overboost" for an extra 100 lb-ft hit, whenever you like.
From dead, press the pedal to the floor and this car will hastily transport you well beyond the ha-ha and into the realm of lolz. Using launch control, Porsche says 0-100 km/h happens in 3.2 seconds. That is just stupid quick for a car this size. It actually feels faster.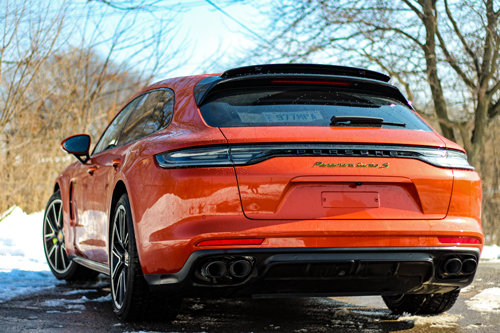 Exterior: Any of the Sport Turismo variants are lookers in my book. Their refined rears make the Panamera sedan look sedate and unfinished. And compared to their primary competition from Mercedes and Audi, Porsche's Sport Turismo eschews their aggro look in favour of fluidity. No matter what colour you paint it, it's an attractive bit of sheet metal. Of course, it will stand out a scooch more if you pony-up the extra $3,730 for Metallic Papaya. Oh, and the Turbo S E-Hybrid variant comes standard with Porsche Carbon Ceramic Brakes, so those Acid-Green dipped, 10-piston calipers may also grab some attention.
Interior: Despite the fact that this new E-Hybrid packs a larger lithium-ion cell, storage space behind the hatch hasn't been compromised. There is a decent 418L of space available as is and with the seats folded that more than triples, to 1,287 L.
If you surrender driving duties to be ferried about, opting for the longer ride in back isn't punishing at all. Rear seats are heated and the centre-mounted TFT display provides control of media, HVAC and can even move the front passenger seat to allow you to stretch out.
Up front and in command, the 18-way Adaptive Sport Seats ($1,760) can be tailored to cradle even the most finicky driver. They are heated of course, as is the GT Sport steering wheel, and provide a supportive and comfortable spot to either attack a road or trundle along it for hours on end.
The dash is typical Porsche brilliance thanks to the centre-mounted, analogue tachometer. The four flanking gauges, two per side, can all be tweaked and tailored to deliver the information you want and those to the right can be combined to display navigation mapping. There's a head-up display system in play as well and that too can be tailored for positioning and info.
Infotainment: Our European-spec demo came equipped with the Burmester High End Surround Sound System ($6,780) that, when combined with the Thermally and Noise Insulated Glass ($1,570), was more than enough to create a rolling concert hall, sonically capable of drowning out the wail from the Sport exhaust system ($4,400).
The 12.3-inch touchscreen is well integrated and even senses your fingers before they make contact. From there you can control and personalize everything from the way the car behaves to the shade of LED lighting you feel best reflects your current mood — I went with Sport Plus mode, deployed the spoiler, lowered the suspension and bathed my tootsies in Topaz Blue.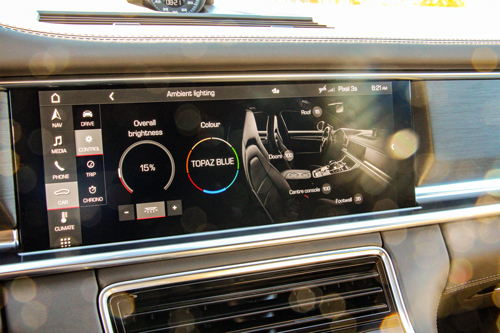 The flush, piano-black centre console housed controls all provide haptic feedback and the four knurled protrusions that work the HVAC are functional art. Should you rather make adjustments on the fly while keeping your eyes on the horizon, the most important tweaks can be engaged via the buttons and dials on the steering wheel itself.
Drive: The weather report for my weekend with the Panamera Turbo S E-Hybrid Sport Turismo wasn't what I'd call ideal. Snow was in the forecast and enough had already fallen to make for slushy B-roads and side streets. Riding on a set of 21-inch Pirelli Sottozero 3's, the all-wheel-drive E-Hybrid didn't seem to mind. Power was seamlessly shuffled when it needed to be and, even during a deep, damp, dumping my drive was drama free.
On salty, dry tarmac the E-Hybrid hugs corners while those Sport seats hugged me. The car, despite its size, feels like it pivots around the driver. Steering is linear and direct with excellent feedback. It's not as engaging as say a 718 Spyder but I reckon you'd be hard pressed to be disappointed, even with a backseat full of kids and a boot full of gear.
Acceleration, as I've said, is ferocious and that overboost is bonkers fun. But it's how smoothly the E-Hybrid maintains composure at speed that's admirable here. This is a GT (grand touring) car afterall, so it shouldn't punish its occupants. As such, Porsche saw fit to allow for damping adjustments in Sport Plus mode to accommodate for broken pavement without sacrificing overall handling. It's simply a sublime vehicle: fast and quick when you want it to be, spacious enough for everyday life and comfortable all of the time. Were it not for the fact that the seats couldn't massage me and that I will never afford one ($255,820 as tested) I'd say it was a near perfect car.
In five to ten years, when the infrastructure catches up and charging stations are plentiful, nods may go to that generation's Taycan Cross Turismo but for now the Panamera Turbo S E-Hybrid is Porsche's sculpted two-box sweet spot for speed-hungry families.
2021 Porsche Panamera Turbo S E-Hybrid Sport Turismo
Price: $219,800.00 (CDN)
As Tested: $255,820.00 (CDN)
Freight: $1,500.00
Configuration: Front-engine, all-wheel drive
Engine: 4.0L 8-cylinder turbocharged, hybrid
Transmission: 8-spd PDK
Power/torque: 563 hp/405 lb-ft (gas), 134 hp/295 lb-ft (electric), 690 hp/641 lb-ft (combined)
Fuel economy ratings: 11.7 L/100 km combined (gas only), 4.9 L/100 km combined (gas+elec)
Warranties: 4 years/80,000 km (comprehensive)
Competitors: Audi RS6 Avant, Mercedes Benz E63 AMG Wagon, Porsche Taycan Turbo S Cross Turismo, Porsche Panamera Turbo S Sport Turismo
Links: Porsche Canada