If you've clicked on this link to figure out whether the 2021 Porsche 911 Targa 4 is a good car — an indulgence worthy of your hard earned dollars — I will save you the billable time it would take to read to the end. It is a modern 911 that can drop its top; it is fantastic.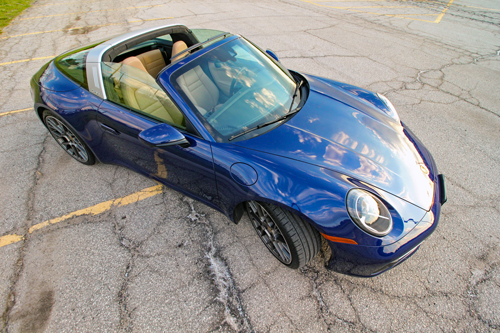 All modern 911s are, really. Regardless of which of the 21 different variations on the iconic arse-engined theme tickle your fancy, you'd be hard pressed to find anything better. The least powerful ones are still quick, all of them are opulently appointed and even the chubby ones handle with true sporting precision. I've never driven one, new or old for that matter, that didn't make me feel special. So the only thing you need to suss out is which style and model appeals to you most. For me it's always been the Targa — it's the coolest 911 anyone's bucks can buy — just not this Targa. At least not for me.
Powertrain: You might be thinking my negativity comes from the fact that the 911 Targa 4 only has 379 horsepower. Or maybe that it's because it weighs 1665kg — some 40kgs more than the Cabriolet — making it the second heaviest 911 ever (the PDK-equipped Targa 4 S takes that honour). But it's neither of those reasons.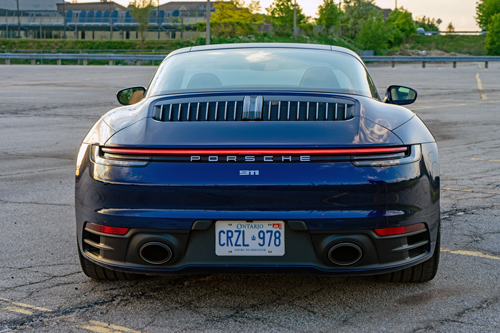 The three-litre, twin-turbo, flat-six engine is an absolute peach. The turbos spool up quickly and delivers a flat, linear power curve. With the Sport Chrono package optioned ($6,660), this Targa 4 can make the run to 100 in 4.2 seconds, on its way to a top speed of 289 km/h. Drive it conservatively and you'll see around 11l/100km in mixed use. Drive it like you want and you'll spend more at the pumps.
The eight-speed, Porsche-Doppelkupplungsgetriebe (PDK) transmission swaps cogs smoothly when boulevard cruising and sharpens up when Sport or Sport Plus modes are activated. As is customary nowadays, you can actuate a shift via the steering wheel mounted paddles where, again, execution is faultless. Admittedly, I rarely bothered to use the paddles (save a few downshifts here and there) as Porsche has properly figured out this dual-clutch business and its shift algorithms are clever.
And yet, despite how good that PDK is or how intuitive it all feels, the lack of a manual transmission does rob this car of what I feel is a quintessential 911 experience. Timing the perfect heel-toe, rev-matched downshift with the Targa top stowed and listening to that flat-six burble and blat — all via three pedals and a post — is a bit of magic this Targa 4 can't muster. If that sort of thing doesn't hold true for you, then ignore my complaint — this is still an incredible car. If it does though, I'd suggest you look at the Targa 4 S or GTS models where the seven-speed manual can be had.
Exterior: We could sit here and chat about how the 911 has gotten larger over the years but really, why bother? Despite the need for bigger and beefier molds, it still boasts a lust worthy shape. Whether viewed dead on, in profile, at three-quarters or from the rear, the 992 generation is stunning. And the Targa is, in my humble opinion, the best looking of the lot.
The curved rear glass and iconic roll bar maintain the flowing lines of the coupe's silhouette in a way the Cabriolet never can. Painted in Gentian Blue Metallic ($950) and riding on a staggered set of RS Spyder Design wheels ($4,260), this Targa 4 will absolutely stop traffic.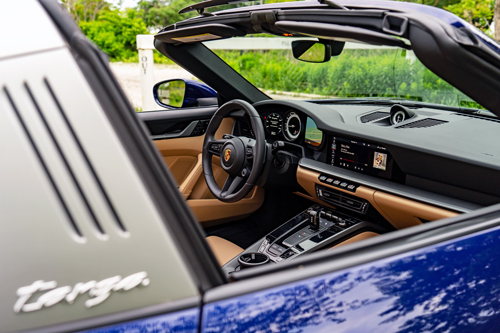 To lose the Targa top, you will need to be parked. And that black fabric can't be simply plucked from its perches. When Porsche engineers decided to rethink the Targa in the previous generation, the result was an overly complex solution. Hold the centre console mounted button and the rear of the car opens like a clamshell and swallows the fabric panel after a mechanical ballet. The roll bar even splits at its corners to allow safe passage. It's nineteen seconds of unnecessarily ludicrous and wonderful mechanical precision.
Interior: If you ever get bored while holding that button for the theatrics (yes, you do need to hold it for the entire process. Both up and down), a survey of the Targa's interior should do well to keep eyes smiling.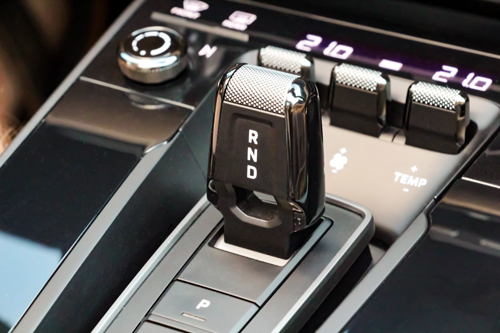 Swathed in black and Mojave Beige, the seating is excellent and everything is easily accessible. The centre mounted tachometer is flanked on either side by two additional information pods. These can be tailored to deliver info on everything from a G-metre to fuel economy or even a second screen of the navigation system. In my preferred seating position, the outer edges of those pods were hidden from view by the steering wheel but the most important stuff is up front and centre, so it's no big deal.
The back seats exist for legless humans and duffle storage mostly. You can fold their backs flat and fit a pizza box or two in the cargo shelf that they hide. The 'Za will probably even be kept warm by that flat-six beneath, so it's truly win-win.
Infotainment: The infotainment screen is well positioned and almost hides itself in the wide sweeping dash. There are a plethora of functions it controls — everything from mood lighting to drive modes — and the user interface is decently intuitive. There are more layers to settings and options than there really needs to be but most of those buried are of the "set it and forget it" type, so it's not like you need to deep dive every time you drive.
Climate control and audio functions can be handled via their own dedicated switchgear, should you prefer, as can suspension, stability management and exhaust settings. The dial on the lower right side of the steering wheel toggles between drive modes.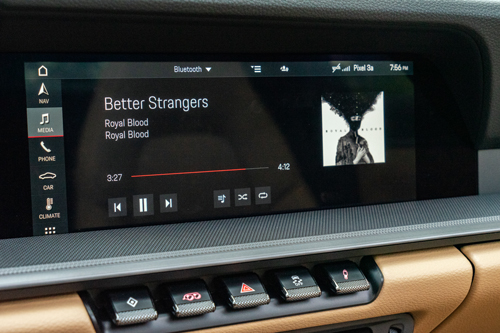 Wireless Apple CarPlay is standard but Android Auto is a tethered affair. Voice pilot is also equipped so you can order your Porker to do your bidding too.
Drive: Once you've sorted your settings and dropped the top (because unless it's torrential out, the top must always be dropped!), the 911 Targa 4 is a delight to drive. Where traditional cabrio cars thrust the driver into the spotlight, the design of the Targa just doesn't. It's simply an open air coupe, devoid of the mid-life crisis and self-indulgent spotlight that typical convertibles provide.
There is some creaking and groaning when covering uneven pavement and during erratic manoeuvres. This is to be expected but none of it is off-putting or unsettling to either driver or car. Give it the beans and the Targa 4 just goes about hauling the mail in characteristic 911 fashion.
Slide into a corner and it feels as though every gram of this Porsche's mass reorganizes itself for optimal balance and precision. There's nothing but confidence and reassurance here, even at ill-advised speeds. Slow things down and the Targa will traffic jam with the best of them, too.
From the passenger seat's perspective, my dad contends this may be his favourite Porsche yet (although he really liked that Panamera we reviewed earlier this year too). And my wife, who's never been one to swoon over vehicles, swooned for this one. As 911s have evolved, the opulence and coddling of those inside it have increased exponentially but Porsche has never lost sight of them being their ultimate driver's car. That's a commendable feat.
Conclusion: My time with the 2021 911 Targa 4 was both special and enjoyable. It's a model of Porsche that I've maintained is the coolest of breed since I was making mud pies and vroom vroom noises for my Big-Wheel. And this latest iteration only cements my beliefs. It truly is a fantastic automobile. The combination of open-air cruising, Porsche's handling prowess and catching glimpses of that iconic roll bar in the mirrors is just so damned satisfying.
But this one couldn't land its ultimate arrow in my heart.
I need my Targa to have three pedals and a stick. That's just the way it is for me. I don't care that the PDK is quicker or easier to live with. I prize driver engagement above all and have yet to experience an auto-swapper of any kind that can fill that void. Thankfully, the Targa 4s and Targa 4 GTS exist and maintain a manual option. Sure, they cost a bit more but everything desirable at Porsche does. And if you skipped reading this review and didn't squander the time saved, the pinch probably won't hurt a bit.
2021 Porsche 911 Targa 4
Base price: $136,000.00 ($165,380.00 as tested)
Configuration: Rear engine / all-wheel drive
Engine/Transmission: 3.0-litre twin-turbo, flat-six / eight-speed PDK (automatic)
Power/Torque: 379 horsepower / 332 lb-ft
Fuel economy (litres/100 kilometres): 11.6 combined (est.)
Competition: Audi R8 Spyder, BMW M4 Cabriolet, Chevrolet Corvette, Jaguar F-Type
Link: Porsche Canada