Every once in awhile a new sports car comes into the market and creates a stir that resonates throughout the industry. On rare occasions, new doesn't necessarily mean a completely different approach to a previous model, but rather significant refinement that makes what was already pleasurable standout even more.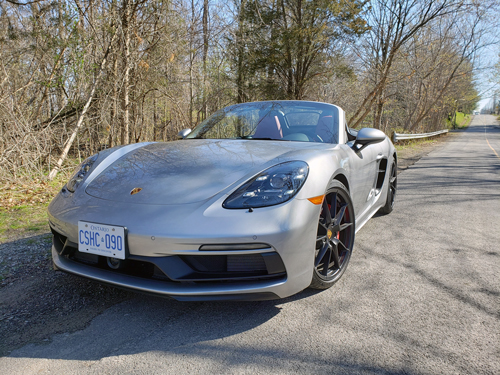 If Porsche has a calling card, this is it. Improve on the past by making it better, stronger and faster. Faster, in this case, means adding a 6-cylinder between the front and rear suspension and slapping on the GTS designation for good measure. After a weeklong test drive, they may have not only made it faster, but quite possibly achieved sports car perfection.
Powertrain: Power comes in the form of a 4.0L 6-cylinder that delivers a robust 394 horsepower at 7,000 rpm and 317 pound-feet of torque at 5,500 rpm. Matched to a PDK transmission, the 718 Boxster GTS 4.0 accelerates from 0-100 km/h in 4 seconds and 0-160 km/h in 8.7 seconds.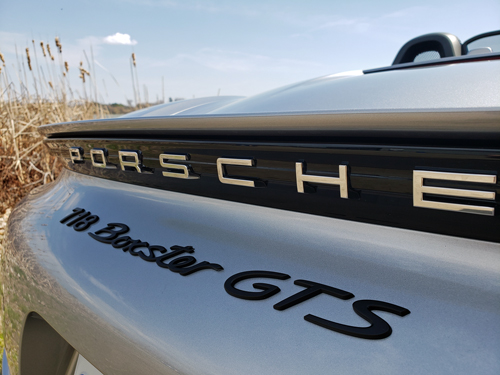 That's a full half second quicker to both speeds than if it were equipped with a manual transmission. Proof computers are faster that humans, though no serious sports car lover would ever question the value of shifting gears with hand and foot. Interestingly, top speed for the PDK equipped model is rated at 288 km/h whereas the manual transmission tops out at 293 km/h. I guess computers haven't got it all figured out yet.
Stopping power is equally impressive with 6-piston aluminum monobloc fixed-caliper brakes up front and 4-piston at the rear. In a nod to form and function, the calipers are painted a bright red and look stunning together with the 20" 10-spoke black satin alloy wheels. Providing grip are 235/35 ZR 20 front tires and 265/35 ZR20 rear. Porsche Torque Vectoring (PTV) allows for mechanical locking of the rear limited slip differential.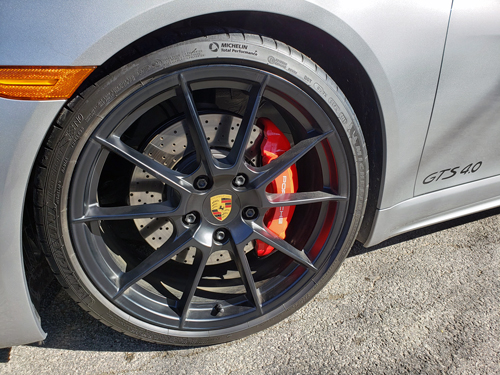 Exterior: If the Porsche 911 offers a sophisticated silhouette, the 718 Boxster GTS 4.0 is every bit as stylish and maybe even a little more interesting than its elder sibling. This is due in part to the mid-mounted engine that resides immediately behind the 2-passenger seating.
Constructed of lightweight aluminum and steel, rounded haunches front and rear leave no doubt this is a Stuttgart-designed 2-seat sports car. Side air intakes draw breath for the 6-cylinder engine, the rear spoiler automatically deploys at highway speed and side model designations leave no doubt you are driving something special in the Porsche family.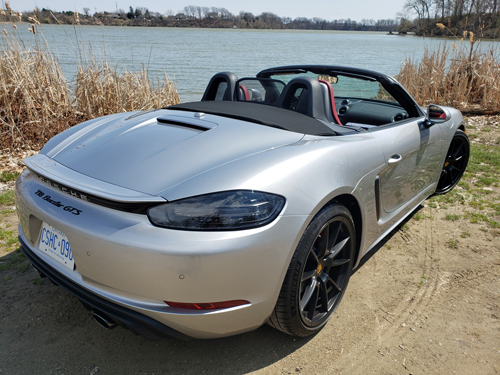 Of course, this sports car is a convertible and the black retractable roof spent as much time as possible tucked away during my test drive. Should you leave the driveway and somehow forget to lower the roof, it is fully retractable up to speeds of 50 km/h. That works just as well when closing it, as I found out when on one occasion a sudden rain shower threatened to dampen my backroads test drive. Simply slow down, press the button and watch the rain disappear in just a few seconds.
Interior: Step inside the black and Bordeaux Red interior of our test vehicle and the experience lives up to the hype first proposed by the exterior design. 18-way adaptive Sport Seat plus seating with memory ($3,460) offer a close-fitting, hip-gripping driving experience you expect in the 718 Boxster GTS 4.0. Both seats are heated as is the steering wheel for those chilly morning drives and cooled for those summer time cruises to the beach or taking the backroads and star-gazing. At just a tad taller that six feet, I found it best to keep the seat as low as possible to reduce wind buffeting the top of my head. The net-type wind deflector also assists in reducing wind noise and improve cabin comfort.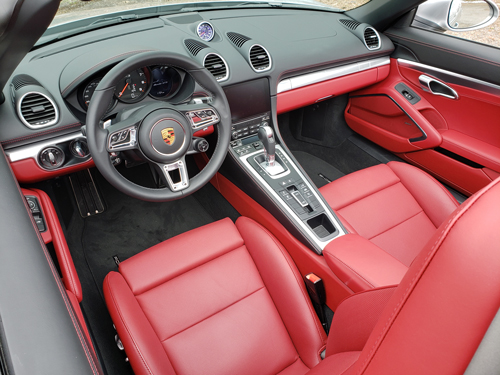 Leather wraps the stitched GT Sport steering wheel with properly placed thumb grips. It features enough buttons and knobs that most of the important functions you need quick access to are within each reach. Three large gauges make up the instrument panel, with the center being the largest and most important, a tachometer to watch your revs while changing gears with the paddle-shifters or gearshift lever.
Improved vehicle performance can be dialed up from the steering wheel with four clicks ranging from normal to sport, sport+ and individual. I typically kept it in Sport or Sport+ as it offered the best of both worlds; improved driving characteristics and a better exhaust note.
Infotainment: A large central screen resides above the audio system providing easy access to vehicle features and an easy-to-read navigation screen. Our test vehicle was equipped with the Bose Surround Sound system, it delivers clear sound and bass-thumping performance even the top down.
Drive: If the 718 Boxster GTS looks are enough to impress, the drive is certain to increase your heart rate without making your palms sweaty for the experience. This is an everyday driver with true sports car capabilities.
It is so easy to drive quickly as corners meld into an endless ribbon of left and right turns at speed on my favourite country roads. I know the roads well, and the car feels as if it is an extension of what my mind wants with every turn of the wheel and flick of the paddle-shifter. Stopping is as easy as breathing, it happens quickly and without any fuss. If there is a perfect sports car out there, this surely must be at or near the top.
2021 Porsche 718 Boxster GTS 4.0
Price as tested: $119,300.00 CDN
Configuration: mid-engine, rear-wheel drive
Engine: 4.0L 6-cylinder
Transmission: 8-spd PDK
Power/torque: 394 hp/317 lb-ft
Fuel economy ratings: 11.1 L/100 km combined
Warranties: 4 years/80,000 km
Competitors: BMW M440i Cabriolet
Link: Porsche Canada