Before we go any further, I'm going to address it right away: the grille on the 2021 BMW M440i.
When the car debuted, almost everything was centered on the vertical, oblong take on the famous BMW "kidney" grill; I've seen it likened to a beaver (we are in Canada, after all) or a rat, heard it called "awkward" or "unique" and everything in-between and for some, it's almost as if there's been no other design gong on at all on the new car. After all; it's the biggest we've ever seen on one of BMW's cars – or is it?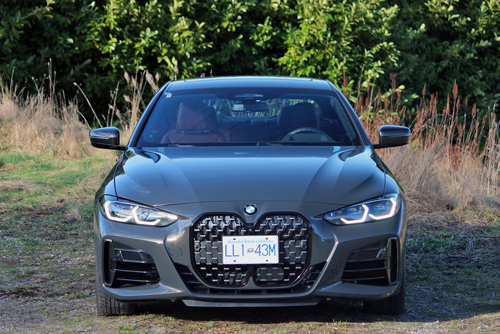 Put simply: no. It's not.
True Bimmer-philes will remember the '21 4 Series' great-great grandpa — the 328 roadster of the '30s and '40s – had a kidney grille that stretched from the base of the front fascia all the way to the leading edge of the hood; it makes the item on this new car seem like tiddlywinks in comparison!
So, in effect, the new grille design is simply a callback to one of the first cars BMW ever produced. Besides; when finished in black as it was on my tester as part of the $4,950 M Enhanced Track Package, it doesn't look any where near as "obtuse" as it does when finished in chrome. Indeed, a look around the various 4 Series on the lot where I picked my tester up shows that most people are ordering their cars with the blacked-out grille.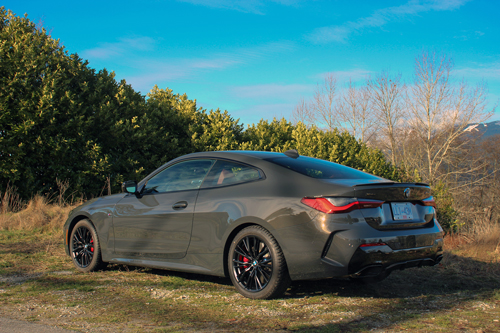 Past all that, the M440i does a great job of mixing the purposeful with the handsome. It's got a great ground-hugging stance, the BMW Laser headlights are aggressive in all the right ways (plus I love the blue bulb surrounds) and the carbon exterior package (rear wing, wing mirrors, parts of the lower front valance, rear splitter all finished in carbon) works well even against the matte "Dravit Grey Metallic" paintjob (and provides a golden glitter in some lighting situations) on my tester. What's a Dravit? No idea, but when a colour looks this good on a car, who cares? The dark rims look good, too, even though they're wrapped in chunky winter rubber here.
Inside is a major contrast to the exterior in that it's finished in "Tacora Red Vernasca" (who comes up with these names?!?!) leather and while it is contrasted with black inserts, there's also a lot of brushed aluminum inside so it's a bright affair overall.
While BMW loves to say that their cockpits are all centered around the driver, it's hard to look at the interior of this – or any modern luxury car, really – and not focus on the big infotainment display that they have. This one here is BMW's latest iDrive (which is the 7th iteration of the tech) and it's smooth, pretty easy to operate and host to all sorts of features on its 10.25" display, from wireless Apple CarPlay (you're only option; CarPlay cannot be wired so it's good there's a wireless charge pad on board) to weather apps, your BMW personal assistant and so forth. The display is a tiled set-up, and you can customize which widgets take front and centre.
The infotainment display is paired with a digital gauge cluster, which is big and bold but could probably do with a little more customization, especially when compared with what Mercedes-Benz is putting out these days. With the BMW, the display doesn't change all that much depending on which drive mode you're in (Eco, Sport, Sport Plus), and what does change is pretty minor. It may seem like a nitpick, but I've recently found myself spending more and more of my time swapping between display styles in vehicles that have that feature.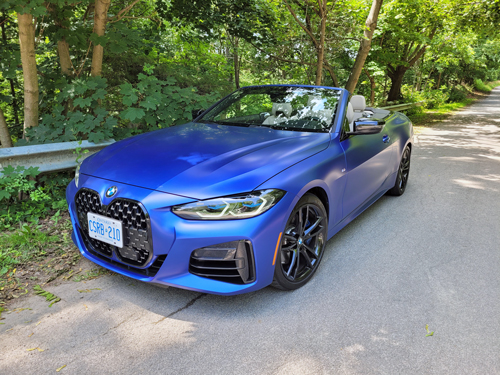 Of course, many a cynic would at this juncture say "you can't change the gauges? Big deal. It's a BMW. It's 'The Ultimate Driving Machine'. That's all that should matter."
And you know what? They're partially right because you wouldn't want distractions like that to get in the way of what is a fantastic driver's car.
That should be of little surprise to anyone who knows BMW's track record when it comes to their cars' on-road manners, but it was a bit of a surprise to me.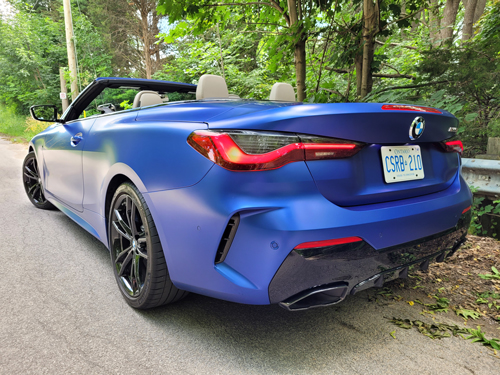 It came as a bit of a surprise to me because when I went to Portugal to test the all-new 3 Series with which this new 4 Series shares a bunch of bits, the fantastic Portuguese roads did expose a few kinks in the 3 Series' armour that I wasn't expecting (mostly having to do with its weight). I did not feel this way with the 4 Series – in fact, it was quite the opposite.
The M440i I tested makes 382 horsepower and 364 pound-feet of torque from its twin-scroll turbo inline-six, but such are its launch and handling characteristics that it feels like it has way more power than that; you can thank the 11-hp boost provided by a 48V starter generator for some of that responsiveness. Which is not entirely out of the question as the Germans have been known to fudge power figures from time to time to help owners earn a better insurance rate and so their lower-end models don't step on the toes of their top-spec stuff. So there may actually be a little more under the hood; it sure feels like it.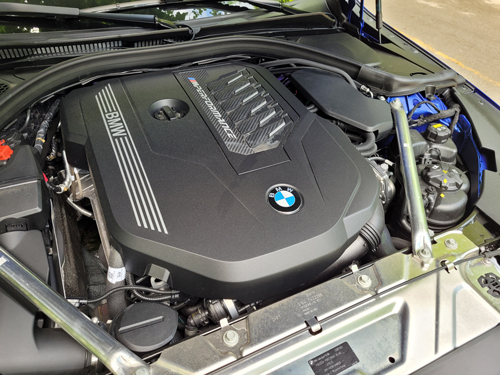 Even with the added weight of AWD and a hint of turbo lag, the relationship between the eight-speed automatic and the engine is a masterclass in powertrain balance and responsiveness. You're carrying three-figure-speeds before you know it and the whole affair is one of such solidity and confidence that it almost never puts a wheel wrong. The steering is as direct as most recent BMW M cars I've driven, and this vehicle so predictable and responsive that it feels as track-ready as any non-BMW M vehicle I've ever sampled, and I've sampled most of them. While only a small percentage of M440i owners are actually going to track their cars, even those who don't will appreciate the aspects that ensure it's no slouch in those environments. Especially in the more aggressive drive modes which bring the adaptive dampers to their firmest setting so that they anchor the car to the road over most any surface, while the M differential gamely shuffles power from the left to right wheels for max grip through the bends.
This is as perfect a sports car as we've ever seen from a 4 Series-not-named-M4, and that is a substantial feat. If I had one main complaint it would be pricing; at almost 80 grand as tested, my car's price eclipses that of a Porsche 718 Cayman T and is knocking on the door of that of the Cayman S. Of course, you get a lot more creature comforts here than you do there (and you're saving money over a base Cayman with an M440i sans option packages), but if that's what you're concerned about, then why not stick with the 430i xDrive and add a couple of comfort options?
So you do have to pay for it, but if you're looking for a performance coupe or cabriolet that's not too hard on the back and actually has room for four inside, it's hard to do much better than this latest version of BMW's venerable 4 Series, grilles be darned.
2021 BMW M440i xDrive Coupe
Price as tested: $78,995.00 CDN
2021 BMW M440i Cabriolet CDN
Price as tested: $87,450.00
Configuration: Front engine/all-wheel drive
Engine/transmission: 3.0L six-cylinder/8-speed auto
Power/torque: 382 horsepower/364 ft-lb of torque
Fuel: Premium
Combined fuel economy rating: 9.2 L/100 km
Competitors: Audi S5 Coupé, Infiniti Q60 3.0t Red Sport, Mercedes-Benz C43 AMG Coupe, Porsche 718 Cayman T
Links: BMW Canada