The 2021 Mini Cooper S Countryman ALL4 is more than just a long name describing the many attributes of this sporty 4-door. The name says Mini, but the vehicle itself is anything but diminutive in stature.
More accurately, it should really be considered a compact SUV (CUV) but with a coolness factor that few others in this segment can match. Our test vehicle was featured in Sage Green Metallic ($590) with Piano Black exterior trim ($550) and a carbon black leatherette interior. It is a unique colour combination that suits the Countryman particularly well and turned some heads throughout our weeklong test drive.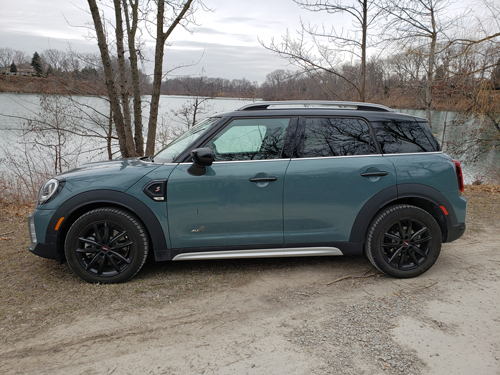 Powertrain: Under the bonnet of this British/German beauty resides a 2.0L 4-cylinder turbocharged gasoline engine matched to an automatic transmission. It delivers a stout 189 horsepower at 6,000 rpm and 207 lb-ft of torque at 1,350 rpm.
Zero to 100 km/h takes 7.2 seconds, which isn't overly inspiring given its Mini DNA. But it doesn't feel sluggish under hard acceleration, rather you get the sense it is moving quicker than a stopwatch might indicate. Of course, weight plays a factor with the Countryman ALL4 tipping the scales with a curb weight of 1,687 kg. Top speed is listed at 222 km/h.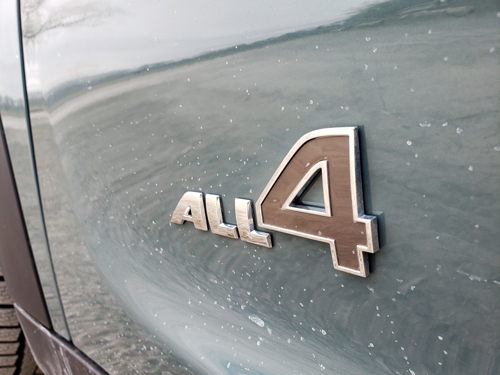 One of several things that make the Countryman ALL4 so appealing is the fact it offers 4 season driving pleasure with four-wheel drive. What you sacrifice in overall speed and quick turning ability, you gain in the capability to go almost anywhere with complete confidence of arriving at your destination intact and smiling no matter the road conditions.
Exterior: Model year 2021 sees some minor exterior changes, in particular the front end adds a little aggressiveness, but for the most part it remains unchanged and that is a good thing. Union Jack rear taillights are also a new and welcome touch.
Black wheel arch covers add to the already rugged look of the ALL4 Countryman. The optional 19" Turnstile Spoke 2Tone wheels ($750) with run flat tires further accent it's sturdiness. The front, side and rear visage is all Mini, but there is no mistaking it has some serious crossover capabilities waiting to be explored.
Interior: Inside, the Mini experience continues with comfortable seating for four (five in a pinch). As mentioned, our test vehicle features leatherette seating, which offers easy cleaning and a quality look and feel indicative of leather, but it's not leather. A move away from leather is definitely a trend in the auto industry currently as more and more buyers are looking for alternatives to real animal skins in automobiles.
Switches, buttons, toggles and gauges are all classic Mini. BMW's i-Drive is central to controlling the various features including the main menu, map, navigation and more. The central 8.5" center screen is within easy reach, there is nothing about the Mini's interior that feels awkward.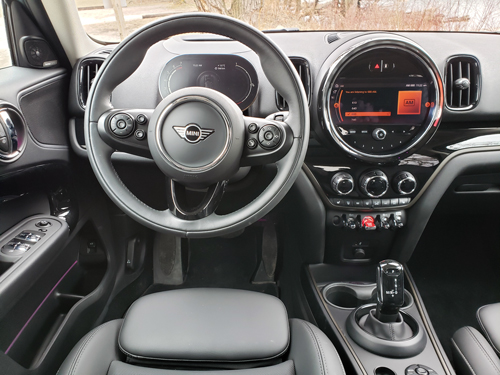 That said, if you aren't familiar with its chrome toggles and round knobs, it may take you a few minute to find where everything is and how it all works. Part of the Mini experience is just that, experience. But once you know, it is a logical interior that functions like you would expect a BMW-built Mini to work.
Our tester adds the PREMIER + package ($7,350) which includes a long list of options such as a panoramic sunroof, electric and heated seats (with driver memory) sliding and reclining rear seat adjustment, automatic climate control, Mini navigation, a full digital instrument display, Apple CarPlay (no Android Auto at this time) and more.
Storage space is found throughout the interior, with round cupholders in the center console and properly sized door pouches with adjustable ambient lighting for night time fun. The rear storage compartment may be a little smaller than some other CUVs in the market, but it should be able to handle the usual items, including hockey bags and suitcases- just not together.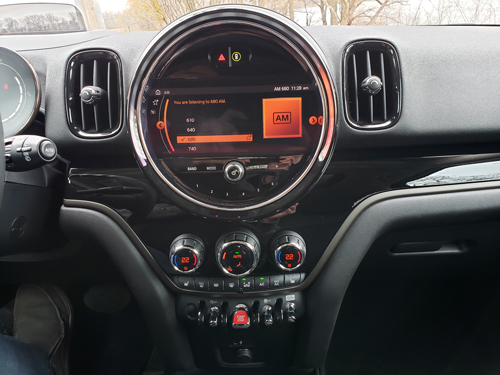 Infotainment: In addition to all the aforementioned features in the PREMIER + package, it also includes an upgrade in audio performance. A Harmon Kardon system delivers excellent sound throughout the interior. Take it from me. With sound this good, it is easy to hit the road for a short jaunt and suddenly find yourself more than a few kilometres from your original destination and happy for it.
Drive: Mini is known for its turn-on-a-dime driving performance, quickness off the line and cornering capabilities. It is also built to stop quickly, which is important given Mini drivers are buying performance and good braking is always part of that equation.
You will experience much of that in the Cooper S Countryman ALL4, but as previously mentioned, don't expect it to feel or perform exactly like a 2-door Mini Cooper S. Ride quality is excellent, exterior road and engine noise is minimal and outward visibility is unrestricted. Ride height somewhat compromises the potential for offroad excursions, but seriously, if want to go for a drive in the woods, consider a proper SUV such as the BMW X1.
Conclusion: So how does the larger Countryman stand up to scrutiny? While it is a larger Mini in every sense of the word, the short answer is- exceptionally well. Keep in mind, though, there is some compromise on the sheer fun aspect when driving the ALL4 model, as bigger means you do loose a little of the feel associated with driving a Mini. But the trade-off of having all-wheel control is a feature that makes driving in any season a very enjoyable experience.
2021 Mini Cooper S Countryman ALL4
Base price: $35,990.00 ($47,030.00 as tested)
Freight: $2,245.00
Configuration: Front engine / four-wheel drive
Engine/Transmission: 4-cylinder turbocharged / automatic
Power/Torque: 189 horsepower / 207 lb-ft
Fuel economy 9.2 L/100 km combined (est.)
Competition: Buick Encore GX, Lexus UX, Mercedes-Benz GLA 250 4MATIC, Subaru Forester, Volvo XC40
Link: Mini Canada