We all love wagons. Or we should all love wagons. If you consider the sales and availability of this once-loved body style in North America, though, we don't seem to. But why? There's plenty of room inside – just like an SUV — but with a wagon, you get a lower liftover height and the on-road dynamics of a car.
In the case of the E 450 All-Terrain seen here, you get some crossover-like off-road chops, too.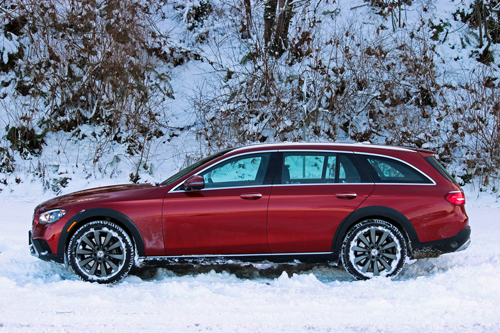 Exterior
It starts with the exterior styling, where you can't miss the "All-Terrain" conversion – actually, if you walk on to any given Mercedes lot its hard to miss said conversion because that's the only way you can get an E-Class wagon in Canada today, unless you opt for the bonkers AMG E 63 version.
Nevertheless; the E 450 All-Terrain gets a higher ride height than the E 450 sedan, which gets even higher when you raise the fitted-as-standard height-adjustable suspension (oh, the things you get when you drop over 90 grand on a car) with a touch of a button, which came in handy during some surprisingly-deep-for-Vancouver snow. It also gets plastic cladding 'round the wheels and rocker panels and beefier bumpers, as you do when it comes to toughening up cars in this manner.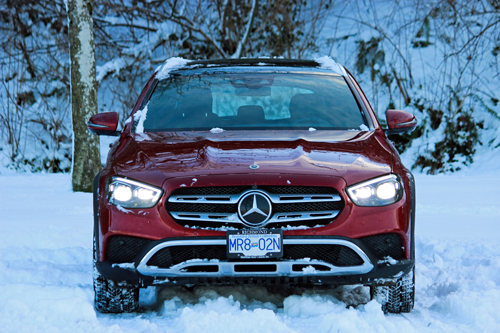 Even in more butchy All-Terrain form, though, the rest of this wagon's styling is smooth, gets great-looking 19-inch Y-spoke wheels and LED head- and taillight lenses, and is properly bright when painted in $1,400 Hyacinth Red as seen here.
Interior and tech
Inside, you'd be hard-pressed to tell this is different from the rest of the line-up. You still get the great glass-look start/stop button, door-mounted seat controls (so you don't have to jam your hand between seat cushion and door to adjust the seat – smart) finished in pleasing brushed aluminum, roundel HVAC vents, dark woodgrain inserts, colour-changing mood lighting and unlike the S-Class we recently tested, plenty of traditional hard buttons/toggles for your climate and infotainment controls. The seats are ultra comfortable, the back seat roomy and the driver's seating position just about right on.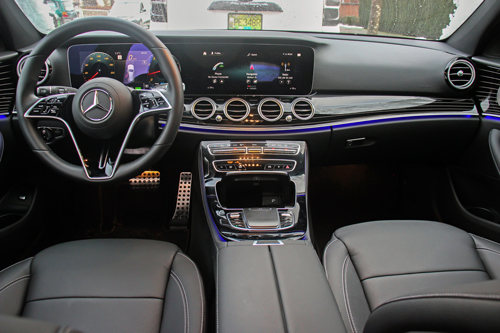 Speaking of infotainment: the main 10.25" display is ultra-crisp and full of easy-to-navigate menus, and that's matched by a digital display for your gauge cluster as well. The central display can be accessed in a number of ways: it's a touchscreen, there's a control pad atop the transmission tunnel and a haptic thumb pad on the right wheel spoke. That last one may seem strange, but once you get used to it it's rather intuitive and I made a lot of use of it. There's a matching pad on the left spoke, too, which controls the gauge cluster and the HUD – there is a lot quite literally at your fingertips here.
Powertrain
A single powertrain is available; it's a 3.0-litre straight-six good for 362 horsepower and 369 pound-feet of torque. Those are good numbers – very good numbers, in fact – and that it gets channeled to all four wheels through a fast-shifting nine-speed automatic is the icing on the cake. This is a very, very good powertrain – and there's more!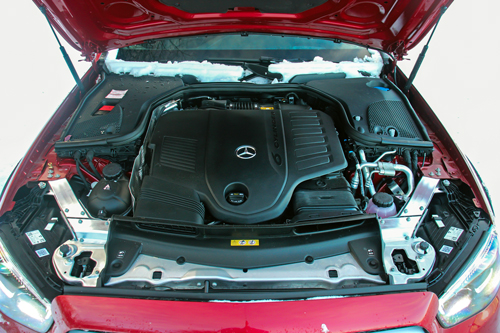 In addition to the turbocharging and fast 'box, there's also a 48V mild hybrid system that allows you to cruise along using no fuel at all and helps get you up and going by reducing turbo lag and adding 21 horsepower when you first tip-in. There's a lot to like here on the powertrain front; one whole heck of a lot.
Drive
As alluded to earlier, my entire time spent behind the wheel of the E 450 AT was done so in properly snowy conditions. Indeed, to look at it, you'd think this car would be perfectly suited to these conditions and boy, was it ever.
Starting with the raising suspension, the E AT (is that a Star Wars reference?) would claw its way out of most any slippery situation as power was shuffled to whichever wheel needed it. It gets a permanent version of Mercedes' 4Matic AWD tech, which is always splitting power between the front and rear axles and adjusting where power gets sent as conditions dictate. The wheels that can do the work get the power, so if you can find purchase under any of the four contact patches, you're in pretty good shape.
The AT gets the added benefit of having two off-road drive modes, one of which — Off-Road+ — automatically raises the suspension, limits your speed and activates a hill-descent control system for confident progress either on cruddy roads like I was on, or on the snowy trail up the ski lodge and so on. It was great to get in to the car, activate Off-Road+ and be on my merry way without even having to dig out.
As far as the other drive modes go: in these conditions, you can really feel the difference as you move between Off-Road at one end of the spectrum, and Sport at the other. The same amount of throttle applied in Off-Road that leads to almost drama-free forward progress will have that tail readily stepping out once you switch to Sport. It's almost eerie just how much of an effect playing with the drive modes has on the proceedings. To top it all off, the E AT gets air suspension as standard so everything from individual holes in the snow to speed bumps is nicely ironed out. Said suspension also keeps the body flat during cornering.
Conclusion
There really isn't that much to choose from in the wagon game — let alone within the off-road luxury niche – so Mercedes could easily have cladded an E-Class wagon up, beefed up the rubber, and moved on.
But they haven't.
What they have done is delivered a pitch-perfect alternative to a crossover not just in the sense that you can carry as much in it as you can in a CUV, but you can conquer a lot of the same terrain, or enough of the same terrain to satisfy most SUV/CUV buyers. I love it.
2021 Mercedes-Benz E 450 All-Terrain
Price as tested: $94,100.00
Configuration: Front engine/all-wheel drive
Engine/transmission: 3.0L Turbo inline-6/48V mild-hybrid system
Transmission: 9-speed automatic
Power/torque: 362 horsepower/ 369 ft-lb of torque
Fuel: Premium
Combined fuel economy ratings: 9.6 L/100 km
Warrant: 4 years/80,000 km (comprehensive)
Competitors: Audi A6 Allroad, Volvo V90 Cross Country
Link: Mercedes-Benz Canada