Keeping pace in the fast growing SUV market is a challenge for automakers these days. Eight seat behemoths are just as sought after by consumers as smaller "five" seaters that barely have enough room for two small children in the back seat. Fold the rear seat flat and it becomes the perfect hauler for boomers to hit the neighbourhood circuit of garage sales or millennial trips to Structube.
Pace is a keyword at Jaguar as it defines their family of SUVs. The E-PACE is the baby in the family, but don't think of it as the aforementioned five seater wannabe. It is a legitimate option for four plus adults to enjoy and still offers enough storage space for daily life.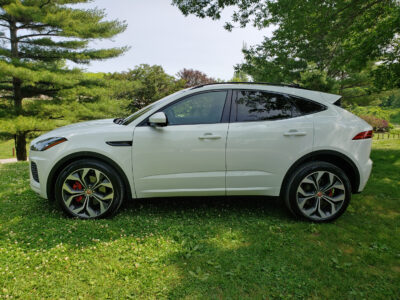 Performance 
Power for the ranging topping 2019 Jaguar E-PACE R-Dynamic SE (P300) with all-wheel drive comes in the form of a 2.0-litre HSE 4-cylinder turbocharged gasoline engine. It delivers an impressive 296 horsepower at 5,500 rpm and 295 lb-ft of torque between 1,500-4,500 rpm. Matched to a 9-speed ZF automatic transmission with paddle-shifters, 0-100 km/h takes 6.4 seconds and top speed is 243 km/h.
Over the course of a week long test drive, I found the power delivery to be smooth and well-refined, with entry on to the highway or taking deeper, more exhilarating drives on country roads, something to look forward to. What was less enjoyable was the noisy engine fan at startup, or when returning home after even a short drive. This engine always seems to be working hard, the downside to small displacement technology with the potential for less than expected fuel economy results.
Style and Design
Outward style is in no short supply with the Jaguar E-PACE. It is so abundant, in fact, I was surprised by the number of people who stopped me to ask about it, or gave an enthusiastic thumbs up as we passed on the road.
As an automotive journalist and someone who drives the newest vehicles on the road as part of my job, getting stared at or being stopped to talk about what I am driving is a regular occurrence. But this SUV earned a lot more attention than I thought it would, so I guess the designers have nailed it with their clean lines, flared fenders, rear roof spoiler and optional supersized 21" alloy wheels. The Black Pack at just $260 adds gloss black mesh grill and surround, side vents and window surrounds for that extra touch. Black roof rails and a black contrast roof add $870 to the price but are worth it in my opinion.
Interior Details
Inside, red leather seating plus door and dash accents are combined with black upper and lower door detailing and a black center cockpit area for the driver. Red stitching on the gauge hood adds appeal, so too does the thickly padded steering with thumb grips. Contained within the 3-spoke wheel are most of the functions you need while driving including audio controls, cruise control, phone connection and more.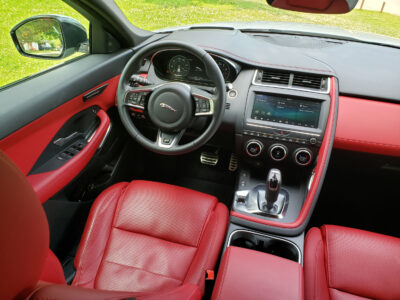 A digital gauge package offers the classic of a rounded speedometer and tachometer. Our test vehicle is equipped with the Cold Climate Pack that adds a heated steering wheel, front screen and jet washers. Our optional 18-way power front seats are also heated, along with the rear seats for an extra $1,330. For the same price you can also get an upgraded Meridian Surround Sound system with satellite and HD radio.
Jaguar cars and SUV's are renowned for being engineered with driving in mind, so it should come as no surprise that many of the key features are designed to make life easy from both the driver and front passenger point of view. Keep it simple = less distraction.
The center console delights with round knobs to adjust the HVAC system, or you can chose from an abundance of buttons. A large, touchscreen provides access to the navigation, media and phone settings and is easy to use after a short learning curve. Sun glare can make it hard to see the screen at times, but for the most part there is no issue.
Two additional options continue to move the price point north of the base $58,500, but add significant value to the equation. This includes a Head-up Display at $1,020 and Fixed Panoramic Roof at $1,180.
Back seat passengers will be comfortable and there is more than enough rear storage space to accommodate day-to-day activities as well as weekend getaways. A 60/40 split on the seats makes it easy to configure the back storage area in multiple ways and still offer seating for one or two adults.
Summary
The 2019 Jaguar E-PACE is the baby in the Jag SUV family, but it is no lightweight when it comes to performance, comfort, style and all the things you expect an offroad capable vehicle to do. It is up against a crowded field of contenders, but may have a leg up given the Jaguar name and outward appeal. If two thumbs up is any indication, it looks like the E-PACE could be setting the pace for others to follow.
2019 Jaguar E-PACE R-Dynamic SE
Price as tested: $71,340.00
Freight: $1,700.00
Configuration: front engine/all-wheel drive
Engine/transmission: 2.0L 4-cylinder/9-speed automatic
Power/torque: 296 hp/ 295 lb-ft
Fuel economy ratings combined: 10.1 L/100 km
Competitors: Acura RDX, BMW X2, GMC Terrain, Lexus RX 350, Volvo XC60
Related links:
Jaguar Canada