Years ago, I lamented MINI for saturating their lineup. They were diluting their brand by coming out with way too many model variants of an original product that was already brilliant in its original state. Why did we need a roadster? Why did we need a CUV? Was a MINI pickup truck next? It was all too much.
And now, BMW is headed in precisely the same direction, and with M-Powered speed it seems. I have a hard time keeping up with the latest models in the lineup, if I'm honest. 1 Series, 2 Series, 3 Series, 4 Series, X3s, X4s, X6s, oh and don't forget the iCars and the eDrive variants… then there's sedans, wagons, GTs (don't get me started on those), coupes, grand coupes. It's all a bit MUCH.
However, despite my involuntary eye-rolling at a few of their latest releases, when I first spotted the minute BMW X2 compact crossover at an auto show, my interest was piqued.
Admittedly, I was never a fan of the X1. I remember doing the drive launch years ago, and it immediately rubbed me the wrong way. It felt too small, too cramped inside and the drive wasn't BMW enough for my liking. I hated the angular outside design and didn't see the point in its existence if the X3 already filled the crossover space left under the X5.
Well, since then the X3 has grown in size (slightly), the X5 has shrunk (slimmed down might be a better term), and there's an all-new X4 to add to the mix, too. So, where does the X2 fit in all this?
Let's start with the positives, shall we? For starters, I am in love with the overall size and dimensions of the BMW X2. While it's 3.2" shorter and 2.8" lower than the X1, it shares the same wheelbase (work that one out).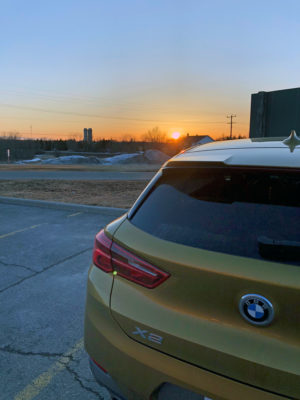 The X2 immediately felt like "home" when I got in. I'd liken it to a MINI Countryman in height and width (but it's actually smaller). It sits just high enough to give the illusion of being in a proper AWD vehicle, without being overly large and cumbersome in tighter urban settings. Interior space is just enough to comfortably sit four adults (five will fit, but I wouldn't recommend three adults in the back, unless you don't like one of them).
Finding a driving position in the X2 took mere seconds and my son Owen immediately settled into the back, as well, with plenty of legroom (without kicking the front passenger seat). Oh, and the trunk space? There's plenty. With 470 litres, I was able to fit a hockey bag (full of gear), complete with hockey stick, karate bag (full of sparring gear), gym bag, two overnight duffle bags, and a laptop bag, without folding down the rear seats or putting anything beside my boy in the back. I was properly impressed when it all fit with minimal effort.
The exterior design of the X2 is pretty close to perfection, in my humble opinion. The short overhangs and the muscular look and feel of the compact crossover only adds to its overall attraction on the road. I'm not entirely sure I'd order it in Galvanic Gold like my press unit, however, it definitely made a statement. However, I think in white or blue it would make just as much of an impression on the road.
Another huge positive for me in the 2018 BMW X2 was the simplicity of the cockpit. In place of BMW's fancy modern shifter is an old-school shift knob that actually requires you move the lever to position instead of just clicking around. The steering wheel has limited buttons for volume and cruise control (but only simple cruise, no laser-guide here). No lane-keep assist, no blind-spot warning. However, there is a back-up camera, but in a car that's actually shorter and skinnier than a MINI Countryman, I don't think you'll have much trouble parking it.
Now, what you really want to know about isn't the parking but the driving.
Does it drive like a BMW?
I'm pleased to announce that yes, yes it does. And in all the right ways.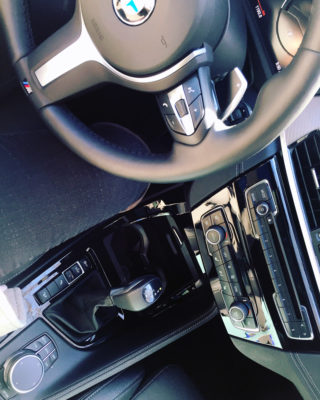 The 2018 BMW X2 xDrive28i comes equipped with a 2.0L TwinPower Turbo 4-cylinder engine that produces 228 horsepower and 258 lb-ft of torque. Twin tailpipes give it a sporty look on the outside, and that sporty demeanor is felt on the road, too. The 8-speed Steptronic automatic is smooth and feels well matched to the engine. The X2 was never confused about what gear it wanted to be in, and when the sport-shift was engaged (or paddle shifters used), gear changes were quick with little to no lag at all.
And the steering and suspension in the X2 feels almost MINI-like. I actually prefer the way the X2 felt over previous generation Countrymans I'd driven recently. The little compact crossover stayed planted, with little to no body roll no matter how spiritedly I took a corner. Pick-up for passing maneuvers was seamless, and the 100km/hr mark can be reached in 6.5 seconds from a standstill.
Now, another burning question: How much does this perfectly Miranda-sized compact crossover cost? It's not as costly as you might imagine, considering the badge it wears on its nose (and C-pillars on each side, which is also pretty awesome), and starts at just $42,250. Of course, with all the added extras (like my M Sport Package that beefed up the exterior look, gave me a fatter M-Sport steering wheel, and larger 20" wheels), the price can climb fairly quickly. But in base form, the BMW X2 has more than enough to offer that add-ons would be few and far between.
I'm still convinced BMW is heavily diluting its lineup of vehicles with the hope that they can and will appeal to any and ALL drivers/buyers out there, however, I do see a spot for the X2 in there, somewhere. Will it cannibalize the X1? Perhaps. But it's just quirky enough to almost be too "different" for those who were originally in the market for an X1 (which is more of a safe choice, really).
2018 BMW X2 xDrive28i
Price as tested (before taxes) $54,845.00
Configuration: Front-engine, AWD
Engine/Transmission: 2.0L TwinPower Turbo, 8-speed Steptronic
Power: 228 horsepower, 258 lb-ft
Fuel Economy: 11.5L/100km (combined)
Warranty: 4 years/80,000km
Competition: Mercedes-Benz GLA, Audi Q3, Volvo XC40, Jaguar E-Pace
Related links:
BMW Canada